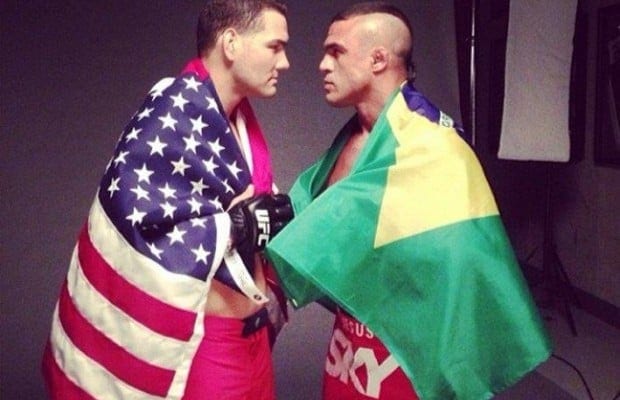 Dominant UFC middleweight champion Chris Weidman has made quite the career out of running over legendary Brazilian fighters, as his two wins over Anderson Silva to secure the belt, subsequent title defense against Lyoto Machida, and recent win over Vitor Belfort at UFC 187 have the New York-born fighter occupying the lofty spot of the world's No. 2-ranked pound-for-pound fighter.
That reputation as the 'Brazilian killer' has UFC Brazil general manager Giovani Decker desiring a massive title fight with Weidman putting his belt on the line in Rio's Maracana soccer stadium. Decker detailed his wish during the recent UFC 190 media day, courtesy of MMA Fighting's Guilherme Cruz:
""Chris Weidman against Vitor (Belfort) or Lyoto (Machida) or Anderson (Silva) or (Ronaldo) 'Jacare' (Souza) at a sold-out Maracana," Decker said. "It would be the 'Brazilian Killer' feeling how is it like to fight at Maracana. Why not?"
Now obviously there's a decent amount of red tape that will have to be cleared before that fight is potentially made, as the UFC confirmed that surging No. 1 contender Luke Rockhold was indeed next for a title shot at Weidman. That fight is tentatively being targeted for Madison Square Garden later this year if MMA is finally legalized, for which the decision could be made later this week.
And in terms of Decker's suggestions for an opponent, it's tough to think that Machida, who was absolutely destroyed by Rockhold in his last fight, or Silva, who is still awaiting the results of his NSAC hearing after testing positive for steroids earlier this year, are viable opponents at this point in time. But with Machida facing No. 6 Yoel Romero in the main event of this weekend's (Sat., June 27, 2015) UFC Fight Night 70, 'The Dragon' could be back in the title mix sooner than later.
Decker also cited under-the-radar former title contender Thales Leites, who will soon face Michael Bisping, as a potential opponent, and he also believes that the pressure of the screaming fans at Maracana would be an extremely tall task for Weidman:
"If Lyoto beats (Yoel) Romero, he's back in the line, and we'll see what happens with Anderson, and we can't forget about Thales Leites. It's a division full of Brazilians. We have to recognize that Weidman is a phenom, but a sold-out Maracana would be tough for him," Decker said.
Indeed it could be, but Weidman has shown the ability to embrace pressure and persevere in order to win against Brazil's best time and again. If he gets past Rockhold in his next fight, should he head to Brazil for a title defense against someone like 'Jacare?'