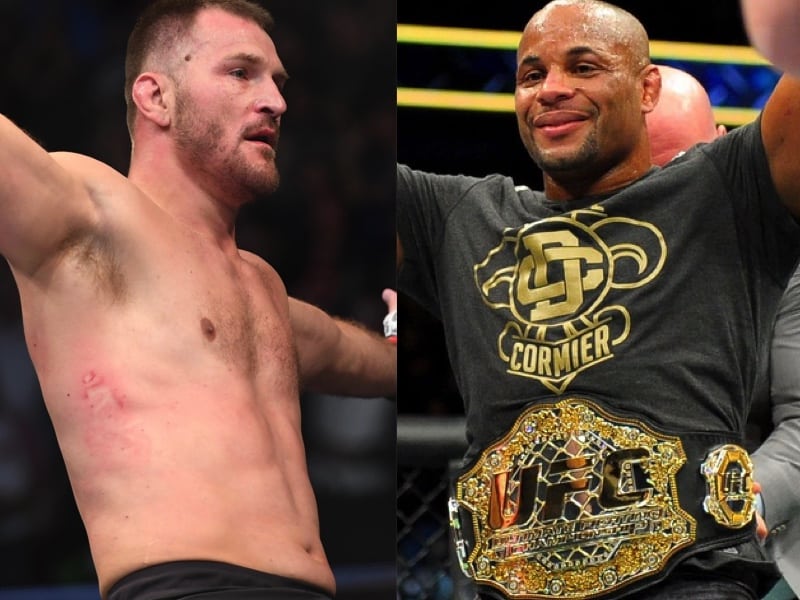 UFC 226 is finally here.
Despite some recent shakeups to the card and a near spill by "DC", the crown jewel of International Fight Week is just hours away.
The main event superfight will pit the light heavyweight champion Daniel "DC" Cormier against heavyweight champion Stipe Miocic.
Cormier, 39 years old, boasts an impressive 20-1 record and will look to become just the second UFC fighter in history to hold two belts simultaneously, with the first being former lightweight and featherweight champion Conor McGregor.
On the other hand, Miocic is 35 years old and sports a record of 18-2. He is the reigning, defending heavyweight champ which makes him the baddest man on the planet.
Find out what some of the pros competing tonight think about UFC 226's main event:
Michael Chiesa:
"That's about as big of a super-fight as you can make in the UFC. It's huge. I'm with 'DC' all the way, absolutely. I've been a fan of 'DC' since real pro wrestling, back when I was like a junior in high school, so team 'DC,' 100 percent. That's why I bought black and red Adidas combat speeds when I was in high school, because 'DC' wore them."
Uriah Hall:
"I mean, they're both wrestlers. What do you think when two people who wrestle fight, man? But then again, they might respect each other's wrestling. I think Daniel Cormier might have the edge more on the wrestling side, but we've seen Stipe against Francis (Ngannou) and Francis is a scary dude, especially with those small gloves. So, I don't know, it's going to be one of those where someone's going to get knocked out. If it doesn't go that way, then Daniel's probably going to hug for f*cking 25 minutes or something."
Lando Vannata:
"I've gotta go towards 'DC,' man. I love Stipe, but 'DC,' man, what he did back in the Strikeforce Grand Prix against all the heavyweights, smoked them all when he was fighting at heavyweight, so I think it'll be similar, but it'll be fun. It'll be real interesting to watch."
Paul Felder:
"You've got the heavyweight champ and the light heavyweight champ, and a guy like 'DC' who's undefeated at heavyweight — it's a super-fight to me, man. I was telling everybody when we lost Max (Holloway) and (Brian) Ortega, I was like, 'I'd still 100 percent be buying this pay-per-view.' It'd be one of those things where I'd be like, 'Goddamn, but I've got to see that fight.' It's one of those ones that, no matter what happened to this card, you've gotta know what happens with Stipe and 'DC.' You want to know. So, I think that makes it a super-fight. But I'm not picking anybody. I've been stubborn this whole time, I like both guys and I've gone back and forth. I think I've said both guys in the past."
Dan Hooker:
"I doesn't feel like it's a superfight. I feel like Miocic's just going to box him up. I feel like it's a pretty straightforward fight for Stipe, I don't feel like it's a tough test. Cormier's not going to be able to get him down. Stipe's too big and his wrestling is too good, so they're going to force each other to box, right? Who's the better boxer? Stipe is a far better boxer, a bigger guy, longer reach, picking him apart. Easy night at the office, catch ya later."
Curtis Millender:
"You know, I'm a huge Jon Jones fan, so I always say I'll never root for 'DC.' But in this fight, I kinda want to root for him. I also do like history being made. I do always love to see that. So I think for this one … [I'm rooting for him] because of the shit he's gone through with Jon Jones, man. It's unfortunate. It's unfortunate to have to go through that, through so much."
Khalil Rountree:
"I'm running with DC. He's taking a big change, going up to heavyweight, going for another strap. Why not? I support the guy. … [He'll win] the way he does all of his fights. Just being DC, man. He picks guys up, he slams them, he gets on top of them, he controls them, he throws some punches. He's got knockout power. Just being DC."
Max Griffin:
"I've always counted out Stipe. Always. He's not so good at one thing to me. His whole career, it's like, oh he's OK. He's not gonna beat [Alistair] Overeem, he's not gonna beat him, he's not gonna beat them. Then he'll win again and then he'll win again. Then I'm like, you know what? I'm not betting against him. He has so much power and he's such a hard worker. Stipe, man."
Rob Font:
"Don't kill me, DC. But I'm gonna have to go with Stipe on this one. He just wins. He just finds a way to win. Even Francis [Ngannou] in Boston. You look at Francis and you're like oh my god, 'Who the hell is gonna beat this guy?' And [Miocic] made it look not easy, but he had it controlled pretty much the whole entire fight. It's tough to bet against him. But it's hard, because you've got DC who comes in and does the same thing, too. The only hiccup he ever had really was Jon Jones and he's one of the best out there. I'm gonna have to go with Cleveland on this one."
Drakkar Klose:
"DC, double champ. That's my boy. I like DC. He's a good guy. I think he's gonna go out there, put the pressure on him, get him against the cage, wear him out and then submit him. I think he's gonna take him down, take his back, pound him. Third round."
Anthony Pettis:
"Stipe did what he did to Francis, but DC's wrestling, he's naturally a heavyweight. I feel like that's gonna be the factor. … Striking, I give to stipe. But the pressure that DC puts, [Miocic is] not gonna be able to dip and move and get on top. if he can dip and move away of his strikes, there's a takedown coming behind that and you gotta defend that. If I had to pick, I'd say DC. But Stipe is a talented guy."
If you enjoyed this story, please share it on social media!