Mike Drahota:
This is an intriguing heavyweight title bout to be sure, and the first non-interim title affair not featuring Cain Velasquez to be contested in the weight class since Junior dos Santos beat Frank Mir in 2012. The champ Werdum has looked nothing but flawless in his return to the UFC that same year, winning six straight bouts with a perfect mix of two knockouts, two submissions, and two decision wins. Miocic has looked similarly dominant recently, although over a smaller sample size, with his two consecutive TKOs over Mark Hunt an Andrei Arlovski. The proud Ohio native will go into hostile territory at the Arena de Baixada tonight, but I think his hand speed and boxing prowess couple with his NCAA wrestling skills will score the upset. Miocic gets it done by fourth round TKO.
Rory Kernaghan:
The heavyweight battle between Werdum and Miocic is an interesting pairing, featuring a greatly improved striker in 'Vai Cavalo' and a technical boxer in Stipe. For Werdum, it's all going to be about where this fight takes place, and although he's vastly advanced his stand-up, I don't feel like it's the best place to hang around against Miocic. Yes he survived the onslaught from the likes of Cain Velasquez and Mark Hunt, but heavyweight is a dangerous place to roll the dice. Will he get this one to the ground? If the champion does, the fight is pretty much over. For that reason, I can't see Miocic being able to grind this one out. Werdum by submission round three.
Mike Henken:
In my opinion, Miocic represents a very tough challenge for defending champion Werdum. The Croatian has shown high-level boxing skills coupled with brutal knockout power in which he backs up with a strong wrestling background. That along with his speed and conditioning makes him a legitimate threat to anyone in the heavyweight division. However, I feel as if Werdum's improved striking will keep him in it on the feet before he reverts to his world-class grappling skills to end the bout in front of his homeland. Werdum by fourth round submission.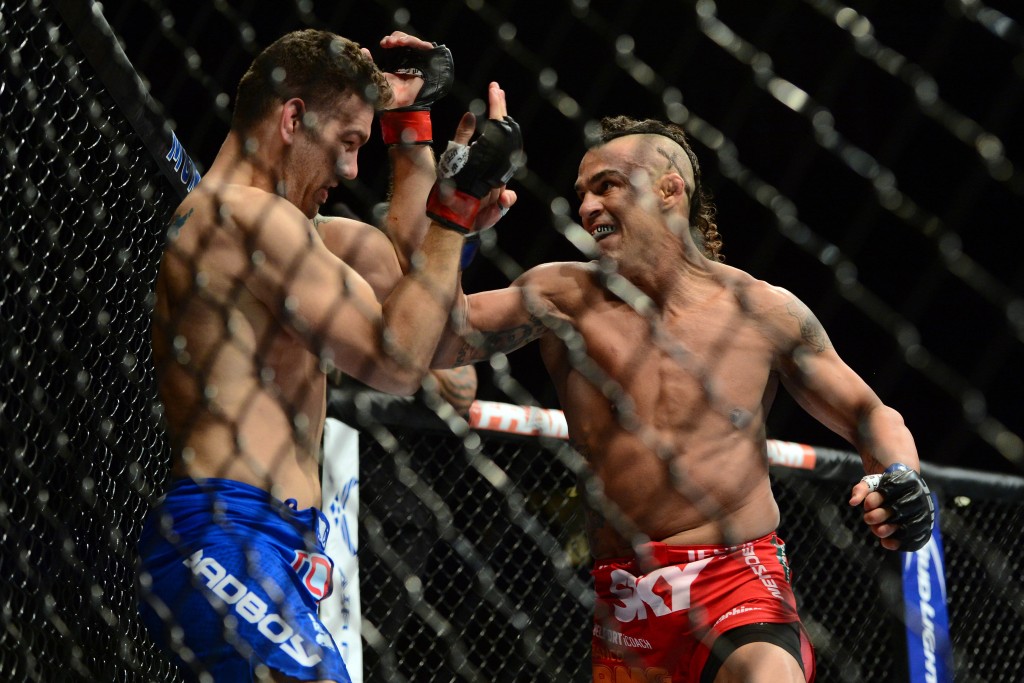 Jacare Souza vs. Vitor Belfort:
Mike Drahota:
I think this pivotal middleweight co-main event may not be getting enough attention amidst all of the massive, buzz-worthy UFC 198 hype. While each of these aging Brazilian vets is still near the top of the game, they both have several question marks as well. Both will probably get a title shot with an impressive win; with Belfort having the pre-installed bad blood with Luke Rockhold if he wins at UFC 199. However, Souza looked incredibly sluggish in his last bout, a split decision loss to Yoel Romero, and Belfort has seemingly made his way into huge fights by knocking out past-prime legend Dan Henderson in recent years. Regardless, the story should be the same as always for "The Phenom"; if he can rush Jacare and blast him early, the fight will be his. But that's a tough thing to do, and I believe Souza will be able to weather the storm to use his legendary ground game to dominate Belfort as a few other truly elite fighters have done before. Jacare Souza by first round submission.
Rory Kernaghan:
Vitor Belfort represents one of the very few old-school fighters who remain active in 2016, and he'll be facing a very tall order in Jacare Souza. His junior and by far in much better shape, Souza is quite the scary prospect for any fighter, let alone one who's by far past his prime by now. The one-punch threat is about all I can imagine Belfort having offer Jacare, and much like his UFC 187 fight with Chris Weidman, I don't think that will be enough. I see Souza handling this one with ease, choking Belfort in the first round.
Mike Henken:
Personally, I see this playing out similar to how Belfort's title fight with Chris Weidman did. "The Phenom," an explosive finisher, came out guns blazing, and landed a few hard shots on Weidman before he was taken down and finished. I see Belfort once again coming out looking for the finish and he may even tag Souza, but I believe Jacare will drag the fight to the mat where his grappling skills will be the superior. Jacare by first round submission.