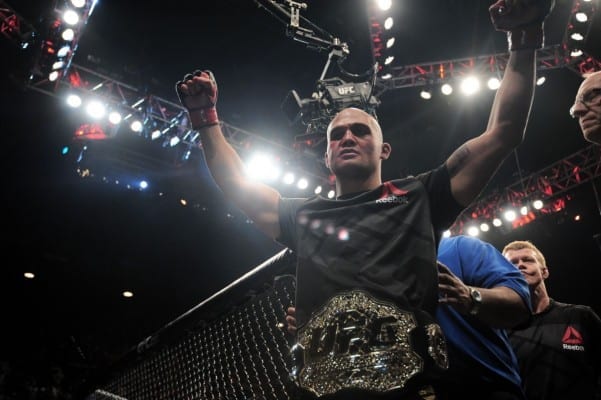 Robbie Lawler vs. Carlos Condit:
Mike Drahota:
I believe the UFC is truly getting 2016 started off with a bang after a banner 2015, as Lawler vs. Condit is quite possibly the most action-packed fight they could deliver in terms of raw violence. Could it turn out to be a dud? Anything is possible in a fight, but it doesn't seem all too likely. The only way it does is if Condit brings back his elusive and movement-heavy gameplan he used to controversially defeat Nick Diaz at UFC 143.
But he seems hell-bent on taking the fight to "Ruthless" this time around, and we know that the brutalizing champ applies some of the most heavy-handed Muay Thai pressure in all of MMA. Look for Lawler to work his accurate kickboxing while Condit uses a bit more unorthodox style to utilize angles and throw elbows and knees. Both fighters are extremely tough to put away, and both can finish fights on a level few can match. This could be a classic fight. It's close, but I have to pick Lawler by unanimous decision.
Rory Kernaghan:
The welterweight championship fight between Robbie Lawler and Carlos Condit is about as close as you can get at the top level. There's very little give in the betting lines for this huge title fight, and that's due to the durability of each man, and their very finish-heavy record. It all depends what gameplans each man tries to implement. I believe on the front foot is where this fight will be won, and that's for a number of reasons. For starters, we know Condit can fight off the back foot, but pressuring forwards and countering is exactly how 'Ruthless' will want to win this fight.
For this reason 'The Natural Born Killer' will have to try and be the aggressor, using footwork and tight angles to work the legs with the low kick, and try to put some unorthodox striking over the guard of Lawler. The champion, perhaps not as talented when moving backwards, will need his head movement more than ever. Unlike Rory MacDonald and Johny Hendricks, Carlos Condit will not fail if he gets you in trouble, and will find a way to finish. The problem I have picking this fight is that it really all depends on who takes the center of the octagon and controls the action. My gut is telling me Lawler's power will win the day, so I'm going to pick 'Ruthless' to remain champion by way of decision.
Mike Henken:
This one's a tough one to call, but I think activeness as of late could play a part here. Condit returned after suffering a brutal knee injury to smash Thiago Alves last May, but "The Natural Born Killer" has only competed once since March 2014. Since a March 2014 loss to Johny Hendricks, champion Robbie Lawler has reeled off four straight wins, looking better each time out. I expect the "Ruthless" one to go through a feeling out process before turning it on later in the fight and using his pressure and power to score a victory. Lawler by unanimous decision.
Stipe Miocic vs. Andrei Arlovski:
Mike Drahota:
This hard-hitting co-main could very likely decide the next heavyweight title contender against he winner of UFC 196's Fabricio Werdum vs. Cain Velasquez rematch, but I'm not so sure that honor shouldn't go to Alistair Overeem anyway.
As for their fight, I think Miocic's best course of action is to work his jab and add up smooth, stream combinations, while Arlovski will of course be going for the knockout early.
Miocic brings a solid wrestling game as well, so he should be look for some takedowns attempt to take the former champion to the mat and control him with ground and pound like he did in his most recent win over Mark Hunt. While that may a better gameplan than standing, you have to get to Arlovski first, and any one of his strikes can be a game changer. I do think the Belarusian slugger is at his best training at Jackson Wink's right now, but I just feel that Miocic will outwork him. Miocic by unanimous decision.
Rory Kernaghan:
Stipe Miocic and Andrei Arlovski represent two very different kinds of heavyweight. Miocic, relatively young in the game in comparison, is still sharpening his teeth at the elite level. On the other hand, 'The Pitbull' has been there and done it as the former UFC heavyweight champion, and is riding an extremely impressive seven fight resurgent win streak at present. The big difference here is knockout power, and Arlovski has it in bundles. We've seen Miocic come unstuck against technical strikers with power in the past, and I expect it to be a short night for the Croatian on Saturday. Knockout finish for Arlovski in the first round.
Mike Henken:
Despite the recent resurgence of the former heavyweight champ Arlovski, I have to go with Miocic here. I feel as if the Croatian-American's movement, athleticism, power, and boxing will simply be too much for the Belarusian. I expect this bout to play out on the feet, but I would also give Miocic the wrestling advantage. Don't count the "Pitbull" and his heavy hands out, but I'm going with Miocic by unanimous decision.