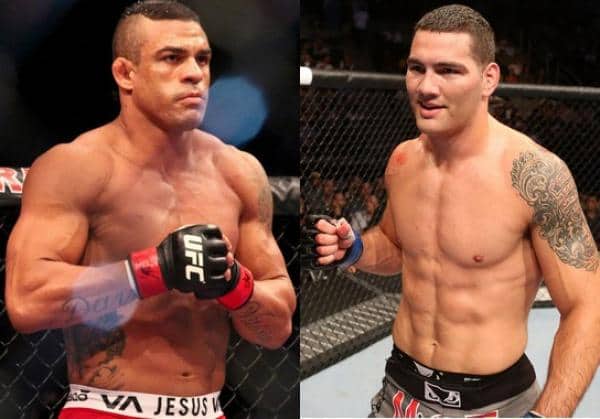 UFC 187 fight week is finally upon us, as we await what could potentially be card of the year. The action goes down on Saturday May 23rd, and features a litany of explosive and exciting fights, with two titles on the line at the top of the card in the MGM Grand Garden Arena in Las Vegas, Nevada.
So let's start with the meat on the bone; the two huge title fights at the head of UFC 187. The headlining tilt between Daniel Cormier and Anthony Johnson for the vacant 205-pound strap has a story dating back to a failed UFC 182 drug test featuring former champion Jon Jones.
That was just the tip of the iceberg for 'Bones', who went on to become embroiled in scandal of a different magnitude. A hit-and-run in New Mexico that left a pregnant woman with a broken arm rocked the MMA world, as Jones stood accused of being the driver of the suspect vehicle.
A police body cam video confirmed our worst fears, that 'JJ' was the named driver of the rental car, he was later stripped of the title by the UFC and unceremoniously dropped from his lucrative sponsorship deal with Reebok. For 'DC' and 'Rumble', they are fighting to fill the shoes of the ex-boss, but there couldn't be two more deserving candidates.
Johnson has come of age in recent years, going unbeaten since a loss to Vitor Belfort at UFC 142. Savage knockout wins over Alexander Gustafsson and Antonio Rogerio Nogueira have highlighted an impressive and scary win streak for the 'Blackzilian' banger. 'DC' went five hard rounds with 'JJ' at UFC 182, falling short in the long run, but proving his mettle and getting a deserved call up for the follow up title shot. The question is, who makes it that extra inch at UFC 187 and gets the crown?
The co-main event is equally as compelling and has a rich backstory with a rivalry dating back to 2012. 185-pound kingpin Chris Weidman hates cheaters, and has had his sights set on former steroid-cheat Vitor Belfort for years now. 2013 saw the TRT-riddled 'Phenom' knock out three top contenders in Dan Henderson, Michael Bisping and Luke Rockhold, an achievement that 'The All-American' criticized on a regular basis. The fact remains though, that Belfort will be throwing down with him this weekend.
The Brazilian knockout artist and Weidman have been set back by injuries and the TRT ban before UFC 175, where Weidman scored his second consecutive victory as champion, this time against Lyoto Machida. Down to the lightweight division, and it's Donald Cerrone taking on Khabib Nurmagomedov John Makdessi, as 'Cowboy' looks to make it eight fights in a row, and 'The Bull' hopes to score his second on the bounce.
Cerrone came full circle with a decision win over Benson Henderson this past January, and a win over the Tristar Gym product in Vegas this weekend will surely lock up a title shot for the former WEC stand out. Travis Browne and Andrei Arlovski have unfinished business at heavyweight, as the former champion looks to continue his brutal streak in his rejuvenated career. "Hapa' wants to once again prove he belongs in the top echelon at heavyweight, but has a tall task with the heavy-handed Greg Jackson's 'Pitbull".
Opening the UFC 187 main PPV (pay-per-view) card is a flyweight collision in the massively unheralded flyweight division, as John Moraga takes on two-time title contender Joseph Benavidez. Moraga is known for his fast pace and tight submission skills, but he faces a hard-hitting Team Alpha Male product currently riding a two-fight spree in 'Joe B-Wan Kenobi'.
It could quite easily be card of the year, with a heated rivalry in the co-main event, a title-worthy star in the making at 155 pounds and, most importantly, a new champion in the light-heavyweight division. Five days and counting to UFC 187…..