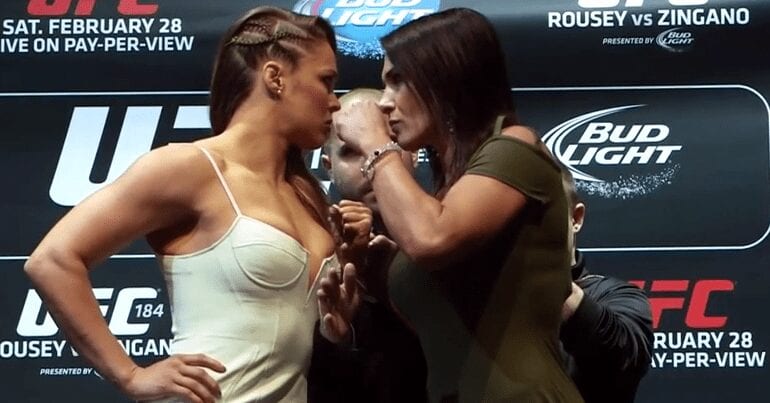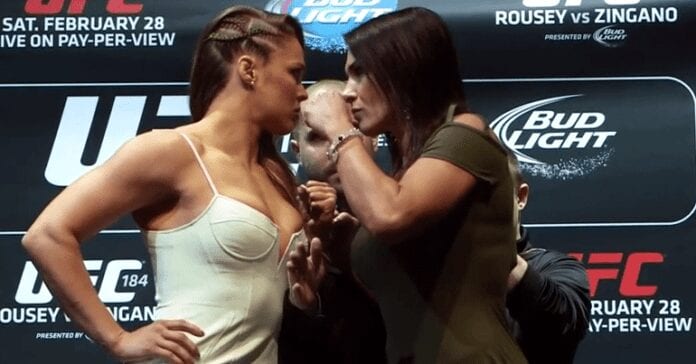 Ronda Rousey vs. Cat Zingano:
Mike Drahota: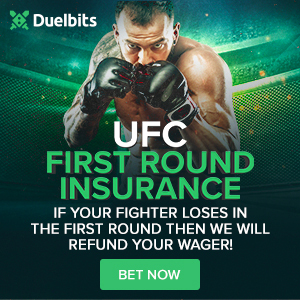 I think it's going to be interesting to see if Rousey can carry a big pay-per-view card by herself, and I also think that the undefeated Zingano could be her toughest test yet. She has strong Muay Thai, solid wrestling, and a dangerous ground game. But she's also shown a tendency to fall behind in her two fights in the Octagon, and against 'Rowdy,' I don't see her weathering a storm to come back and finish the fight. The champion is simply too talented, motivated, and dominant to allow that to happen. While Zingano may last longer than Rousey's previous UFC opponents, I don't see her putting the queen in much danger. Rousey via round two TKO is my pick.
Rory Kernaghan:
There are many fights that present a challenge when it comes to my predictions, once again Ronda Rousey has made easy work of a main event pick for me. The champion is just too big, strong, technical, fast; the list goes on. Cat Zingano deserves a mention for her well-rounded style, and also her grit and determination. Unfortunately those workman-like qualities aren't enough to win against someone as dominant as "Rowdy". Will it go out of the first round? I think the question would be more suited to the first minute. Ronda Rousey wins with an early armbar, take it to the bookies.
Mike Henken:
"Alpha" Cat Zingano is a very tough, gritty, and powerful fighter. She has great striking, especially in the clinch, using knees and elbows effectively. She also has solid wrestling, great jiu-jitsu, and devastating ground and pound. Zingano is also a very physically strong woman, and is no stranger to adversity, possessing a huge heart. However, she is going up against the best, plain and simple. Ronda Rousey is without a doubt the best women's fighter on the planet, and now has a wealth of experience. The "Rowdy" one is a natural finisher, with lethal submissions, and improved striking as of late. She also possesses some of the best takedowns in all of MMA thanks to her Olympic Judo background. She is facing her toughest test in Zingano, but I don't see anybody beating the champ. I think Zingano will try to pressure Rousey, and the champ will take her for a ride before finishing her on the mat. Rousey by second round submission.
Holly Holm vs. Raquel Pennington:
Mike Drahota:
This is a sort of tune-up fight for Holm, who many feel is a future contender to Rousey's belt. She no doubt has some absolutely lethal striking from her days as a multi-time boxing champion, yet questions remain about her ground game. Pennington may not be flashy, but she is solid and possesses some sneaky submission skills based on her recent submission of Ashlee Evans-Smith. "Rocky's" best chance to win will be on the ground, but the challenge will be getting it there. I'm not sure she'll be successful, and I believe that Holm is ready to make a statement. Holm by TKO, round one.
Rory Kernaghan:
Holly Holm is making her long-awaited debut in the UFC, and it could certainly be against tougher competition. Raquel Pennington has had her moments during her MMA career, but will likely be in very deep waters against the 38-fight former boxing champion. Currently unbeaten in her MMA career, "The Preacher's Daughter" likes going to the well with the head kicks. We don't see many knockout artists in WMMA, so it's refreshing that Holm is just that. Pennington could make this a grappling war, but I just don't see her having the explosiveness and strength to keep Holm down. I'm picking Holly Holm for a second round TKO win.
Mike Henken:
Holly Holm has a lot of pressure on her shoulders, debuting in the co-main event slot. However, she is no stranger to the spotlight. "The Preacher's Daughter" is a former Legacy champ as well as a decorated boxer. Raquel Pennington is a tough and durable brawler, but she is going up against probably the best pure striker in the women's division. Holm's ground game hasn't been seen too much, and "Rocky" should look to get the fight to the ground. I don't see that happening, however. Holm by first round TKO.