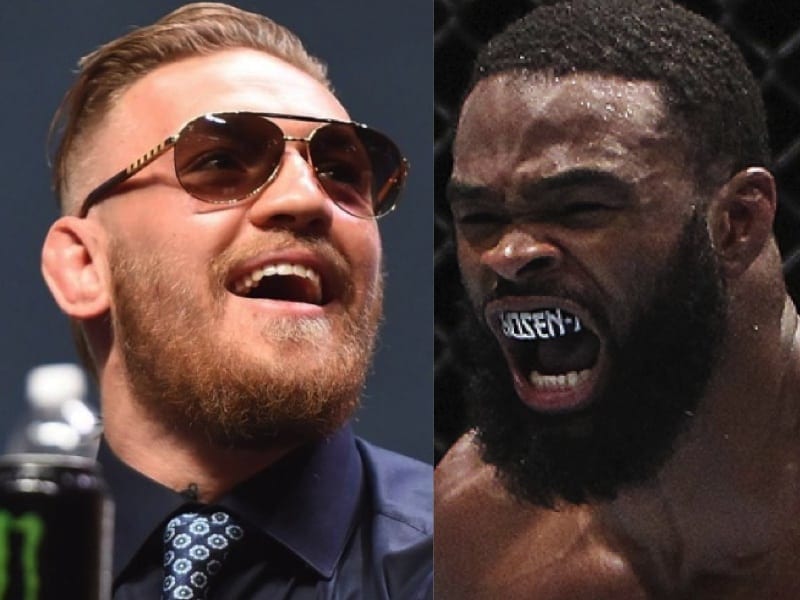 Tyron Woodley thinks former UFC lightweight and featherweight champ Conor McGregor is coming for him once he gets done with his next fight and is healthy enough to fight once again.
Woodley is fresh off a submission win over Darren Till in the headliner of UFC 228 to retain his welterweight title. However, he won't be fighting former UFC interim welterweight champion Colby Covington right away. The UFC welterweight champion revealed to ESPN's Ariel Helwani that he would be sidelined for 8-12 weeks due to a hand injury.
Tyron Woodley Thinks Conor McGregor Is Coming For Him
It should be noted that prior to this news coming out, Woodley went on record by stating on his show that is on TMZ's platform that he thinks McGregor is coming for him next. The reasoning behind his belief is due to historic purposes. McGregor's UFC 229 fight against Khabib Nurmagomedov for the lightweight title is quickly approaching as this fight goes down next month.
Woodley's Explanation
The UFC welterweight champion believes that if McGregor can beat the UFC lightweight champion then he would try to move up to 170-pounds. This would give him the chance to win three UFC titles at three different weight classes.
He beat Jose Aldo to win the UFC featherweight title, Eddie Alvarez for the UFC lightweight title then potentially Woodley for the welterweight title.
"If Conor wins, the only fight that makes sense for him is to fight me," Tyron said on 'The Hollywood Beatdown' … "[he'll] try to get a 3rd belt."