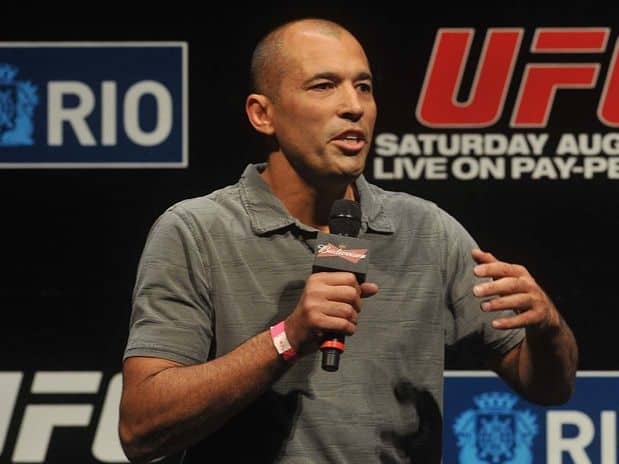 When the UFC first began, many saw it as a form of barbaric cage fighting, where the biggest and most brute fighters would just batter their opponents. However, a Brazilian by the name of Royce Gracie came along and changed the game forever. Showcasing his family's art of Brazilian jiu-jitsu by submitting much larger men, Gracie proved that fighters had a lot to learn. Now a days, BJJ and submissions are common in mixed martial arts (MMA). Check out LowKickMMA's top 10 submission artists currently competing in the UFC:
10. Antonio Rodrigo Nogueira
If I was creating this list many years ago, Antonio Rodrigo Nogueira would be a lot higher up on my list, but due to his recent struggles in the UFC he has fell down to No. 10. However, his submission skills speak for themselves, as he is a fourth degree black belt in Brazilian jiu-jitsu, a multi-time Pan American Champion, as well as holding many other submission wrestling medals and championships, and has 21 submission wins to his name. Although he is nearing the end of his career and has struggled as of late, "Minotauro" is one of the best submission artists the sport has ever seen, and as long as he is active, he deserves a place on this list in my opinion.
9. Chris Weidman
In my opinion, the submissions of the current UFC middleweight king may be a tad underrated. Despite only having three submission wins on his record, Weidman recently earned his black belt in Brazilian jiu-jitsu under legends Matt Serra and Renzo Gracie. The champion also has an impressive submission grappling career, winning the ADCC East Coast Trials with just one year of BJJ training under his belt. He also qualified for the 2009 ADCC Submission Wrestling World Championships, but lost in the quarterfinals. Weidman must have the submission skills to compete with the monsters at 185-pounds, and I believe that his ground game is amongst the best in the UFC right now.
8. Charles Oliveira
"Do Bronx" is a Brazilian jiu-jitsu black belt with 12 submission wins to his name, but finds himself on this list due to the caliber of his submissions. Oliveira is absolutely lethal on the ground, possessing the ability to sink in a submission from any position, and making it look easy. He is one of the best grapplers in the featherweight division and one of the best submission artists in the UFC right now owning multiple wins via anaconda choke, and even a reverse calf slicer submission win.
7. Joe Lauzon
Joe "J-Lau" Lauzon is mostly known for his entertaining style, the countless amount of post-fight awards he has racked up, as well as the endless amounts of blood that usually comes with his bouts. However, under the pools of blood, and the piles of awards, is a true submission master. A Brazilian jiu-jitsu brown belt, Lauzon has collected 18 submission wins in his career, and is a threat at any point if the fight ends up on the canvas. He has been submitted three times, but at the end of the day, "J-Lau" is one of the best when it comes to submissions.
6. Urijah Faber
Having a background in wrestling, "The California Kid" has really transformed himself into a submission wizard over the years. Owning a brown belt in Brazilian jiu-jitsu, Faber has proved himself on the ground by racking up an impressive 19 career submission wins. He has also made the guillotine choke a staple in his repertoire, as he simply has a knack for finding, and locking on to his opponent's necks. Another interesting fact is that Faber has never lost by submission.
Being on the ground with "The California Kid" is a place no one aims to be, and based on his record, he deserves a spot on this list.
5. Ronda Rousey
There is no denying the UFC bantamweight queen's mat skills, as Ronda Rousey has one of the most dangerous submission games in the UFC. She won her first seven fights by first round arm bar, her first eight fights by arm bar, and nine of her 11 wins have come by arm bar. Due to her decorated Judo background, Rousey has unparalleled ability to get opponents to the mat, and once she gets them there, they likely aren't escaping without taping or having their arm broke. When it comes to submissions, the "Rowdy" one is amongst the best.
4. Demian Maia
When it comes down to it, Demian Maia is one of the best pure submission artists to ever grace the Octagon, as he is a fourth degree black belt in Brazilian jiu-jitsu, a 2007 ADCC World Submission Wrestling Champion, and he has a plethora of other submission grappling championships to his name. Some may argue that his natural mat skills haven't transferred over to the UFC as well as they maybe should have, as he only has nine submission wins, which is why he isn't ranked higher on my list. However, submissions like his arm triangle from mount over Chael Sonnen will be remembered forever nonetheless.
3. Frank Mir
Aside from Fabricio Werdum, Frank Mir may be the very best submission artist the heavyweight division has ever seen. Mir has nine submission wins to his name, and actually holds the record for most submission wins in the history of the UFC heavyweight division. He is also the only man in UFC history to win a bout by toe-hold submission (seriously). For me, Mir lands this high up on my list for not only his skills, which speak for themselves, but for the brutality of his submission skills. The former UFC heavyweight champ sunk in a nasty knee bar on Brock Lesnar, and actually broke the arm of Brazilian legend Antonio Rodrigo Nogueira via kimura. Mir is deadly on the mat, and although he has been struggling over the last few years, he is still one of the UFC's best mat tacticians.

2 . Ronaldo Souza
Ronaldo "Jacare" Souza may be one of the very best grapplers in mixed martial arts (MMA) history, and it could even be argued that he deserves to be No.1 on this list. A Brazilian jiu-jistu black belt, "Jacare" has 16 career submission wins, and countless submission grappling medals and championships to his name. Souza is a true ambassador of the art, looking so fluent on the ground, and locking in submissions smoothly, and with relative ease. When it comes to submissions, "Jacare" most definitely ranks amongst the elite, but in my opinion, there is just one man who does it a little bit better…..
1. Fabricio Werdum
When it comes to submission grappling, in my opinion, Fabricio "Vai Cavalo" Werdum is the best around at this time, and one of the very best of all time. Werdum is a second degree black belt in Brazilian jiu-jitsu, a two-time Brazilian jiu-jitsu world champion, a two-time Abu Dhabi Combat Club World Heavyweight champion, and a European jiu-jitsu champion. "Vai Cavalo's" mat skills has transferred over the Octagon as well, as he has 10 career submission wins, and has submitted some of the best heavyweights of all time including Fedor Emelianenko, Antonio Rodrigo Nogueira, and most recently, Cain Velasquez. Due to his decorated legacy, Fabricio Werdum stands as the best submission artist in the UFC right now on my list.