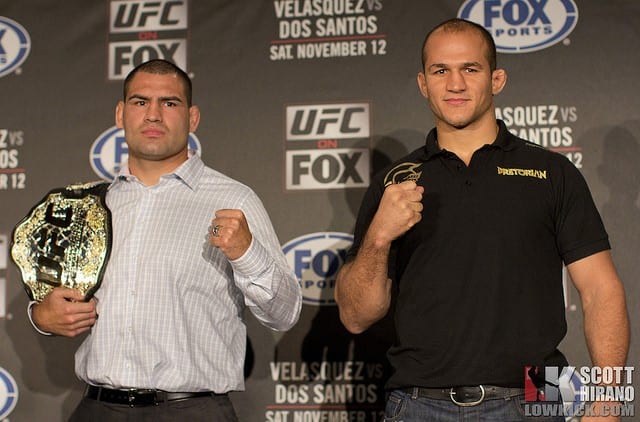 Junior Dos Santos vs. Cain Velasquez II – UFC 155
Heading into his main event bout with Junior Dos Santos at UFC on FOX 1 in November 2011, then champion Cain Velasquez owned a perfect professional record of 9-0, and had run a demolition course through the UFC's 265-pound class. Many were already considering him to be amongst the best heavyweights of all-time, but then one punch quickly changed everything. Dos Santos drilled Velasquez with a monstrous right hand in the very first round to steal the crown.
Velasquez bounced back quickly with a devastating stoppage victory over Antonio "Bigfoot" Silva, setting up a rematch at UFC 155 in 2012 to determine who truly was the baddest man on the planet. Velasquez left no doubt the second time around, absolutely destroying JDS over the course of five rounds in one of the most one-sided beat downs in company history.