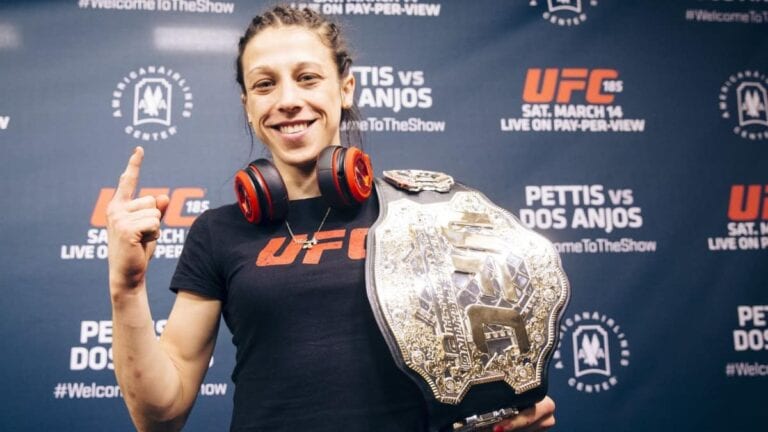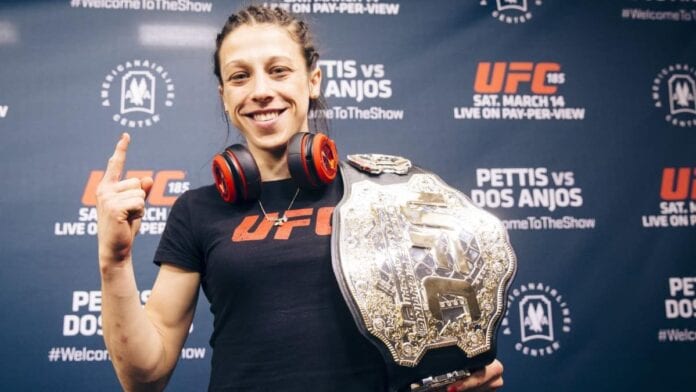 In the UFC's newest division, the women's strawweight (115-pounds) division, reigning champion Joanna Jedrzeczyk has already begun to rise to prominence.
After winning a somewhat controversial split-decision over Claudia Gadelha last December, the Polish striker was awarded a title shot, and her devastating skill set would soon come to light.
Jedrzeczk was booked to fight then champion Carla Esparza at last March's UFC 185 from Dallas, Texas. Esparza was highly regarded as the best wrestler in the division, and many had her as the favorite going into the bout. Many also ended up being wrong in prediction, as "Joanna Champion" stuffed takedown after takedown while brutalizing Esparza on the feet to become the new boss at 115-pounds.
She would then attempt to defend her title last June in Germany against highly-touted contender and experienced grappler Jessica Penne. Once again showing strong takedown defense, Jedrzeczyk would throw everything but the kitchen sink at Penne, absolutely battering the challenger until the referee finally stepped in during the third round.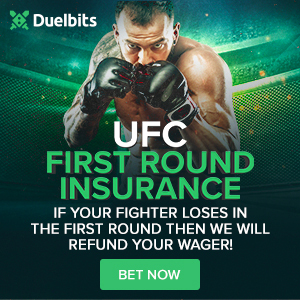 It's clear that Jedrzeczyk has what it takes to do extremely special things inside of the Octagon. However, she also has the personality and mic skills to become a super star.
Now set to defend her title for the second time against Valerie Letourneau at this Saturday's (November 14, 2015) UFC 193, let's take a look at why Jedrzeczyk may be an ever bigger star after this weekend: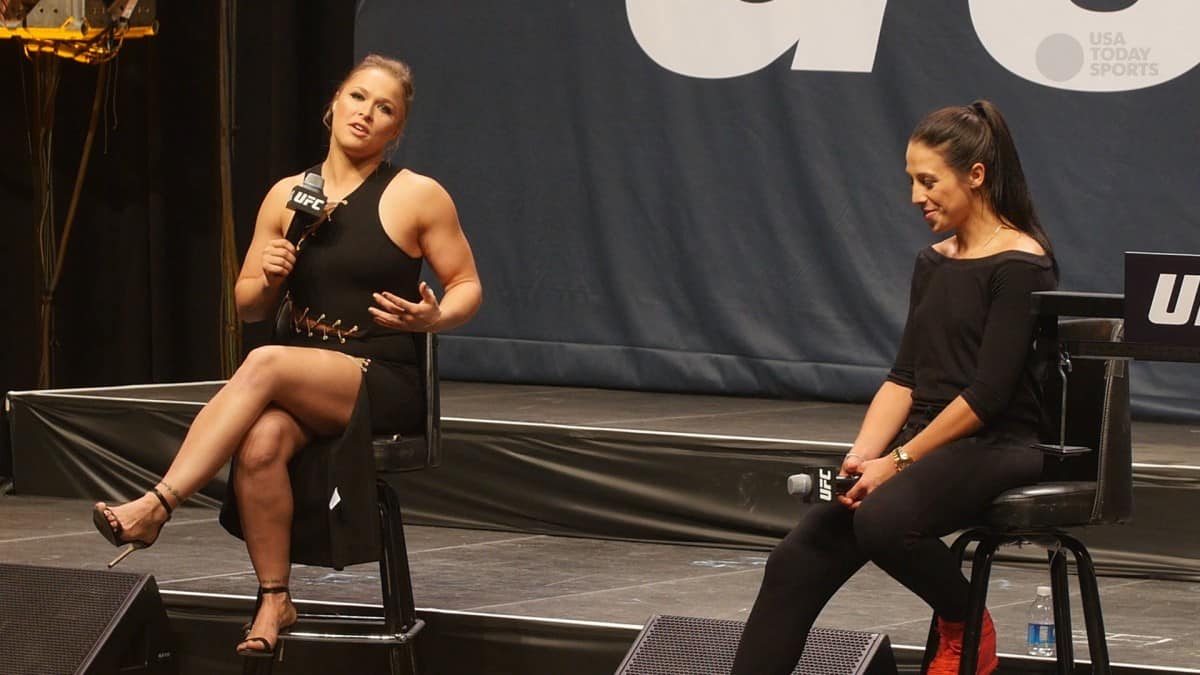 More Eyes Than Ever
Although Jedrzeczyk's title will be on the line, her bout with Letourneau actually won't be the main event, but interestingly enough, the main event features yet another women's title fight.
Dominant bantamweight champion "Rowdy" Ronda Rousey will defend her title for the seventh time against 17-time world boxing champion Holly "The Preacher's Daughter" Holm in the night's main attraction.
It's no question that Rousey is the biggest star in the UFC today. She's the company's biggest draw, and fans simply flock to see her fight. Her last fight, and near 30-second starching of Bethe Corriea, did around one million buys on pay-per-view (PPV), which is quite impressive in today's day and age.
So how does that benefit Jedrzeczyk? Well, there will be more eyes on her, and more fans watching her than ever before.
Her fight against Esparza was the co-main event to a decent pay-per-view, and her bout with Penne was on a fight pass show. UFC 193 will undoubtedly lure in quite a bit more fans.
More fans, and PPV buys equals more exposure for the Polish champion. The more people that tune in and see what many are predicting to be yet another dominant performance from "Joanna Champion", the more fans she will garner.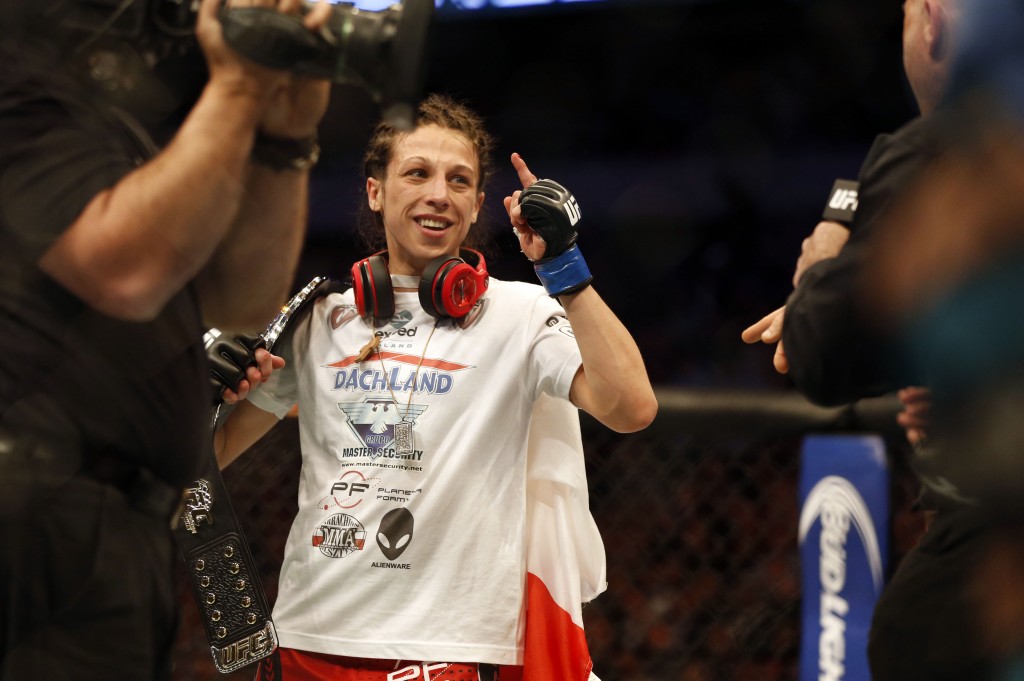 She's A Breath Of Fresh Air
Rousey is dominant in every since of the word. She is a natural finisher, and it seems as if no one has been able to come even remotely close to challenging her.
However, the bantamweight champions seems to do her finishing in almost a merciful way: quickly and effective. Her last three fights have combined for a total time of just one minute and four seconds, an absolutely incredible statistic. The former Olympian gets in, finishes, and gets out.
While Jedrzeczyk has also proven to be a finisher, she has also stood out as a different kind of animal than Rousey.
"Joanna Champion" is far from merciful with her finishes. She is vicious, brutal, and utterly dangerous. Her last two finishes over Esparza, and Penne came in the second and third rounds respectfully, places Rousey rarely sees.
This isn't because the Polish champion isn't dominant, however. In both of those fights, she controlled every second of the action, putting on clinics in the process.
Pairing her up alongside Rousey will display her world class skills, but it will also give fans a breath of fresh air from the usual Rousey showcases.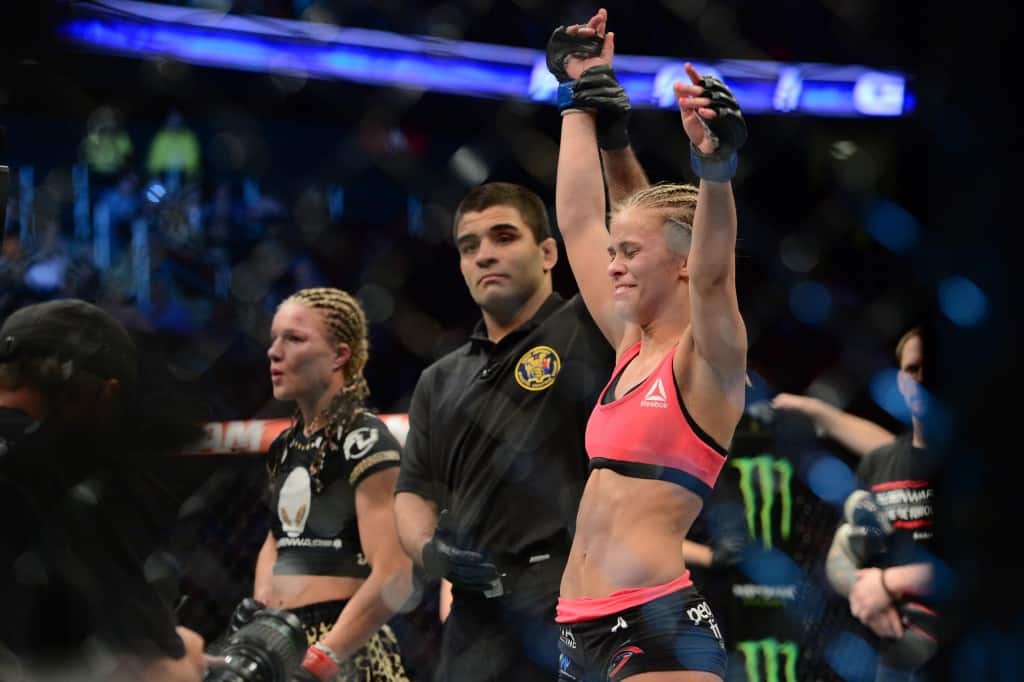 The Challenges Await
Although Rousey is a global superstar, there may be one problem that hinders her mixed martial arts (MMA) career, and that would be a lack of challengers. The 135-pound division seems to slightly weak, and immediate challengers for Rousey are unknown.
That doesn't seem to be the case for Jedrzeczyk, however. If she indeed comes out of UFC 193 victorious, she will have a highly-anticipated and intriguing rematch with Gadelha waiting for her.
The winner of December 10's Rose Namajunas and Paige VanZant bout could also put forth a soon to be title contender. Namajunas fought in the inaugural title bout, and has proven to be a top level competitor, while VanZant is a possible breakthrough star.
Tecia Torres also remains in the top five, while Aisling Daily could be a prospect to watch, although she's a ways away from the top of the division.
Ultimately, a champion is nothing without suitable challengers, a situation that may hurt Rousey. Jedrzeczyk seems to have challengers awaiting, which will keep fans interested in watching her.
Of course all of this relies on "Joanna Champion" winning this weekend, but the future seems to be bright for the Polish title holder.