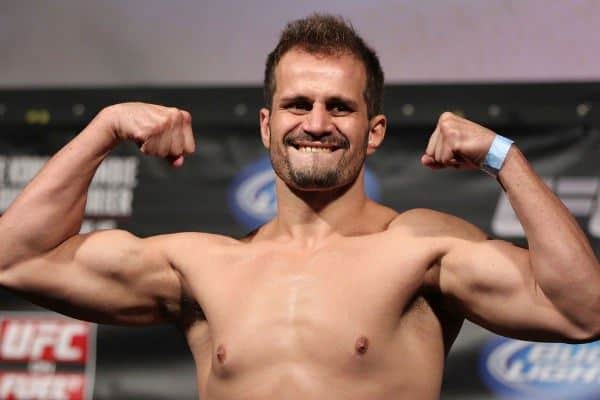 UFC officials announced three new bouts for their upcoming UFC Fight Night 77 event on Tuesday evening.
In light heavyweight action, the sparks are sure to fly when surging Tom Lawlor squares off with Brazilian action hero Fabio Maldonado at the event.
Tom Lawlor is currently on a two-fight winning streak with those wins coming over Michael Kuiper on April 6, 2013, at UFC on Fuel TV 9 by first-round submission and then Gian Villante on July 25, 2015 at UFC on Fox 16 via knockout in the second round.
Fabio Maldonado is 1-1 in his last two bouts as he beat Hans Stringer on October 25, 2014 at UFC 179 via TKO in the second round and then most recently lost to  Quinton Jackson on April 25, 2015 at UFC 186 via unanimous decision.
The next fight that was announced was a light heavyweight matchup between Patrick Cummins (8-2 MMA, 4-2 UFC) and Glover Teixeira (23-4 MMA, 6-2 UFC).
Cummins is 4-1 in his last five bouts and is coming off a third-round TKO win at UFC 190 over Rafael Cavalcante.
Glover Teixeira is currently on a one-fight winning streak and is coming off a win over Ovince St. Preux in the third round via rear naked choke at UFC Fight Night 73.
Finally, lightweights Gleison Tibau and Abel Trujillo will meet in Brazil.
Gleison Tibau was on a three-fight winning streak prior to his last bout against Tony Ferguson on February 28, 2015, at UFC 184, which he lost the fight by submission in the first round.
Abel Trujillo has had an up and down rollercoaster ride in his last four bouts as he is 1-2-1. He's coming off a second-round submission loss to Tony Ferguson at UFC 181.
The event takes place on November 7, 2015, at the Ginásio do Ibirapuera in São Paulo, Brazil. There's no word on the broadcasting plans for this event.
Down below is the current card for the event:
* Vitor Belfort vs. Dan Henderson
* Patrick Cummins vs. Glover Teixeira
* Tom Lawlor vs. Fabio Maldonado
* Yan Cabral vs. Johnny Case
* Gilbert Burns vs. Rashid Magomedov
* Gleison Tibau vs. Abel Trujillo
* Viscardi Andrade vs. Gasan Umalatov
* Matheus Nicolau Pereira vs. Bruno Rodrigues