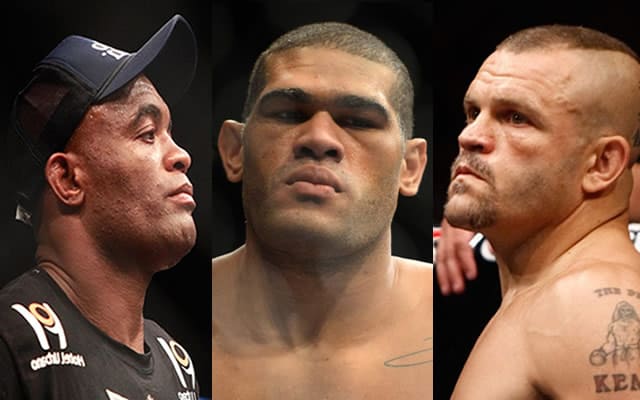 If you live by the sword, you die by the sword, and it's a sad fact of the fight game that it's only a matter of time before your ability to take a punch diminishes. And when it's gone, it's gone for good.
Over the years we've seen some of the biggest stars in the sport become a shadow of their former selves after taking one punch too many, with their chins (or perhaps more accurately, their brains) suddenly unable to withstand blows that they'd previously walked through without flinching.
In this article we'll look at ten examples where the moment that a fighter's chin gave out can be narrowed down to a single fight, after which their careers more often than not entered terminal decline, often resulting in more devastating losses before they realized for the sake of their health they have no option left but to hang up their gloves.

Chuck Liddell vs Rashad Evans
Chuck Liddell is one of the UFC's most legendary fighters, but he's also a classic example of a star whose chin completely deserted him in the twilight years of his Hall Of Fame career.
In his heyday, Liddell was famous not only for his remarkable knockout power, but also his ability to take a punch.
Years of hard-hitting wars rapidly caught up with 'The Iceman,' though, and a turning point was his first round TKO loss to Quinton 'Rampage' Jackson at UFC 71 in 2007, which ended his title reign.
However, the fight that truly sealed Liddell's fate came at UFC 88 in 2008 when Rashad Evans landed one of the most powerful right hooks ever seen in the Octagon, instantly knocking him out and sending his seemingly lifeless body crashing to the canvas, where he'd lie unconscious for an alarming period of time.
Despite calls for him to hang up his gloves, Liddell would step into the Octagon twice after that, where he'd learn the hard way that he could no longer take a punch as both Maurcio 'Shogun' Rua and Rich Franklin knocked him out in the first round.
Click next To Start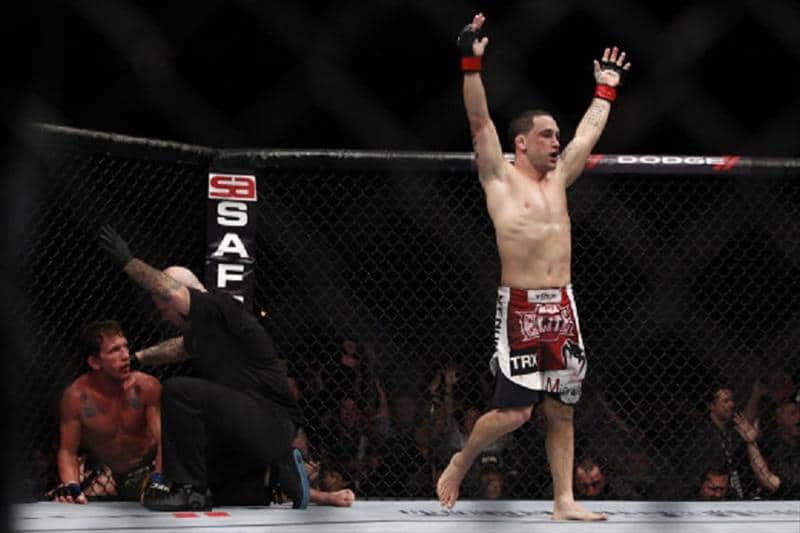 Gray Maynard vs Frankie Edgar III
There was a time, just a few years ago, when Gray Maynard was consistently one of the UFC lightweight division's top fighters, going 12 fights without defeat.
At his peak Maynard fought for the title twice against Frankie Edgar, and came close to defeating him tboth times, but 'The Answer' produced a nasty knockout finish in their second encounter.
Edgar buckled 'The Bully's' legs repeatedly in the fourth round as he found his chin with a series of right hooks, then unloaded more well-placed hooks as Maynard slumped to his knees and then faceplanted on the canvas.
It's only in hindsight that we see just how devastating that sequence was for Maynard, as he's never been the same since.
He split-decisioned Clay Guida afterwards in a tremendously lackluster fight, but TJ Grant would then TKO him in just over two minutes, as did Nate Diaz in a similar timeframe.
Ross Pearson continued the theme with a second round TKO, confirming beyond any reasonable doubt that Maynard's chin had gone AWOL.

Antonio Silva vs Andrei Arlovski
Picking out the moment a man's chin finally gave out is not an exact science, and there's certainly a debate to be had as to the moment that occurred for Antonio 'Bigfoot' Silva.
There's an argument to be made that it was his classic brawl with Mark Hunt at UFC Fight Night 33 in late 2013 that took the biggest toll on him, as although both men made it to the final bell, they were both rocked numerous times over the course of five rounds.
'Bigfoot's' chin was undoubtedly weakened that night, but Andrei Arlovski finished the job in his next bout some 10 months later at UFC Fight Night 51.
'The Pitbull' was able to floor Silva midway through the first round with a right hand, then repeatedly bounced his head of the canvas with huge hammer fists, at least a couple of which appeared to land after he was KO'd.
Silva's chin waved the white flag after that, but against his better judgment, the Brazilian didn't retire, resulting in a first-round KO loss to Frank Mir, a TKO defeat in a rematch with Hunt, and then another knockout at May's UFC 198 in just 16 seconds against Stefan Struve.

Anderson Silva vs Chris Weidman I
For much of his career, Anderson Silva has been hard to hit thanks to an uncanny knack to see strikes coming, and backing that up in his heyday was an excellent chin – a winning combination that ensured he would go 37 fights in his professional career without ever being stopped due to strikes.
All good things must come to an end, however, and the long-reigning middleweight champion's overconfidence would eventually lead to his downfall when he met Chris Weidman at UFC 162 in 2013.
As he'd often done in the past, Silva toyed with his opponent early in the fight, dropping his hands and sticking his chin out, then moving out the way of the incoming blows at the last second.
However, Weidman pressed on, and his persistence paid off early in the second round when the showboating Silva failed to see a punch coming and was caught flush to the jaw, sending him to the mat, where a further series of ground strikes sealed one of the most shocking knockouts in UFC victory.
There was an immediate rematch later that year at UFC 168, and while the broken leg that Silva would suffer captured all the headlines, the fact that Weidman dropped him surprisingly easily in the opening round suggested that the earlier KO loss had weakened his chin.
Another telling sign came in Silva's most recent fight with Michael Bisping, who has never been known as a power puncher, yet managed to wobble the former champion with a left hand to the temple and floored him with a left hook to the chin early in the fight en-route to a shock decision victory.
It remains to be seen if Silva's chin has completely abandoned ship, but the signs are there, and the 41 year-old has undeniably become vulnerable to strikes in a way that we've never seen before.

Dan Henderson vs Vitor Belfort
Dan Henderson will go down in the history books as having one of the most legendary chins in the sport, managing to last almost 40 fights spanning 16 years against a murderer's row of top-flight competition without ever being stopped due to strikes.
Henderson has continued to roll the dice, though, fighting on well into his forties, and so it was only a matter of time before his chin finally gave out.
That moment occurred against another legendary fighter, Vitor Belfort, in the main event of UFC Fight Night 32 in 2013.
Henderson came marauding forward a minute into the fight, only to be met with a flush left to the chin from Belfort that actually lifted him off the ground and floored him. That blow would have finished most men, but 'Hendo' somehow struggled back to his feet only to be greeted with a left head kick that knocked him out.
The air of invincibility surrounding Henderson's chin vanished and Mauricio 'Shogun' Rua would knock him down twice in the first two rounds of his next fight (though Henderson fought back to TKO him), while Gegard Mousasi took just 70 seconds to TKO him with punches, and most recently Belfort knocked him out again in the first round.

Brendan Schaub vs Antonio Rodrigo Nogueira
As a finalist on the 10th season of The Ultimate Fighter (TUF), there were hopes that Brendan Schaub could be a new star for the division at the time.
Roy 'Big Country' Nelson had other ideas though, and brutally knocked him out in the final. But Schaub was eventually able to put that behind him by compiling a four-fight winning streak.
He'd then face Antonio Rodrigo Nogueira, who was in the twilight of his career, but had no intention of losing in front of the Brazilian fans at UFC 134 in 2011.
Schaub had the early momentum, but was stopped dead in his tracks by an overhand right, then completely buckled by a left, resulting in his face scraping across the canvas as his body shut down before getting woken up again by a final left hook.
That loss took a big toll on him, and led to 'Big' Ben Rothwell KO'ing him in just 70 seconds in his next Octagon outing.
It was clear to everyone that Schaub knew his chin now had a 'Handle With Care' sign attached to it, and he became increasingly gun shy in the latter stages of his career, then retired after a first-round TKO loss to Travis Browne.

Pat Barry vs Cheick Kongo
For most of Pat Barry's combat sports career, he was used to being the one serving up the knockouts rather than being on the receiving end of them.
By the time he faced fellow heavyweight Cheick Kongo at UFC On Versus 4 in 2011, he had only ever lost once due to strikes in 21 kickboxing bouts and 8 MMA fights combined.
His fight with Kongo proved to be an instant classic, and it was Barry who had his opponent on the verge of being knocked unconscious twice in the space of 10 seconds.
Kongo somehow staggered back to his feet, however, and then produced one of the most memorable comeback KO's of all time, hurting Barry with a right hook behind the ear before landing another to the jaw that switched his lights off.
After that Barry just couldn't take a punch they way he used to, evidenced by first-round TKO losses to Lavar Johnson and Shawn Jordan, then another by KO against Soa Palelei that convinced him to retire from the sport. A return to kickboxing then resulted in yet another KO loss.

Tyson Griffin vs Takanori Gomi
At one point in time Tyson Griffin was a respected contender in the UFC's lightweight division who had never been finished inside the distance in 17 professional fights.
That record abruptly ended when he faced Takanori Gomi at UFC On Versus 2 in 2010.
Gomi had dynamite in his hands and dismantled Griffin's chin in just 64 seconds that night with a blistering right hook that sent him helplessly pancaking facefirst onto the canvas.
Griffin was a shadow of his former self after that savage knockout, and his 14-3 career began to disintegrate, producing a 2-4 run that included a first-round KO loss to Bart Palaszewski and TKO stoppage against 'JZ' Cavalcante, before stepping away from the sport in 2014 at just 30 years of age.

Sam Stout vs KJ Noons
Given that he's no stranger to stand-up battles, it's impressive to note that Sam Stout actually went 30 fights over an 11-year period without ever losing to strikes.
His chin did finally give out on him though, with KJ Noons being the man responsible at the TUF Nations Finale in 2014.
Noons clocked Stout with a right hook that dropped him, then sealed the KO finish with vicious ground and pound strikes just 30 seconds into the fight. Stout was so dazed afterwards that he was unaware the fight was over and tried to grapple with the referee.
Stout took almost a year out after that, but it didn't help as Ross Pearson KO'd him in similar fashion upon his return, then Frankie Perez TKO'd him in 54 seconds, which made up his mind he'd have to hang up his gloves:
"I clearly can't take a punch the same way I used to, so the decision wasn't that hard for me," Stout acknowledged after his last fight.

Nate Marquardt Vs Jake Ellenberger
Nate Marquardt is one of the most experienced combatants in the UFC with over 50 career fights under his belt in a 17 year stint as a professional. An impressive resume, but one that eventually had to take it's toll.
For Marquardt, that moment arrived when he returned to the UFC after a brief stint in Strikeforce in 2013, at which point he had only lost by strikes once in 45 fights.
Marquardt faced Jake Ellenberger at UFC 158, and midway through the opening round his legs gave out when he was caught with a clean right hook.
On his knees and still dazed, Marquardt groggily tried to reach for his opponent's legs, but Ellenberger blasted him with repeated right hands, with a final blow behind the ear faceplanting him onto the mat unconscious.
The damage had been done and others would go on to exploit it, with Hector Lombard KO'ing him in the first round of his next fight, as well as being TKO'd by Kelvin Gastelum, and most recently, Thiago Santos.