Tito Ortiz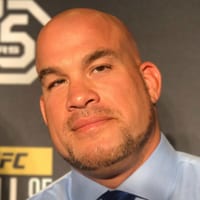 DOB: January 23rd, 1975
Birthplace: Huntington Beach, California
Nickname: The Huntington Beach Bad Boy
Gym: Team Punishment
Style: Wrestling
Weight Division: Light Heavyweight
Championships: UFC Light Heavyweight Champion
Ortiz discovers wrestling
Tito Ortiz had a hard life growing with two heroin addicted parents. He would get in a lot of trouble growing up, always getting into fights.
When Ortiz was a sophomore in high school, he went out for the wrestling team and excelled at the sport. Ortiz won a regional title and finished fourth in the state his senior year.
He developed a drug problem after high school, but overcame it thanks to his old wrestling coach. His old coach encouraged him to wrestle at the junior college he coached at.
At Golden West Jr College, Ortiz got back on track and won the Jr state championship.
Ortiz starts MMA training
After Jr college, Tito went to Cal State at Bakersfield to wrestle, but wasn't on the starting team. He trained along former UFC vet Tank Abbott.
Ortiz then discovered MMA and immediately started training. Tito began training while still attending college and couldn't go pro to stay eligible for wrestling, so he fought amateur bouts.
Tito and the UFC
Tito's very first pro fights were at the UFC 13 tournament. He won his first fight by TKO in 31 seconds against Wes Albritton. On the same night he also fought MMA veteran Guy Mezger losing by guillotine.
At the time Tito was only 22 years old and showed a lot of potential for improvement. He would go 3-1 in his next 4 fights including avenging his loss to Mezger.
In just his 6th fight, Tito fought for the vacant UFC Light Heavyweight title against legend Wanderlei Silva. He would use his wrestling to control the fight and earn a decision to win the title.
After winning the title, Ortiz would defend the belt 5 times with the last defense stopping his nemesis Ken Shamrock.
Tito loses the belt
Ortiz would face Randy Couture in his 6th title defense, but would get outworked for 5 rounds. Losing a unanimous decision and the title. He would also lose his next fight by KO against rival Chuck Liddell. 
Now with 2 losses in a row, Tito would get back to his winning ways beating his next 5 fights. Two of them against Ken Shamrock, who he stopped with strikes in both bouts. 
With 5 wins in a row this set him up with another rematch against rival Chuck Liddell. Unfortunately, the rematch did not go his way either losing by stoppage again.
The end of Ortiz's UFC run
After losing to Liddell for a 2nd time, Ortiz did not have much more success in the UFC. Going 1-7-1 in his last 9 UFC fights before being released
Ortiz's Bellator run
Ortiz found himself in Bellator MMA after his long UFC run. He would win his debut against former Bellator middleweight champ Alexander Shlemenko.
Overall he would go 3-1 before his contract expired.
After Bellator
When Ortiz's Bellator contract ended, he fought on Golden Boy Promotions only MMA card. Avenging 2 losses against his rival Chuck Liddell.
The Huntington Beach Bad Boy would then sign with promotion Combate Americas. Facing pro wrestler Alberto Patron and winning by strikes in the first round.