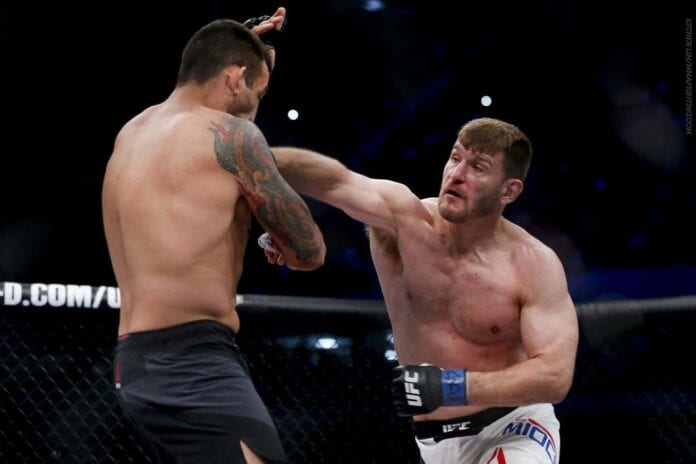 Reigning UFC heavyweight champion Stipe Miocic will look to defend his title for the very first time in the main event of September 10's UFC 203 when he meets legendary veteran Alistair "The Reem" Overeem in his home of Cleveland, Ohio. Miocic won the title last May at UFC 198 when he destroyed former champion Fabricio Werdum in the very first round. Since then, however, Overeem feels as if Miocic has been celebrating and partying too much, recently saying that he was the 'hungrier' fighter.
Speaking with Submission Radio earlier this week, Miocic responded to "The Reem", labeling himself as a 'savage', and telling Overeem that he will smash him:
"Yeah, you'll see a better version of me. I'm gonna go out there and I'm gonna smash and keep this belt for a long time. I mean, he can say whatever he wants, man, whatever he wants to build his confidence up. But, I've been training non-stop, I'm great shape, I'm ready to fight. I wish this fight was this weekend. I'm ready to roll, man. You know, whatever. He wants to say he's the hungrier fighter, but listen man, I'm a savage, bro. I'm ready to go."
Despite his confidence, Miocic did note Overeem's accomplishments and recent successes, as the Dutchman has won four straight with three coming by way of finish. At the end of the day, however, Miocic truly feels as if he's the ringleader at 265-pounds right now:
"Listen, he's a tough guy, he's fought the best in the world, he's a K-1 guy, he's good on the ground, he's good all around. Yeah, he's come back strong and I've fought a lot of guys that have had a resurgence and have been fighting better and I put a stop to it real quick. So listen, come UFC 203, I'm walking out with that belt still around my waist. So whatever he wants to do or whatever he wants to think, he ain't gonna win. It's gonna be me with my hand raised at the end of the night. I think I've fought the who's who of the heavyweight division. Overeem is just another guy they put in front of me and he's for me to put down again. I'm gonna be champ for a long time and he's just another guy front of me."
Who do you see walking away with heavyweight gold on September 10th?