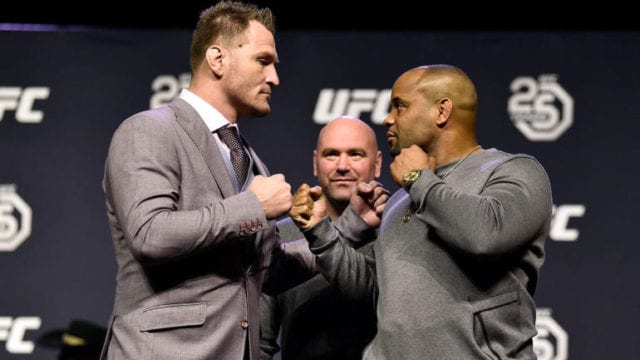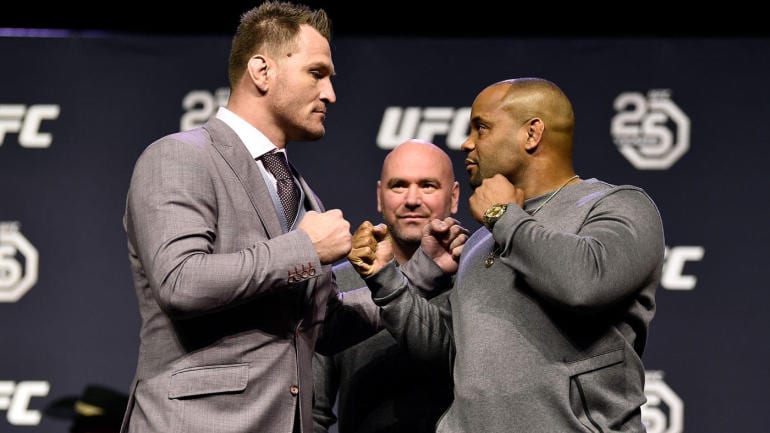 Stipe Miocic is still here, fight fans.
Despite becoming somewhat of an afterthought following the WWE-inspired scene involving Brock Lesnar that followed Daniel Cormier's knockout of Miocic in the main event of last weekend's UFC 226 from Las Vegas, the Cleveland-born firefighter remains arguably the most decorated heavyweight in UFC history.
After winning the title with a massive knockout of then-champion Fabricio Werdum in 2016, Miocic went on to defend the title with impressive performances against Alistair Overeem, Junior dos Santos, and Francis Ngannou to set the UFC heavyweight record for most consecutive title defenses. He was doing quite well against light heavyweight champion Cormier, too, until 'DC' floored him with a shotgun blast of a right hand to finish their superfight in the final minute of the opening round.
Miocic then became lost in the chaos of former champion Brock Lesnar's appearance, who called Miocic a "piece of s***" despite not having a legitimate win since 2010 while his target was the most decorated UFC heavyweight champion in history. Unfortunately, that's the UFC these days, and Lesnar will get to face Cormier because Miocic doesn't move the needle like the WWE megastar. That won't stop the former champ, who owned up to his loss with extreme class, from asking "DC" to run it back, which he did on social media today:
Congrats to DC. Didn't get the chance to say it in the cage, but lets dance again and get a rematch before you call it a career.

Thx to my coaches and team.

Being the greatest heavyweight in UFC history is a career-long journey and doesnt end here. I'm more motivated than ever!

— Stipe Miocic (@stipemiocic) July 9, 2018
Cormier was quick to write back with his mutual respect, but after teasing an off-the-wall title fight with former UFC light heavyweight champion Shogun Rua earlier today, he didn't agree to run it back with Miocic as one of the perceived final two fights of his career:
My brother it was an honor to share the cage with you. I know you'll be back better than ever champ. Head up and good luck with baby. #father #husband #hero #champ #cle https://t.co/S6WIN9uNfX

— Daniel Cormier (@dc_mma) July 9, 2018
There's no surprise that Miocic wants a rematch with the man who ended his record-setting title run, and based on his body of work, he's legitimately one of the most deserving former champions in that regard. Many record-breaking champions like Anderson Silva, Georges St-Pierre, and even Joanna Jedrzejczyk got immediate rematches when they lost their respective titles in shocking fashion, although long-reigning featherweight champion Jose Aldo missed out on one with Conor McGregor under similar circumstances.
But there have also been UFC champions who never defended their belt once who got an immediate rematch, such as Cody Garbrandt, who will meet TJ Dillashaw for the belt at August 4's UFC 227 after "The Viper" knocked him out last year. The bout will come during a time when the UFC bantamweight division has arguably never been more talented.
So there's no set rhyme or reason for the way in which the UFC hands out title shots, except for the obvious tendency of them going with the fight that earns the most dollars. Because of that, it looks like Cormier will meet Lesnar at some point when "The Beast" clears up his issues with USADA (if he can), and Miocic could be left out in the cold due to the fact he isn't and simply never will be a trash talker who moves the needle in a mainstream sense.
Right or wrong, that's the fight game, folks. Should Cormier grant Miocic a chance to win back his title before he retires?