Six Most Talented Fighters Who Must Join The UFC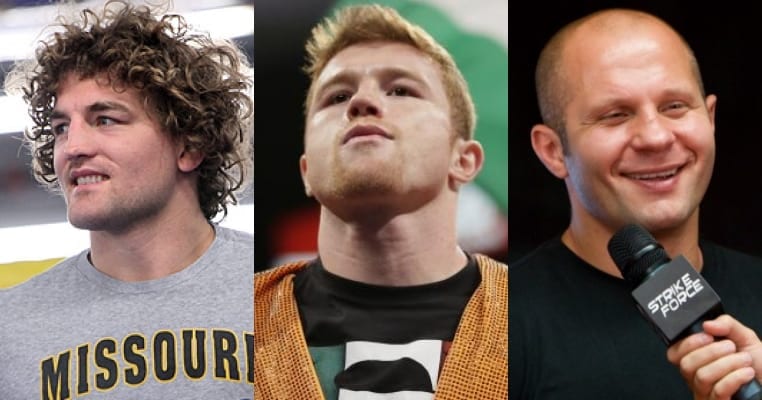 The UFC has a plethora of exciting and star-studded fighters to fill its roster, but you can never have enough insane combatants on your mixed martial arts (MMA) roster.
There are plenty of fighters across the world's various combat sports promotions who would do great in the UFC, ranging from today's boxing stars to champions of various MMA organizations.
So without further ado ladies and gentlemen, let's take a look at the six most talented fighters who fans simply must see in the UFC…
6. Justin Gaethje
We kick off our list with a 155-pound champion from the World Series of Fighting.
Justin Gaethje is a legitimate threat to any man competing at lightweight, as the undefeated prospect has finished all but two of his professional mixed martial arts (MMA) fights.
His most recent contest saw him successfully defend his WSOF lightweight strap, when he took home a nasty TKO victory over Brian Foster with some vicious leg kicks at WSOF 29 this past March.
To fantasy match-up Gaethje with top UFC lightweights such as Rafael dos Anjos, Tony Ferguson, Khabib Nurmagomedov, and current champion Eddie Alvarez are all certainly entertaining thoughts.
Or how about a collision with division hoper and 145-pound champ Conor McGregor?
5. Ben Askren
It's no secret that MMA gym Roufusport has produced some of the biggest names in MMA today, and one such name that has yet to see the inside of a UFC Octagon is ONE Welterweight champion Ben Askren.
Askren (15-0(1)) is a man who knows how to win fights, as the former NCAA Division I wrestler holds a spotless MMA record that includes four knockouts and four submissions.
"Funky's' most recent outing saw him take home a unanimous decision victory over Nikolay Aleksakhin at ONE Championship: Global Warrior this past April, in a non-title bout after Aleksakhin failed to make weight for the contest.
The former longtime Bellator 170-pound champ has fought all around the world under major promotional banners, however, he has yet to get his shot to compete at the big dance in the UFC; with world beaters such as Robbie Lawler, Demian Maia, Stephen Thompson, and current champion Tyron Woodley waiting to test themselves against the best welterweight in the world that is not in the UFC.
4. Amir Khan
Yes, highly-decorated boxing champion Amir Khan has made our list of fighters we want to see in the UFC, now let me tell you why.
Khan has recently expressed interest in stepping into the UFC's Octagon for a potential super-fight with featherweight champ Conor McGregor, which would be a pivotal contest in the 'Boxing vs. MMA' war that seemed to spark once Floyd 'Money' Mayweather expressed interested in boxing McGregor.
Although boxing is where he's made his name, Khan has revealed that he has been training in MMA for some time in anticipation for a career change, and he also holds ownership in MMA promotion Super Fight League (SFL).
Can you imagine seeing Khan in the UFC's Octagon sporting 4oz gloves, ready to go to war against 'The Notorious One'?
3. Michael 'Venom' Page
One of the most exciting mixed martial artists to watch compete in a cage today is Bellator's Michael 'Venom' Page.
Page (11-0) is currently undefeated in his four-year-old MMA career, and is quite the knockout artist as he holds seven career knockout finishes on his record.
'Venom' is coming off of one of the most vicious finishes MMA fans have witnessed in recent memory, as he took out opponent Evangelista Santos with a flying knee that literally left a dent in 'Cyborg's' skull for a first round KO victory at Bellator 158 last month.
If Page were to find his way into the UFC's welterweight division, he would certainly be a threat to anyone who currently resides in the depthy 170-pound weight class.
2. Canelo Alvarez
One of boxing's most massive stars has also found his way onto our list of fighters we hope to see in the UFC, and like his most recent KO victim Amir Khan, its all because of Conor McGregor.
Saul 'Canelo' Alvarez is one of the most dominant boxing competitors in the world today, as the Mexican's vicious fight-ending power has been the downfall of many men who have decided to step into the squared circle with him.
Canelo holds 33 career knockouts on his resume out of his 47 career wins, with only one 'L' in the loss column coming at the hands of technical master and all consensus G.O.A.T Floyd 'Money' Mayweather back in 2013.
Shortly following the massive McGregor vs. Diaz II contest at UFC 202, Canelo took shots at the featherweight champion by claiming he 'gasses out after two rounds' in response to McGregor making accusations that Alvarez 'cherry picks' his opponents.
If McGregor and Canelo would be locked inside of the UFC's Octagon to settle their differences, it would certainly be a scrap that all combat sports fans would be chomping at the bit to tune in to.
1. Fedor Emelianenko
You probably guessed this one, how could we not put 'The Last Emperor' at number one?
Fedor Emelianenko has to be the greatest heavyweight to have never competed inside of the UFC's Octagon, and the door of opportunity is slowly shutting for the 39-year-old Russian legend.
Emelianenko's (36-4(1)) legendary career has seen him take victories over fellow legends of the sport such as Andrei Arlovski, Mark Hunt, Mirko Cro Cop, and Antonio Noguiera.
Current members of the UFC's heavyweight division, however, can say that they hold a victory over the pride of Russia, as former UFC heavyweight champion Fabricio Werdum, Antonio 'Bigfoot' Silva, and Dan Henderson (middleweight) all claim a stoppage victory over Emelianenko.
Emelianenko's last defeat was in July of 2011 when Henderson knocked him out in the first round in Strikeforce, and he has embarked on an impressive five-fight win streak since then.
Granted, his last victory against Fabio Maldonado was a controversial one, the Russian's win streak has earned him the opportunity to finally compete under the UFC banner.
With potential match-ups awaiting in the form of Cain Velasquez, Alistair Overeem, Stipe Miocic, or a Fabricio Werdum rematch, there is undoubtedly a tremendous amount of interest in seeing one of the greatest heavyweights of all time compete in the UFC Octagon.