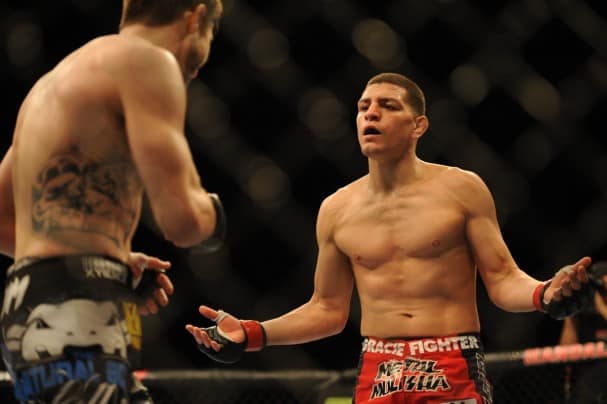 By now you probably know that yesterday (Mon. September 14, 2015) the Nevada Athletic Commission (NAC) decided to suspend embattled bad boy Nick Diaz for an unheard-of five years and fine him 33 percent of his $500,000 purse in conjunction with a failed drug test for marijuana after his UFC 183 loss to former champ Anderson Silva last January.
It was Diaz' third test failure for marijuana after having appeared before the commission in both 2007 and 2012, and he also ran from a drug test in his native California back in 2009. Obviously that was taken into account and also meant that, along with the NAC's new, stricter guidelines for drug offenses, Diaz was most likely going to be dealt a much harsher punishment the third time around.
Diaz' lawyer Lucas Middlebrook came in with a strong case and did his best to purvey it to the Commission, citing inaccuracies between the three tests Diaz took on fight night where two samples, which were sent to the WADA-accredited SMRTL lab, resulted in THC levels below the allowed threshold of 150 ng/ml while the third, which was sent to NAC stalwart (and supposedly lesser testing facility) Quest Diagnostics, came back with a ludicrous 733 ng/ml, which was obviously grossly outside the allowed range.
The whole thing screamed of sloppiness, and even the NAC admitted they could use improved drug testing standards, but are not given the budget to adhere to WADA's full practices. They should, because they certainly follow WADA's list of banned substances, which Diaz' revered weed is of course on.
Yet this became no longer about marijuana, something the NAC actually admitted during deliberations following hours of agonizing medical analysis and back-and-forth grilling. No, this was all about power; the thing the NAC values and covets most.
This was more than apparent when Diaz took his seat before the Commission and promptly proceeded to plead the Fifth Amendment to each of Commissioner Pat Lundvall's questions, something that visibly angered her and most certainly played a part in her recommending a lifetime ban for Diaz.
This was more about Diaz making the Commission look bad, and he most certainly did that. Their inadequacies were brought to light in a big way yesterday, as most could see they had already made up their mind about his regardless of the case his very informed legal team brought forth. That was unprofessional to say the least, and the NAC will have to answer before a real court of law when Middlebrook appeals their decision and turns this into a lengthy legal battle.
Today, almost the entire MMA community is up in arms about the suspension, and for good reason. It's rife with favoritism and inconsistency in punishment, as several fighters who have been caught using steroids (such as Vitor Belfort, who was caught at least twice that we know of) were given comparatively lighter bans for using substances that could actually cause them to harm their opponent in the cage.
This needs to be fixed, and it needs to be fixed soon. With testing now at the forefront of MMA media, an uninformed Commission who only cares about their power and whether or not athletes come groveling at their feet looking for forgiveness will not benefit MMA or any other combat sport governed by this farce of a regulatory body.
However, Diaz also did this to himself. Find out why on the next page.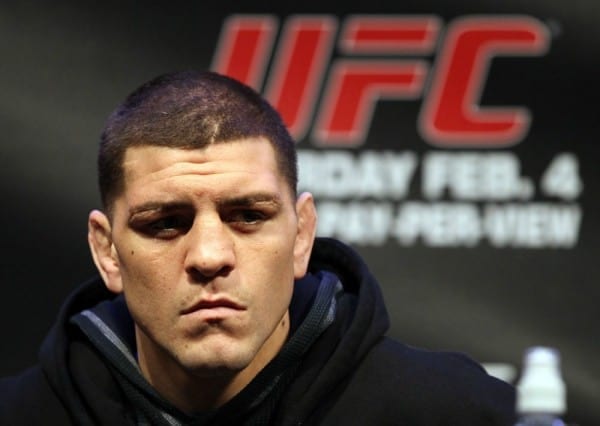 Shortly after his sanctions were announced, a baffled Diaz spoke up to MMA Fighting's Ariel Helwani to detail his past roots as a fighter, the struggles he went through to get there, and his view that he was the 'original Conor McGregor.' It was an emotional interview that opened up a darker side of Diaz, perhaps explaining why he is the way he is.
Many were quick to jump to his side, just like his passionate fans always do. That's understandable. They felt sorry for Diaz for what he's been through and for what he was handed by a Commission that clearly had it out for him.
That isn't really necessary, though, because the main way Diaz is like McGregor, aside from the endless trash talk, is that he was gifted a path to absolutely huge fights without having to take on and beat the best fighters in his division(s). It could be argued that with wins over Dustin Poirier and Chad Mendes, McGregor actually did more to arrive at his UFC title shot than Diaz ever did.
In truth, Diaz has not won a UFC fight since he dominated an obviously fading BJ Pennalmost four years ago in late 2011, yet he was given a title shot against Georges St. Pierre at UFC 158 in March 2013. He got dominated in a highly hyped bout that turned out to be an utter letdown.
Not only did he survive, but he even returned to face Silva for a massive payday of $500,000 at UFC 183. Name another fighter who hasn't won a fight in over three years and was coming in off a suspension who would get an opportunity against one of the sport's all-time legends other than Diaz. You simply won't find one.
That makes it incredibly hard to feel sorry for the bad boy. Dana White has repeatedly stated that Diaz would be a massive star if he would only 'play the game,' and in truth, he's done the exact opposite of that throughout his entire career. That's too bad, because Diaz had the talent to be one of the sport's best.
He just didn't utilize it; at least not to the fullest. For someone who says the only job he's ever had is being a professional fighter, he certainly doesn't take it very seriously.
It's ludicrous that marijuana, a substance that is street legal in some states, is punished on the same level as performance-enhancing drugs (PEDs) in MMA. But rules are the rules, and Diaz knew he would have to both pass a drug test to get licensed to fight Silva and answer if he had used marijuana on his pre-fight medical questionnaire, two things he flubbed majorly and for a third time.
Not even necessarily post-fight either, but before the test in question ever came to be.
In the weeks leading up to the bout, Diaz supposedly admitted to Nevada Deputy Attorney General Christopher Eccles that he had indeed used marijuana and needed a therapeutic use exemption (TUE) in order to fight. But Eccles maintained that Diaz simply took too long in getting licensed because he knew he couldn't pass the test, and at the hearing he also suggested that Diaz was fully notified about his positive test but refused to have his B sample tested on multiple occasions.
Despite Diaz' pre-fight flubs, however, the NAC appeared to let emotion for how he had treated them affect their decision, and it's ended his fighting career for the time being. Because of that, there's reason to feel sorry for the unique fighter, so continue on to cast your vote in our Diaz poll on the following page.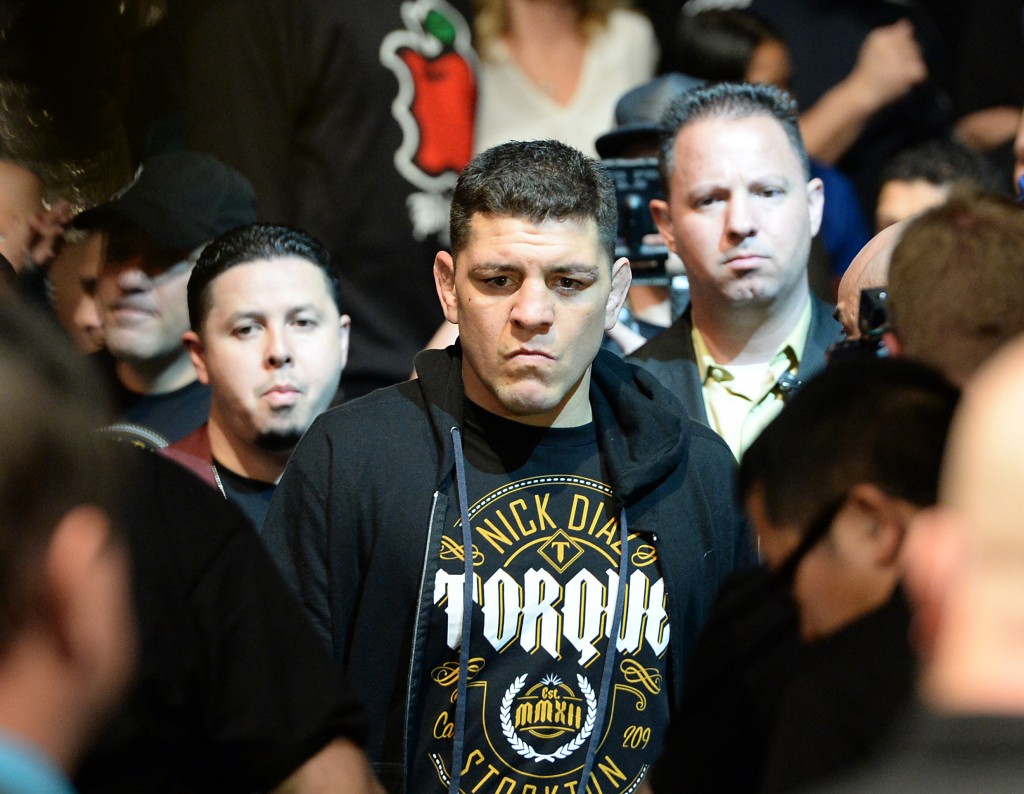 Looking at the rough situation from the other point of view aside from the NAC's grossly over-the-top punishment and behavior, we never would have been here if Diaz would have simply followed the rules of the game he claims to love so much.
Instead, he's routinely spat in their faces, and while it's earned him a massive cult following as MMA's biggest anti-hero, it will also potentially spell the end of his career, which could have been so, so much more decorated if only he'd taken it seriously.
He has to be commended for coming from a broken household and a rough upbringing to prosper in the fight game, but many so-called 'normal' people have been through that and worse. If you (or anyone else) made the same mistake that you had been twice suspended for at your job a third time, would you expect to still be employed? No, you'd be fired that day. You just would.
Diaz got a fight with a legend, and all he had to do was pass the drug test. Instead, he blamed everyone else as he always does and counted on the rules not applying for him, because in a lot of instances, they haven't.
And when you mess with the Commission, they don't take kindly to what they view as insults, and it makes them act swiftly like insulted teenage girls. Diaz' team should have known that, but now they'll battle it out in court for most likely months or even years.
The bottom line is that Diaz had opportunities that most would kill for, and instead of running with them and becoming a star, he instead chose to break the rules repeatedly until he was given the ax one last time. He might be back depending on the appeal, but he hasn't really had any real fire for the fight game for several years now, 'retiring' after each one of his last three bouts after collecting another huge paycheck for another uninspiring performance.
Diaz could have been one of the greats, even if he was unable to beat the best wrestlers of his time, solely because of his magnetic personality. His fans already think he is, so that only proves that he's a transcendent fighter considering he hasn't won a single fight for almost exactly four years. Almost any other fighter would be raked over the coals and cut from the UFC for possessing anything close to that poor of a recent track record.
Instead, he let his anti-establishment ideals and ego get in the way of him prospering in a sport that is all-too-much ruled by bureaucracies. Kudos to him for sticking to his guns, but it's time to admit that he could have been so much more if he had only played the game.
The NAC did Nick Diaz wrong. He put himself in the position to let them, and when it was all said and done, he just didn't respect the clear rules of the sport that he claims to be his life. It's definitely time for the NAC to re-evaluate their practices, and a court may tell them to do so on accord of Diaz and his team.
However, it's tough to feel sorry for a fighter who had the world proverbially in the palm of his hand and chose to let it go so he could smoke marijuana on a regular basis. This could have been avoided, on both counts.
Taking that into account, do you feel sorry for Nick Diaz? A strong case can be made for both sides.