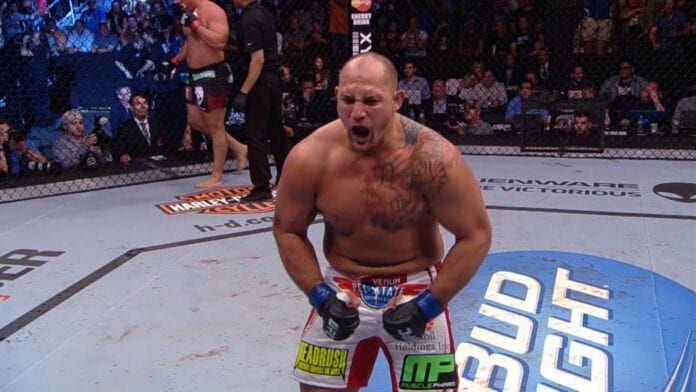 Ever since former Pride President Nobuyuki Sakakibara announced he was launching a new MMA promotion (Rizin Fighting Federation) and that Fedor Emelianenko would be fighting or them on December 31st, 2015, everyone has wanted to know who he would be fighting.
While an opponent has not officially been named for him, it's been reported that Jaideep Singh, who is 1-0 as an MMA fighter, would be Fedor's opponent.
UFC heavyweight Shawn Jordan's contract with the UFC have expired, and now he's looking to fight Fedor.
"I want to fight Fedor. He's a legend in the sport and one of the best heavyweights ever. He's one of the reasons I got into this sport," said Shawn Jordan when speaking to Combat Press. "I started watching Fedor when I was still playing football. He had a calm demeanor. [He] was very controlled, but dominant at the same time. To be able to compete with that guy would be an honor and a great experience for me. After getting banged up in my last fight and not competing very well, I'd like to go and get a fight like this to get that bad taste out of my mouth."
Shawn Jordan (18-7) is currently on a one-fight losing streak. In his last six bouts, he's 3-3.
Now that his UFC contract is up, he sees this is an opportunity for him to explore other options.
"This isn't just a competitive decision," said Jordan. "It's an avenue to make real money and get a paycheck, because it's Fedor. Everything about this fight is beneficial for my career. I don't know how long I'm going to be able to keep doing this. Fighting right now has to be worth it and a contract has to be worth being away from my daughters. I could come back and get an engineering job here in Baton Rouge and make a consistent living, so, yeah, it has to be worth it.
Emelianenko hasn't fought since October 7th, 2011, which was when he announced his retirement following a first-round knockout of Pedro Rizzo. Emelianenko is 3-3 in his last six, but after a three-fight losing streak in his last three Strikeforce appearances, he ripped off three straight wins. In his last two bouts, he won by the first-round knockout over less quality opponents.
"On a personal and professional level, I have to look around and if I don't find something that's worth it, then so be it. But it's nice to go around and look to see if I'm worth more to somebody. And if the UFC can match what somebody offers, that's beneficial too.
"We'll see how it plays out, but I really want the opportunity to fight Fedor."
We want to know if this is a fight that you want to see. Let us know in the comment area below.