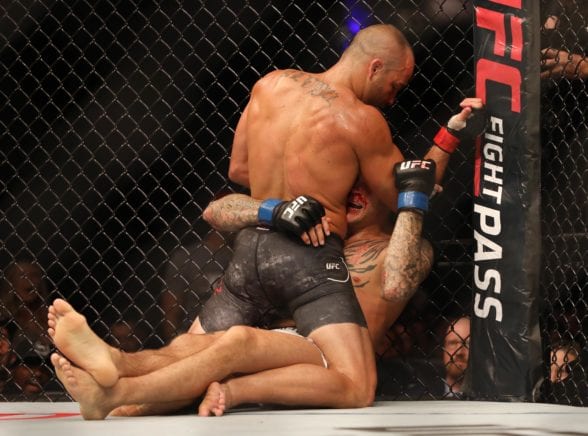 Eddie Alvarez is a crafty veteran – perhaps too crafty:
Say what you will about "The Underground King" Eddie Alvarez, but be sure to include sly old dog in your job description.
Alvarez reached deep into his bag of tricks in his rematch with Poirier, but in the end, the self-proclaimed 'world's most violent man' didn't have enough pressure to break "The Diamond".
These two first faced off at UFC 211, a fight that was entertaining until the very end. The fight ended in controversy when Alvarez kneed Poirier illegally in the second round, robbing the fans, himself, and Poirier of a possible FOTY candidate in the process.
Poirier was vocal about his feeling on the matter, saying afterward that he believed Alvarez knew exactly what he was doing when he threw the fight-ending illegal knee.
Alvarez would only perpetuate the myth that he is a "dirty fighter" in their rematch at UFC on FOX 30. The crafty veteran was reprimanded for grabbing the cage, gouging the ear of Poirier, and would ultimately lose positional advantage due to throwing an illegal 12-to-6 elbow that would cause the former champion to be subsequently knocked out by Poirier.
Begging the question: What has Alvarez risked fights he may have been able to win due to simple disregarding of the rules?