With championships on the line in MMA's two biggest divisions, last night's (Sat., January 20, 2018) UFC 220 from TD Garden in Boston, Massachusetts, promised to get the UFC's 2018 pay-per-view schedule started off right, and overall, it's safe to say it accomplished that.
Two of the UFC's biggest hype trains were sent back down to re-evaluate things in two sobering, dominant performances from two of the most workmanlike titleholders the sport has ever seen, brutal knockouts gave a big jolt to the preliminary card, and two rising featherweights met in a close and exciting slugfest.
Those are only the surface results, however. Let's dig a bit deeper and look at the seven biggest takeaways from UFC 220.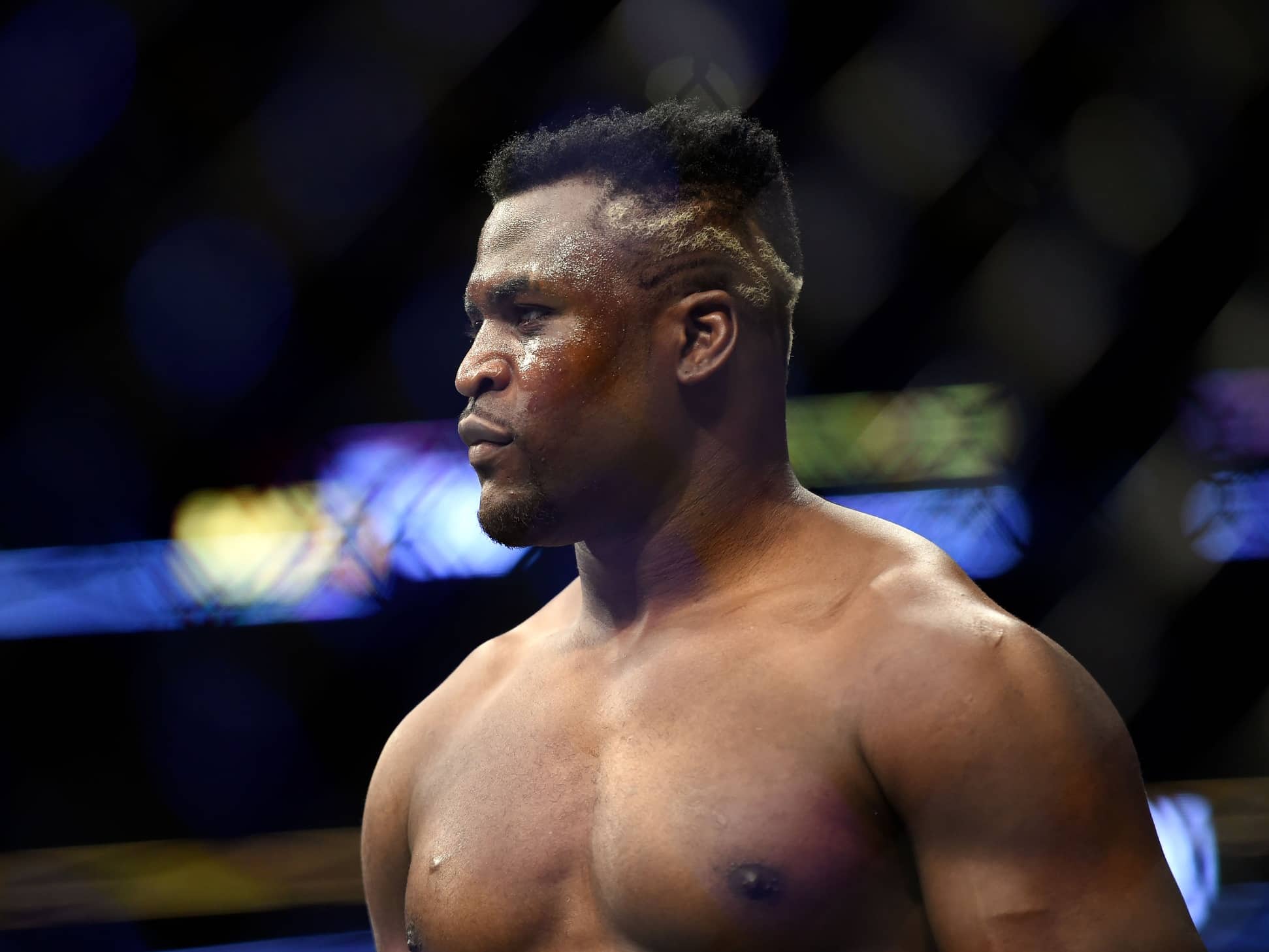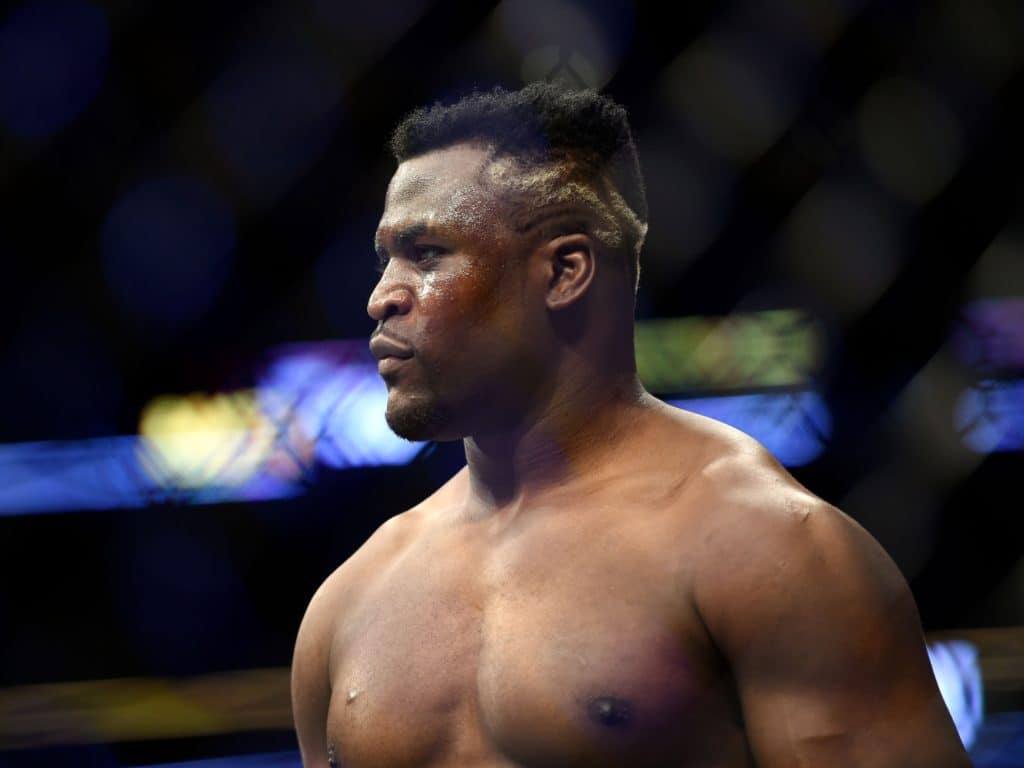 7) Hype Trains Die Hard Yet Again:
In a paradoxical set of circumstances, in no sport are hype trains perhaps both created and sent crashing than they are in mixed martial arts, and UFC 220 was one of the most poignant, hard-hitting reminders of that.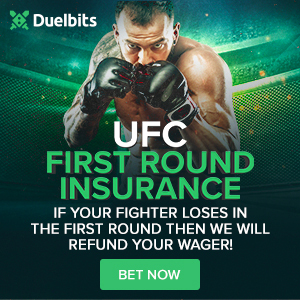 Top-ranked Ngannou had run over every competitor he'd faced in the UFC and most recently knocked out Alistair Overeem, a veteran who had given champion Stipe Miocic significant trouble in their fight at UFC 203, with 2017's clear "Knockout of the Year" at UFC 218, sending his hype into the proverbial stratosphere heading into his main event against Miocic at UFC 220.
The promotion of 'The Predator' was so much so that he was the betting favorite despite Miocic winning five straight fights with two title defenses.
But as the narrative goes, Miocic outclassed Ngannou with a superior strategy, one that involved all aspects of mixed martial arts rather than just knockout power. His takedowns were varied and effective, his ground control stifling, and when he needed it, his strikes much more consistent and accurate than those of a fading and eventually gassed Ngannou.
The challenger admitted he underestimated the champion's skills, but he wasn't the only hype train to get derailed at UFC 220.
Formerly surging light heavyweight knockout artist Volkan Oezdemir also saw his improbable three-fight run to title contention stopped in its tracks when champ Daniel Cormier put on maybe the most Daniel Cormier-like performance we've ever seen, grounding "No Time" in well, no time and pounding him in the crucifix until the ref mercifully stepped in to call it off.
Both Ngannou and Oezdemir had as much or more hype than any fast-rising prospect had in the relatively shallow divisions for years, but instead of gold belts, they left Boston with some legitimate questions to answer about their all-around skillsets.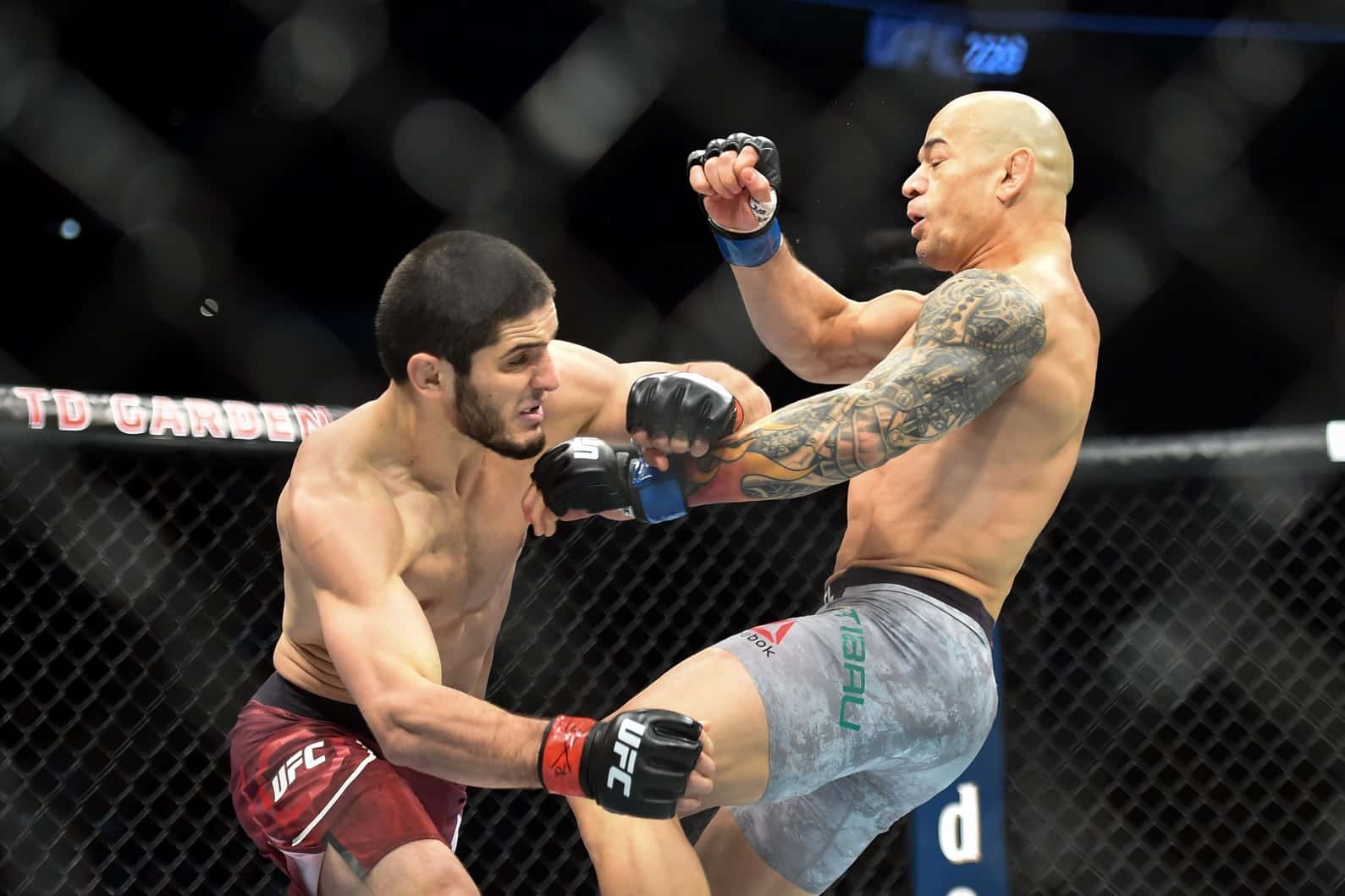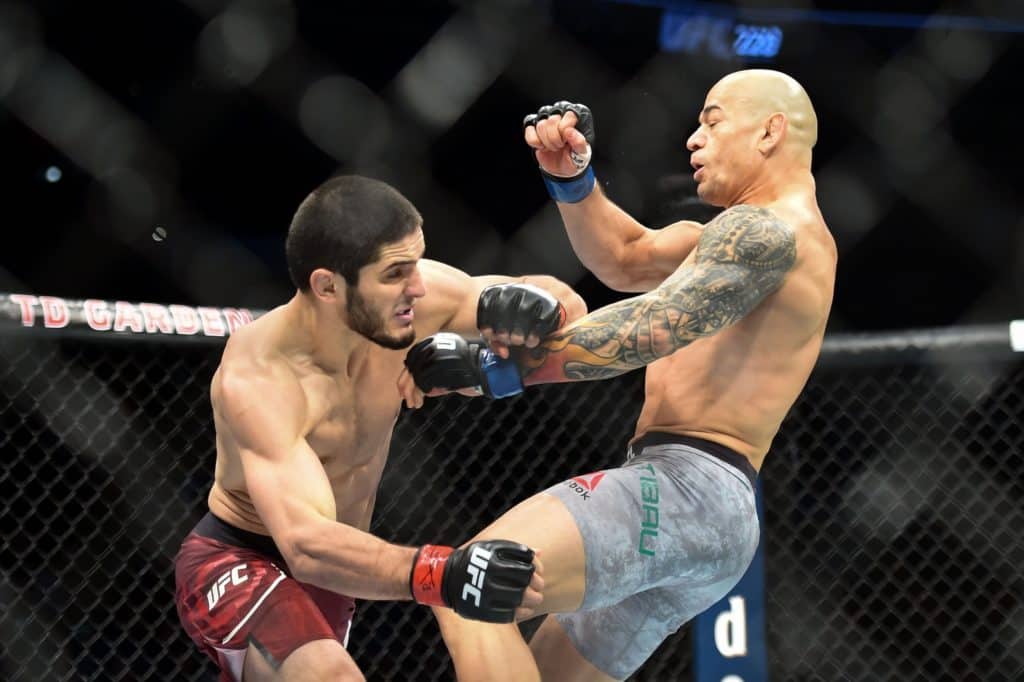 6) Islam Makhachev Is The Real Deal:
The Fight Pass-aired prelims at UFC 220 got started off right with a thunderous victory by rising prospect Islam Makhachev, who demolished returning veteran Gleison Tibau with a jaw-dropping left hook knockout only 57 seconds into the first round.
It's a bit tough to know exactly what the limit is for the 15-1 Dagestani lightweight due to the fact that Tibau had been out of competition for so long, yet he's clearly a surging contender who is marketable as well due to his ties to top-ranked lightweight Khabib Nurmagomedov (he even looks like 'The Eagle' a bit).
Like Khabib, Makhachev would benefit from a bit more activity, but with victory in four out of his five UFC bouts so far, expect to see him rising up in one of MMA's deepest divisions soon.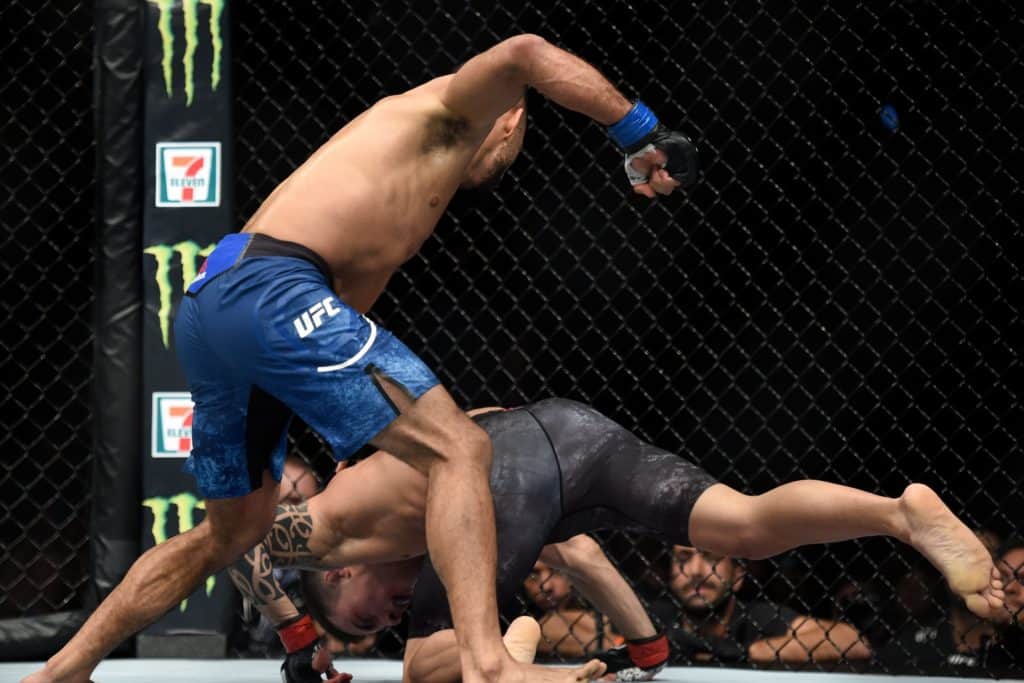 5) Rob Font Is A Darkhorse At Bantamweight:
Font put on a showcase of his skills against another formerly touted hype train in Thomas Almeida, using crisp and varied striking to stop the Brazilian Muay Thai expert with a volley of shots.
He now boasts three finishes in his last four UFC contests, with his only loss coming to Pedro Munhoz. Ranked at No. 14 and almost guaranteed to rise after taking out previously No. 10-ranked 'Thominhas,' Font could be a darkhorse in a division that's suddenly packed with dangerous fights around every corner.
Watch out for him in 2018.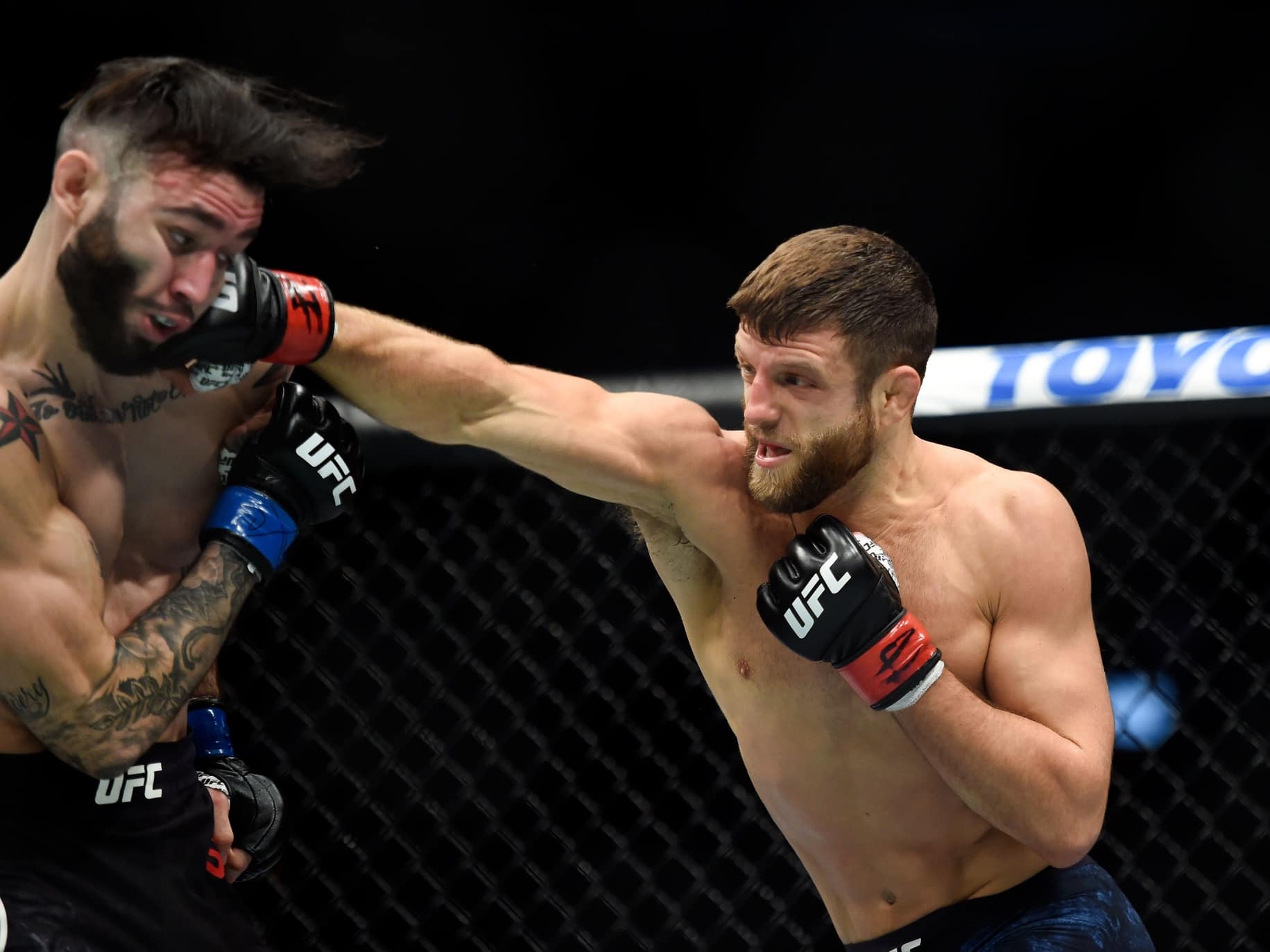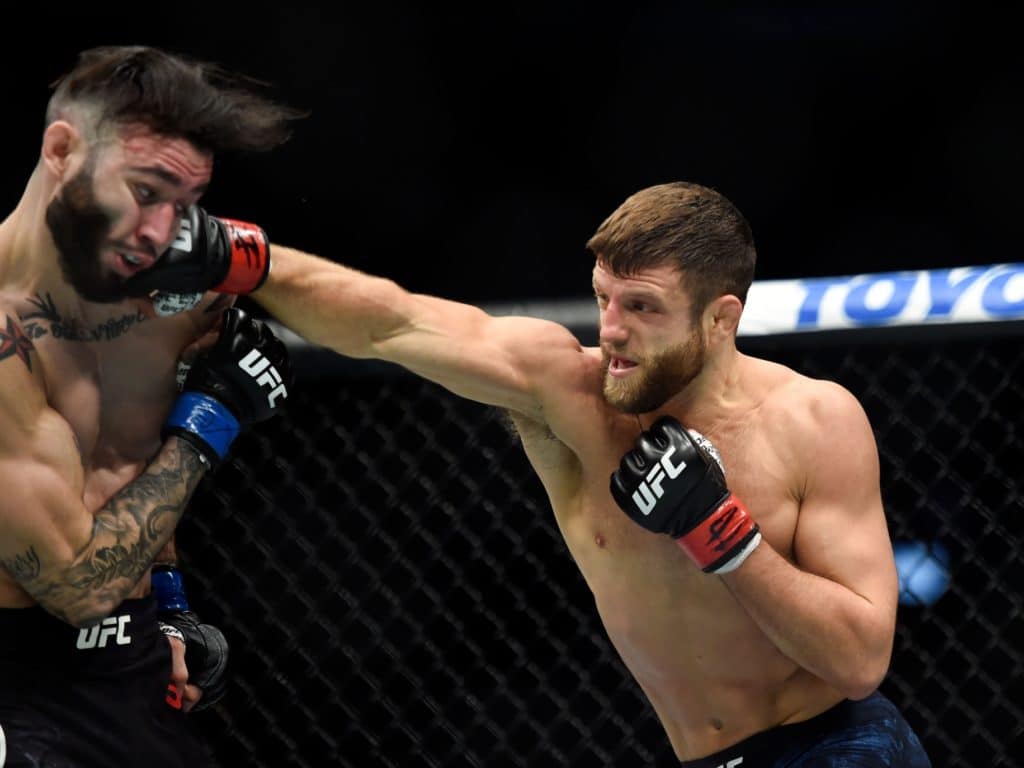 4) Calvin Kattar Is A Legit Featherweight Prospect:
A bit lost in the hustle of the two title fights was the superb performance put on by the winner of the fight directly preceding those two high-profile bouts, Boston-based featherweight Calvin Kattar.
The 18-2 Kattar threw down with previously undefeated New York fighter Shane Burgos in a deserving "Fight of the Night"-winning affair that gave him victory in his only two octagon bouts. It was a back-and-forth match-up, one dominated early by Kattar's precise, stinging jab until Burgos' forward pressure seemed to shift momentum in the second frame.
But Kattar persevered for his hometown fans, rocking Burgos with an exhilarating sequence in the final round and following to the ground to earn an emphatic finish in a storybook setting.
Now, however, his name is no longer under the radar, and he'll now be thrown directly into the deep end of the UFC featherweight shark tank.
Something tells me Kattar will be up to the task.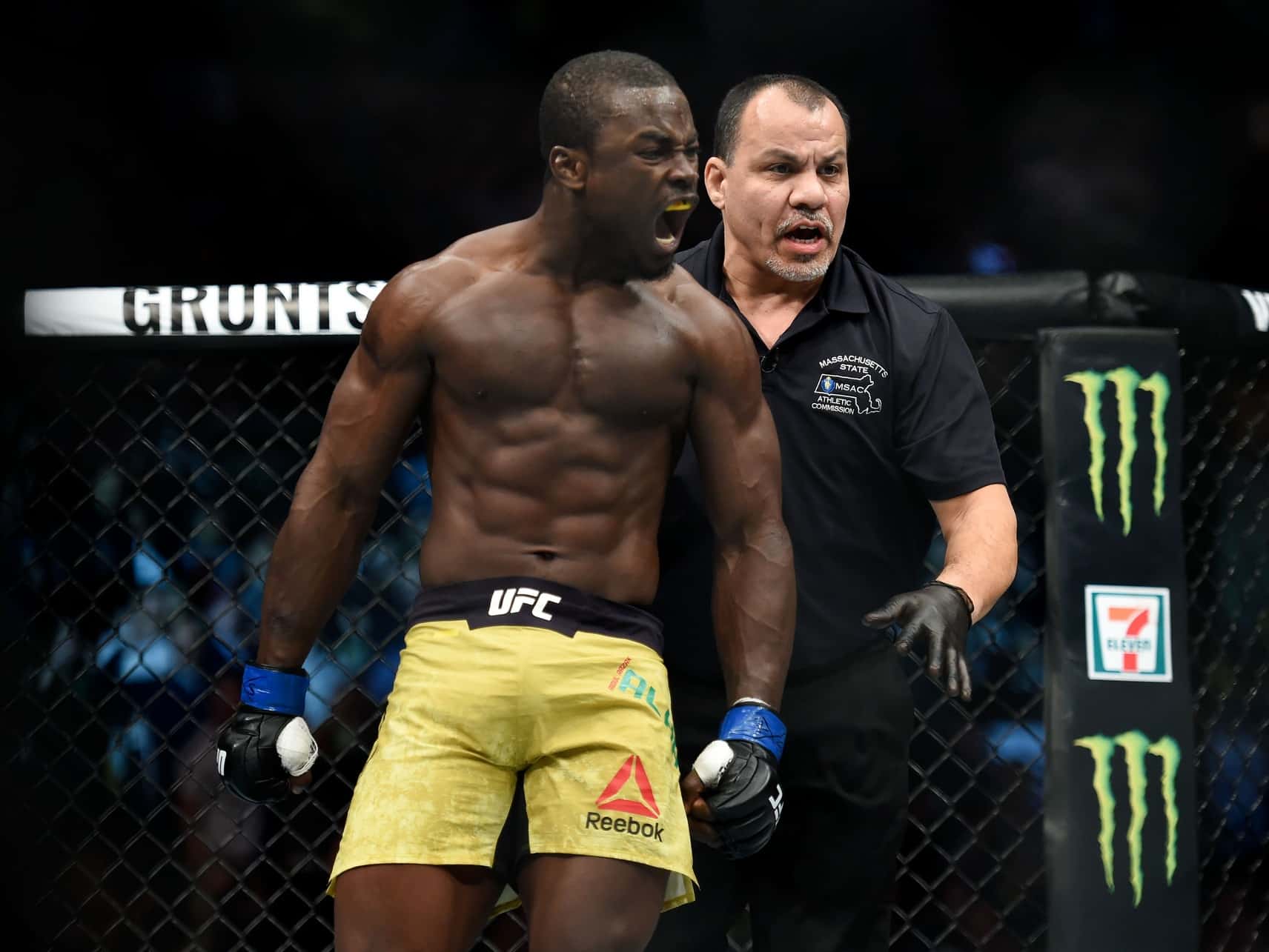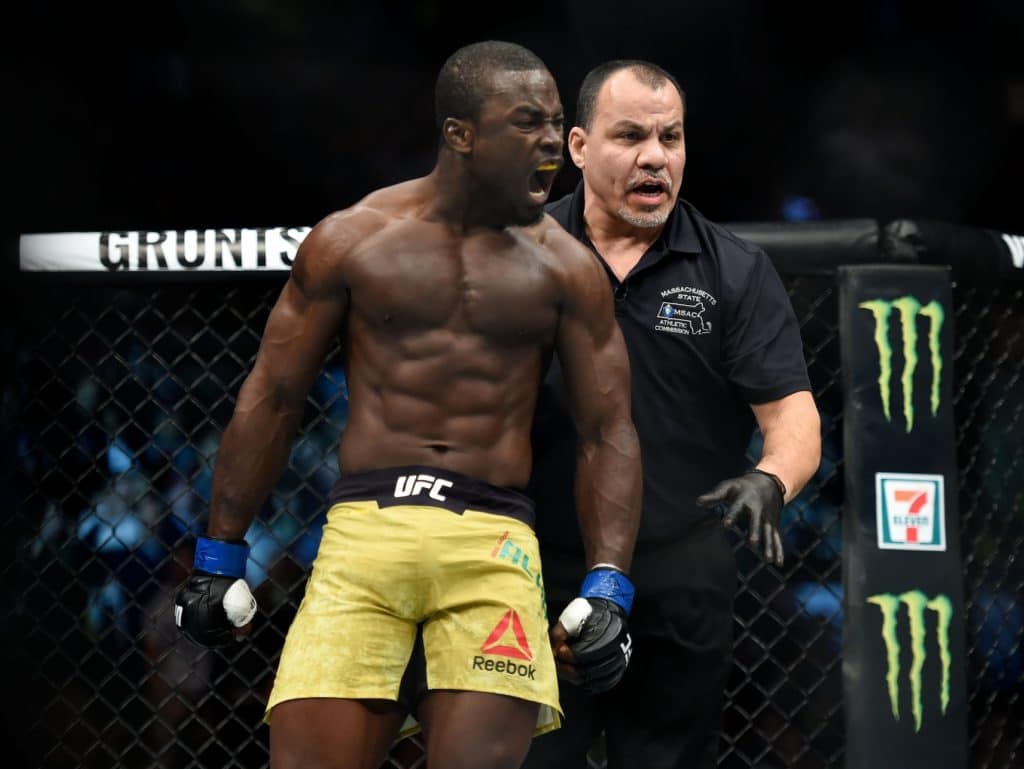 3.) Abdul Razak Alhassan Is A Force Who Can No Longer Be Denied:
Surging welterweight Abdul Razak Alhassan came into his UFC 220 prelim bout versus Sabah Homasi with some pre-installed bad beef from their first match at last December's UFC 218, a fight that Alhassan won by TKO but was also marred by the controversy of a strange early stoppage by referee Herb Dean.
For a moment, the fight was the brawl many expected from the heated rivals, but in the end, Alhassan left no doubt about whom is the better fighter with a massive uppercut knockout that is the early contender for "Knockout of the Year."
With the win – his third knockout victory in four total UFC bouts since late 2016 – the 32-year-old Alhassan deserves a big step up in competition and will most likely get it after a huge showing at UFC 220.
He brings truly frightening fight-stopping power to the octagon for a elterweight. Keep an eye out for him in 2018 as well.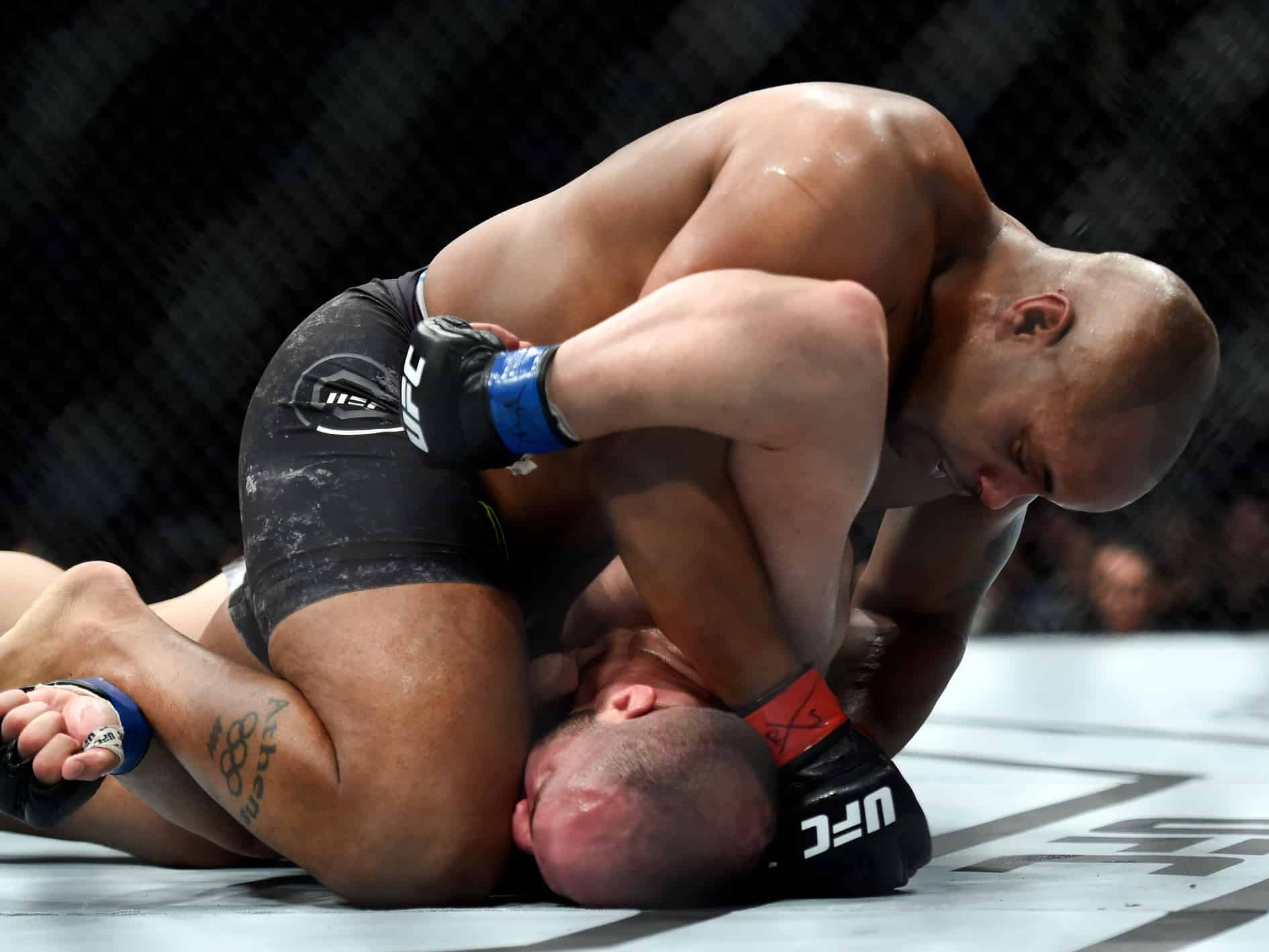 2) Daniel Cormier Is A True Light Heavyweight Legend:
Light heavyweight champion Daniel Cormier had a ton of questions to answer about his latest controversial title reign when he squared off against knockout artist Volkan Oezdemir in the co-main event, and indeed his haters will still persist after the match.
But regardless of how you feel about the champ, his skills as one of the finest light heavyweights in mixed martial arts history simply can't be denied at this point.
Yes, he's lost to archrival Jon Jones twice and only has the belt because "Bones" can't stay out of his own way in terms of never-ending drug issues, but everyone else who's fought the troubled great has too, and it's safe to say Jones would most likely be the greatest MMA fighter of all-time had he not become so concerningly plagued by PED and recreational drug use.
But back to UFC 220, Cormier did what he does best and made his bout a grind. And in doing so, he made a streaking knockout slugger who had ended two top-ranked contenders in less than a minute in his prior two bouts look painfully human in Boston.
It was as dominant a showing as you'll get, and it showed why Cormier is not only the best light heavyweight currently active in the UFC right now, but one of the best to ever compete in the sport at the class.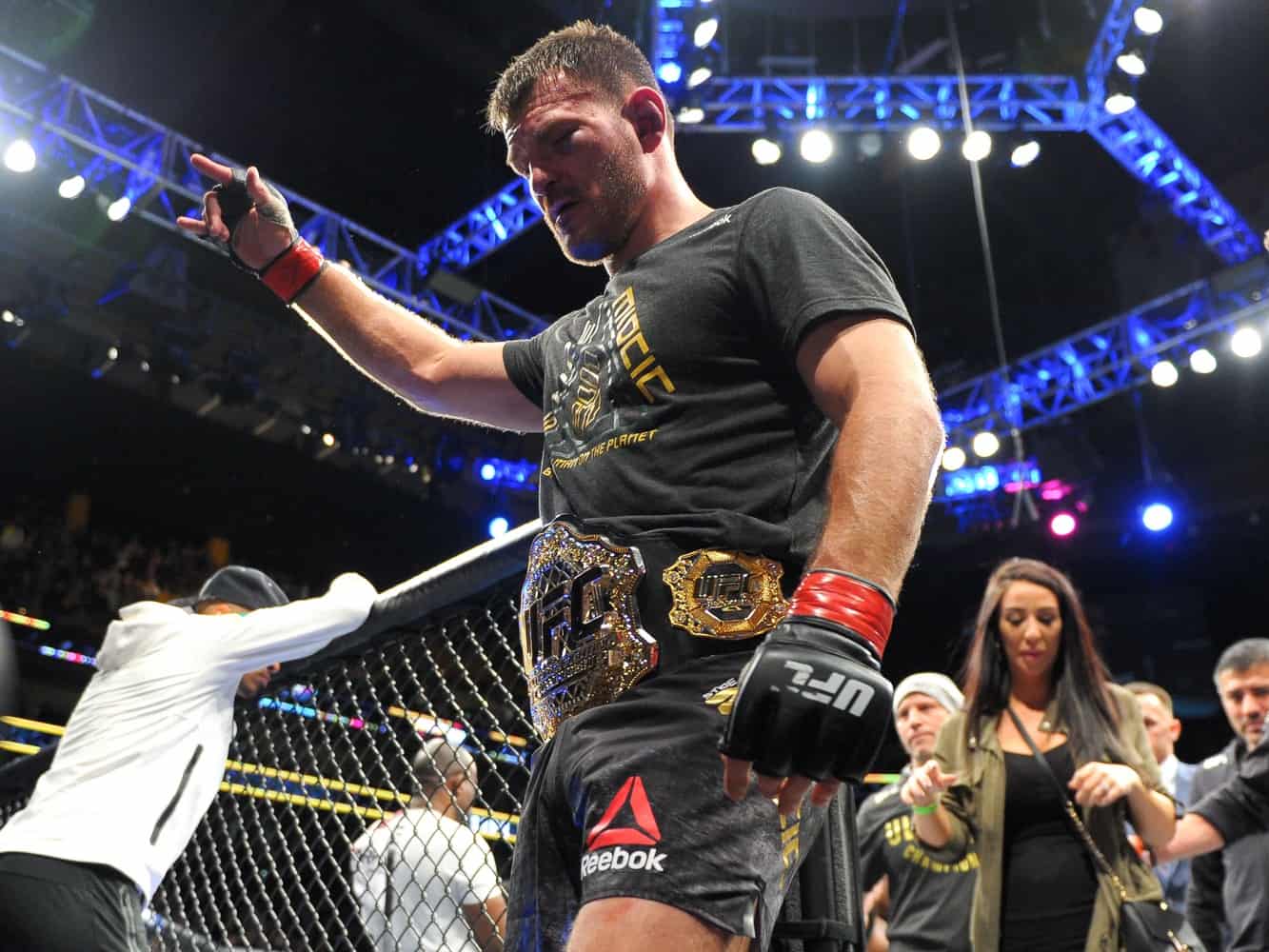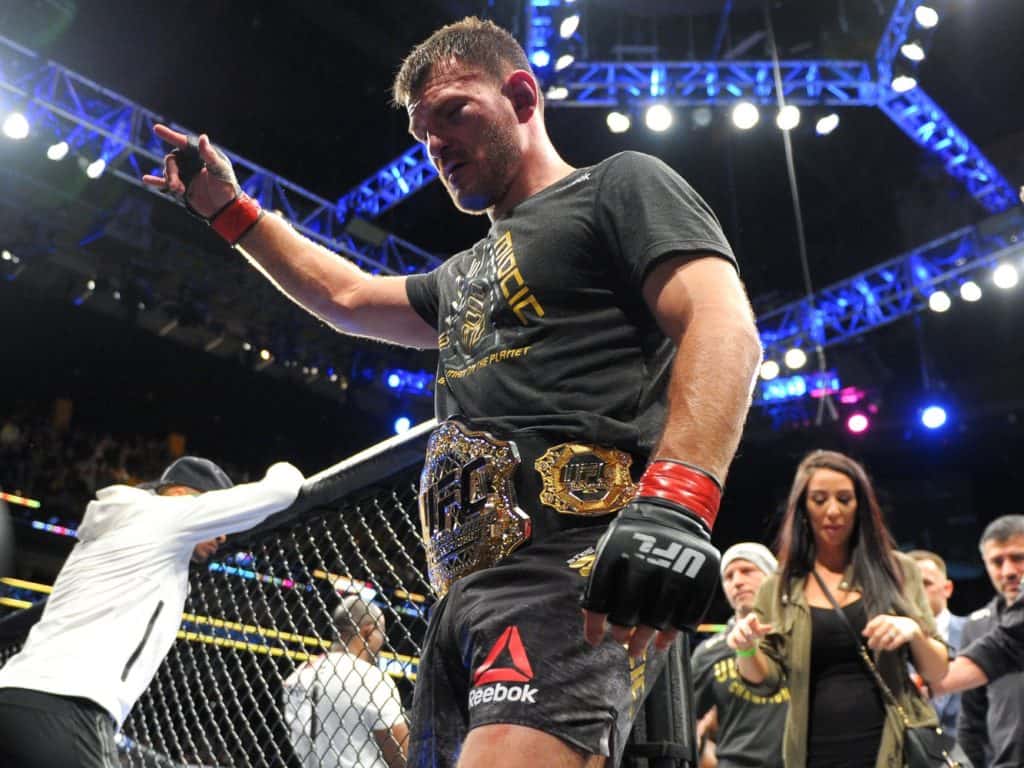 1) Stipe Miocic Is The Greatest Heavyweight In MMA History:
While Cormier may have cemented his claim as one of the best light heavyweights in MMA history at UFC 220 last night, heavyweight champion Miocic one-upped him by breaking the record for most consecutive title defenses in UFC history.
Scoring his third straight defense in a volatile division notorious for allowing precious few to be strung together, Miocic did so by shutting down arguably the most hyped rising force in a long, long time in Ngannou, and he did so with a flawless, one-sided gameplan.
Fans watching the event live may have grown weary of his wrestling-focused strategy towards the end of the bout, yet it was clear Miocic's path to victory was avoiding up-close flurries with 'The Predator' and tiring him on the mat instead. He did just that and silenced all the critics and fans – not to mention the oddsmakers – who thought Ngannou was unstoppable.
He's the most well-rounded heavyweight the octagon has ever seen, and with the record now in his hands, he's also the most decorated and the best ever.
Today is a day to hail the true king – and his name is Stipe Miocic.