Sean Strickland tipped to land UFC title fight with Israel Adesanya: 'The trash talk would be phenomenal'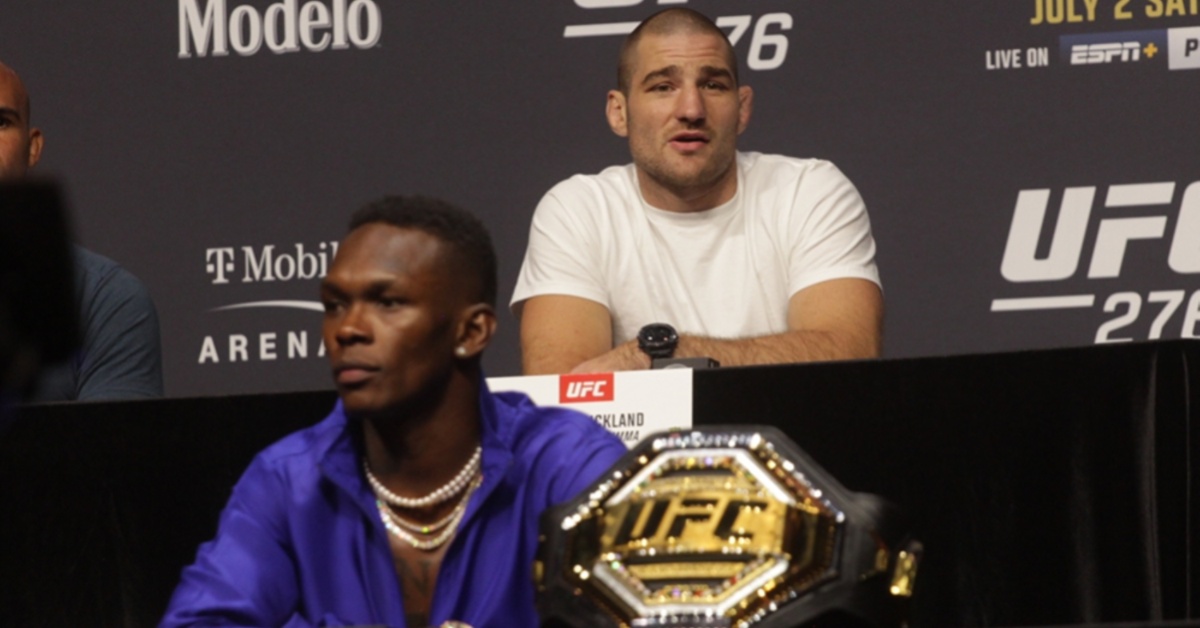 Off the back of an impressive win over Abusupiyan Magomedov in the main event of UFC Vegas 76, Sean Strickland has been backed to pursue a middleweight title fight with champion, Israel Adesanya – with UFC Hall of Fame inductee, Michael Bisping describing potential pre-fight antics as "phenomenal".
Strickland, who retained his rank as the number seven contender at the middleweight limit upon the release of the latest rankings today, managed to turn in his second consecutive victory – scoring a first knockout win since 2020, stopping Magomedov with a slew of second round strikes for a TKO success.
Sean Strickland had previously called for a title fight with Israel Adesanya
And in the immediate aftermath of his win, Sean Strickland, who had secured another impressive unanimous decision win over Nassourdine Imavov in a light heavyweight headliner in January, called for a title fight with two-time and current titleholder, Adesanya – claiming he had duly paid his dues.
"F*ck, man, it just needs to happen, you guys," Sean Strickland said. "We know Izzy (Israel Adesanya) is on f*cking repeat, dude. They [the UFC] try to bring Abus – this is what the UFC said, 'Man, the middleweight division is stagnant. Let's get Abus in here. He might beat Sean.' And I'm like, 'Yeah right, motherf*cker. Wait until you see what happens.' Every time they've tried to bring new blood – the Frenchie (Nassourdine Imavov) I fought before, I sent him home. This guy, I sent him back. Every time they try to bring new blood in, I send them back. Give me the f*cking title. I earned it."
"The one before that, I fought the other guy they were trying to [push], their last phenom that they were trying to [push]," Sean Strickland explained. "I took that guy on three-day f*cking notice. I took him on in a five round war and won every f*cking round. I paid my dues. I've f*cking paid my fues. Give me that sh*t." 
And whilst Adesanya – who reclaimed gold back in April with a staggering KO win over Alex Pereira, has yet to be booked for his expected fourth quarter UFC return, the aforenoted, Bisping backed Strickland to pursue a title outing next.
"Sean Strickland got the job done, and I'm telling you – what a performance," Michael Bisping said on his YouTube channel. "The man's a character, he's great on the microphone, he loves America, and people love him for that, as well. Of course, he's a big patriot and rightly so. Sensational performance. He wants to fight. He calls him (Israel Adesanya) the Chinese champion. I don't know why he does that – he wants to fight Israel Adesanya."
"He feels that Israel Adesanya has fought everyone," Bisping explained. "Of course, he's fought Robert Whittaker twice, and the winner of Dricus (du Plessis) vs. Robert is going to get the next title fight. He said there's no way that Dricus wins, and he also said people don't want to see Whittaker fight him again. I'll be honest, that one last night – I wouldn't mind seeing it. And, of course, the trash talk in the lead-up to the fight would be phenomenal."