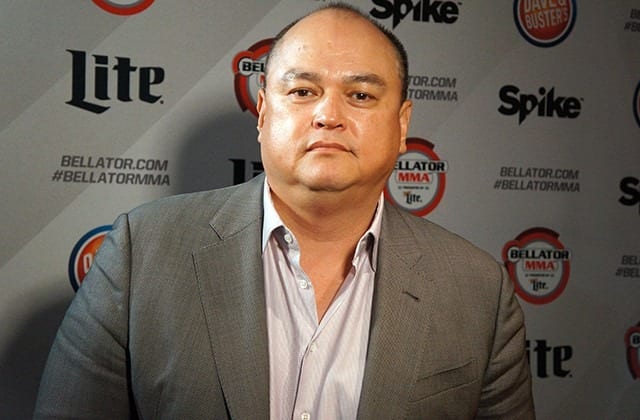 During his appearance on the MMA Hour on Monday, Bellator MMA President Scott Coker addressed the elephant in the room. The poor viewership for Bellator Dynamite 1.
The event averaged 800,000 viewers between 9 p.m. and 12:42 a.m, which is not what Bellator MMA officials were expecting. Bellator was expecting to do similar numbers to what they did back at Bellator 138, which was headlined by Ken Shamrock vs. Kimbo Slice. That event averaged 1.58 million viewers and peaked at 2.1 million for the main event.
Bellator Dynamite 1 took place on Saturday, September 19th at the SAP Center in San Jose, California and the main card aired on Spike TV in prime time.
The event was stacked as a light heavyweight Championship fight between current champion Liam McGeary and UFC veteran Tito Ortiz will be the main event.
The event featured a Glory Kickboxing card that saw Saulo Cavalari vs. Zack Mwekassa battle it out for the vacant Glory light heavyweight championship. Also on the card featured a Glory featherweight championship match between Gabriel Varga (c) and Serhiy Adamchuck.
The main event of Ortiz vs. McGeary in the 12:15 to 12:30 a.m. time slot did 711,000 viewers while the last few minutes and post-match, from 12:30 a.m. to 12:42 a.m., did 807,000 viewers.
Coker went and blamed it on competition that the event faced that night. He did not mention that it was on a different night than usual Bellator events are held on, which is Friday. However, Coker believes that it was a minor success on TV. He mentioned that it was a major success for the promotion overall with not only the great live gate numbers as well as in the 18-34 male demos, which are key for any TV show.
"Well, listen, we had some heavy competition that night," Coker said Monday on The MMA Hour. "Were the ratings lower than they were with Kimbo Slice? Yeah, they were. But I look at the ratings as an overall ratings for the year, and we're still up 34-percent from before I took the helm, and our paid attendance is up 78-percent since I took the helm a year and a couple months ago.
"So this is a brand that's definitely made a big change, and just the philosophy of working with the guys inside the company now has changed. Working with Viacom, that relationship has changed. Even with Spike, the relationship has changed. We're all on the same page, there's a lot of congruency here, and we're going to do a lot of great things. And think about this: it's only been a year, pretty much. Right? It's been a year, and we're doing some fantastic things here in mixed martial arts. Give me another year, give me two more years, we're going to make some good things happen."
Bellator MMA's next event is October 23rd with Bellator 143.