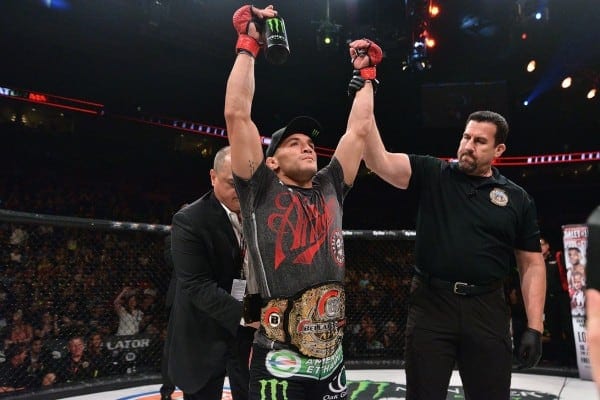 Since Scott Coker took over as the President of Bellator MMA in 2014, the promotion has gained a reputation for signing some of the biggest name free agents to hit the market. Now, however, Coker and company will have to retain one of their own.
Former lightweight champion and longtime Bellator mainstay Michael Chandler will soon hit free agency, but Coker is hoping he'll stick around given that he's 'the face of Bellator':
"He's the face of Bellator – for such a long time," Coker told MMAjunkie this past weekend at Bellator 199. "The performances that he's had in the cage – even before I got here – he's been fantastic. He has one of the greatest fights in the history of this company, with him and Eddie Alvarez.

"We talked a little bit about the deal. But I want him to be happy. If anyone deserves it, Michael deserves it."
Chandler, who made his promotional debut at Bellator 31 in 2010, has compiled an 18-4 professional record, while going 15-4 in the Bellator cage. Most recently, he's picked up back-to-back victories over Goiti Yamauchi and Brandon Girtz after losing the 155-pound title to Brent Primus last June in New York City.
Given his reputation as one of the best lightweights in the world, Chandler could consider making the jump to the UFC, but Coker revealed that Bellator has 'every intent to keep him':
"We have every intent to keep him," said Coker, who plans to talk to Chandler this week. "I feel we'll get a deal done. …

"I think, really, Michael wants to stay, and we want to keep him, so I don't even think we'll get to this point (that he talks to the UFC)."
Where do you expect Chandler to end up?