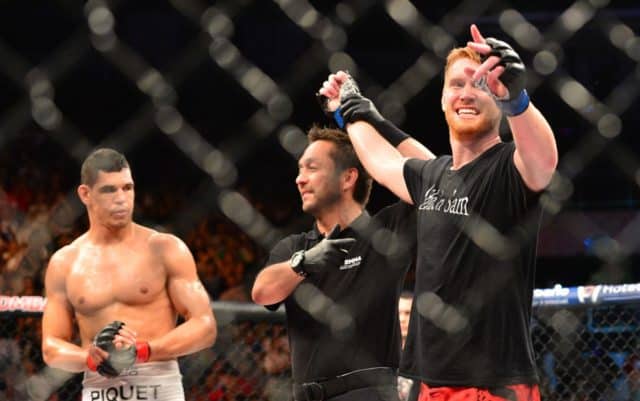 Defeating previously undefeated judoka Dan Kelly with a vicious 44-second knockout at last night's (Sat., May 9, 2015) UFC Fight Night 65 from Australia, unique middleweight personality Sam Alvey became an unlikely potential contender in the stacked division.
With three straight knockout wins since last November "Smile'n" has been active and effective, none more so than in his brutal win over Kelly. Alvey met up with Submission Radio after his big win to give his take on the fight, noting that he didn't expect Kelly to strike with him. He noticed that the Aussie was trying to grapple with him, but he simply wouldn't give him enough time to take him down:
"I didn't, and it's because I have a big record and I got a lot of knockouts in it, and he's a Judo submission guy. So I really thought he was going to try and push me up against the cage, and he was kind of working towards it. He was getting me cornered a little bit and we were going from there. I was just – the goal was not to get taken down by him."
After the win Alvey called out rising The Ultimate Fighter (TUF) Nations winner Elias Theodorou, who is currently undefeated at 11-0. Alvey said he's had a plan to face Theodorou, and he doesn't think the good-looking Canadian fighter will have much to offer him in the Octagon:
"We were kind of looking at who we wanted to fight next, and there are a couple of options, and my wife came across this, and I've been fighting a lot of TUF guys, you know and he was the winner of the TUF Nations and he is full of himself, and I would love a chance to knock his hair plugs out. I'd get there and I'd take it to him. I mean he could do anything he wanted there. I mean he could try to, but I'd win that fight."
"Smile'n" then moved to discuss his biggest advantage over Theodorou, and it wasn't what you'd think. Alvey believes that his edge lies in him not being full of himself as Theodorou allegedly is:
"I think my biggest advantage is that I'm not full of myself. I'm not going to stop half way through and say "hi mom" – which was, you know it was what it was, but if he does it to me I'm going to knock his teeth out. He's gotta take me serious."
Indeed he would have to take Alvey seriously, yet there's always a large element of fun surrounding any of the Wisconsin native's fights. He added that dynamic to any potential bout with Theodorou by challenging the notoriously well-kempt "Spartan" to a "hair vs. hair" match with the loser shaving their heads but he doesn't think that he'll actually be taken up on it:
"I don't think he's going to take me up on it because I don't think he thinks he's going to win, but yeah absolutely. [If] he beats me I shave my head, and I hope that when I beat him he shaves his head. A bet, you know it's a real bet. Take it."
The challenge has been made, and Theodorou even responded by telling Alvey the day that they would fight will forever be known as "kick a ginger day". It's seeming like this bout will be a reality sooner than later, and the winner should find themselves rising up the tough middleweight ranks thanks to an impressive four-fight win streak.
Photo Credit: Jason Silva for USA TODAY Sports
If you enjoyed this story, please share it on social media!