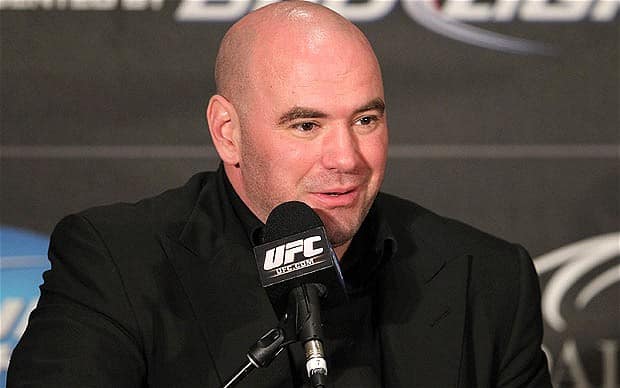 This year has undoubtedly been one of the most trying in UFC history, as injured fighters, steroid scandals, watered down cards, and just an overall decline in enthusiasm left fans of the sport with a bad taste in their mouth.
And apparently, that downswing has resonated not only in the minds of fans', but also in the UFC's pocket book. According to a report from MMA Payout, Standard & Poors has downgraded the UFC's credit rating due to what is perceived as a substandard year:
"In its overview, S&P concluded that Zuffa 'will experience a 30% decline in EBITDA (Earnings Before Income Tax, Depreciation and Amortization) in 2014 and greater EBITDA volatility over time than we previously had anticipated.' 
Despite the gloomy outlook, it stated that Zuffa's outlook is stable and 2015 will be a recovery year for the company.  This is based on the belief that injured fighters return and PPV buys and ticket prices increase."
That's hardly a surprise finding, as champions Dominick Cruz, Jose Aldo, Anthony Pettis, Johny Hendricks, Chris Weidman, Jon Jones, and Cain Velasquez have all been forced to withdraw from title fights and/or missed time with injuries.
It's truly a staggering number, and that doesn't even include the fact that the UFC's top two former pay-per-view (PPV) draws Anderson Silva and Georges St. Pierre were also out with injuries (St. Pierre may not have fought regardless, however).
Most of those fighters are soon set to return to the octagon.
Cruz was forced to vacate his belt but recently earned another title shot by demolishing Takeya Mizugaki at UFC 178. Aldo will be back this month when he face Chad Mendes in the main event of UFC 179 from Rio de Janeiro.
Pettis will finally defend his title for the first time against Gilbert Melendez in the co-main event of December's UFC 181, and Hendricks will do the same against Robbie Lawler in the card's headliner.
"The Spider" will meet Nick Diaz in the main event of UFC 183 on January 31, 2015. Weidman will have to wait until February's UFC 184 to face Vitor Belfort after a hand injury pushed back their previously scheduled UFC 181 date.
Finally, Velasquez will go to war with Fabricio Werdum in the main event of November 15's UFC 180 from Mexico City, Mexico.
With that much star power returning soon, it'd be hard to predict another down period for the UFC. Their top stars are coming back, and some truly massive bouts are headed to our screens.
But it still feels like the overall anticipation for UFC events is still waning. While the UFC's credit downgrade may be nothing to worry about, will 2015 bring the promotion back to the prominence of years gone past?
Or has MMA begun to plateau?