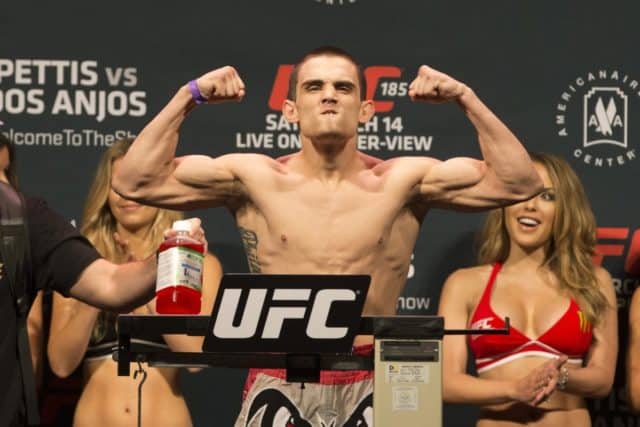 The opening bout on the main card of UFC 201 was supposed to feature a flyweight clash between Ian McCall and Justin Scoggins. The fight was scrapped when "Tank" was unable to make weight. Instead, two 125-pounders were boosted from the Fight Pass prelims to the main stage. The two combatants were Ryan Benoit (9-4) and Fredy Serrano (3-0).
"Baby Face" earned a narrow decision win over "Bam Bam."
The two traded kicks early and Serrano fired a right hand that didn't land. Serrano caught the leg of Benoit, lifted him up and slammed him to the canvas. "Baby Face" scrambled out and the fight quickly returned standing. "Bam Bam" was popped and dropped, but he secured a takedown to recover. Benoit landed a right hand with Serrano's back against the fence. "Baby Face" stuffed a takedown attempt and missed a left high kick. Serrano threw out multiple axe kicks throughout the round. Benoit threw a punch well after the horn sounded and was shoved in the back by Serrano.
Serrano kept searching for an axe kick into the second round. He pressed his opponent against the fence. "Bam Bam" slammed his way out of a guillotine with ease. Blood trickled from the forehead of Serrano and it appeared he hit his head on the canvas from the takedown to cause the cut. Benoit scrambled out of the position. "Baby Face" landed a leg kick as Serrano went for a spinning wheel kick. Another takedown was achieved by "Bam Bam." Serrano moved to the north-south position. The round ended with both men back on their feet.
Benoit earned top control in the final frame, but Serrano got back to his feet. "Baby Face" landed a kick to the body as "Bam Bam" looked for a clinch. Benoit landed a head kick and fought off a takedown attempt with an uppercut. Benoit pressed Serrano against the fence and landed body punches. A right hand on the break connected clean for "Baby Face" and the final horn sounded shortly after.
Two of the three judges at Octagon side scored the fight for Benoit and he was awarded a split decision victory.
Final Result: Ryan Benoit def. Fredy Serrano via split decision (28-29, 29-28, 29-28)
If you enjoyed this story, please share it on social media!