Rousimar Palhares On WSOF 16 Win: I Didn't Do Anything Wrong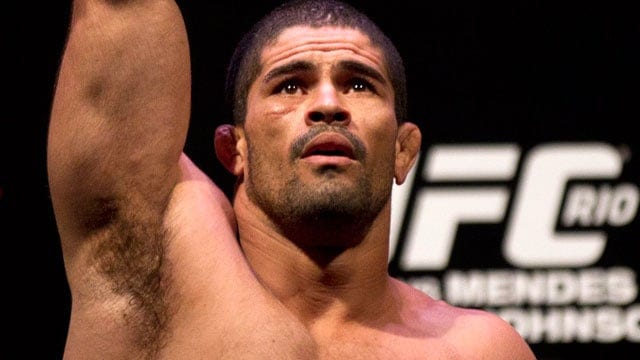 World Series of Fighting 16 went down last night (December 13, 2014) from Sacramento, California. The main event featured a welterweight championship bout between leg lock specialist and current champion Rousimar "Toquinho" Palhares and contender Jon Fitch.
Palhares needed just 90 seconds to stop fellow UFC vet Fitch with one of his trademark leg locks, but it seems as if controversy always seems to find Palhares. He was recently released by the UFC after his win over Mike Pierce at UFC Fight Night: Maia vs. Shields in October 2013 for failing to let go of a leg lock when his opponent tapped, and many believe Palhares may have held on too long again last night, but "Toquinho" disagrees:
"I still have to deal with those critics, but I don't understand why people try to humiliate me like that," Palhares told MMAFighting.com of the claims that he held the submission too long. "I just go inside the cage to try to be the best I can be. I don't hold submissions."
"You can see fighters punching opponents two or three times after they are already knocked out," he continued. ""For an example, see for how long Ronda Rousey holds her armbars. I don't think she's wrong. In this sport, you won't survive if you don't lock the position really tight. I believe I did what I should have done to win. I didn't do anything wrong. They are just trying to humiliate me because I submit people, or for other reasons I don't know."
The Brazilian, who is now 2-0 inside the WSOF and riding a three-fight win streak, believes the fans want to see him lose and just look to criticize him:
"I feel they wait for me to do something and then they go after me, but in reality nobody wants me to win," he said. "They prefer to criticize me instead of applaud me because they feel better this way. They are nothing. They live by other's images, and they try to put me at their levels with that. I can't stand it."
Despite the allegations, Palhares deserves a lot of credit for finishing Fitch that fast and in that fashion. Fitch is no easy task and that was a huge win for the champion:
"I might be at the best moment of my career," Palhares said, "but time will tell."
Fitch may be the best welterweight in the WSOF besides Palhares and many believed he would give the grappling guru a true test, even Palhares himself who was surprised by how fast the fight went:
"I wasn't expecting to defeat an athlete of Fitch's level that fast, but I was well prepared to win and thanks God everything went right," Palhares said. ""He trained some heel hook defense, but I train everything in the gym. I put myself in tough situations so I can evolve and get better every time, so (the transition to the kneebar) was natural.""
Palhares also went on to say that he had a tough camp, suffering a few injuries that will need to be tended to before we see him again:
"I had some injuries. In fact, I will undergo a left knee surgery, and I might need a shoulder surgery as well," he said. "Those are complicated surgeries, but I will time to recover and come back stronger."
Controversy aside, "Toquinho" looked dominant last night. Is there anyone in the WSOF welterweight division that can solve the puzzle that is Palhares?