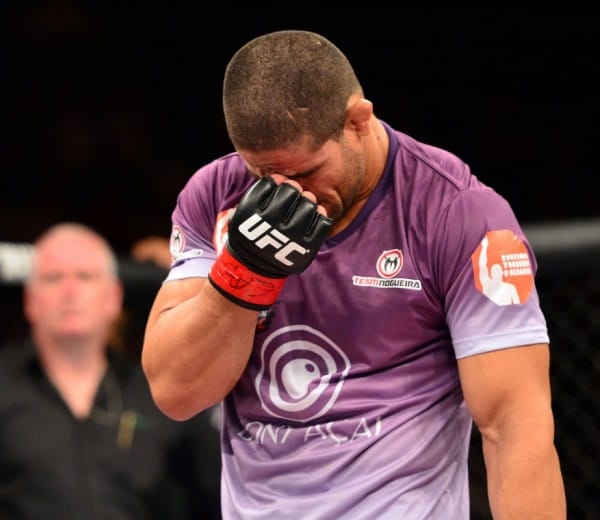 Former World Series of Fighting (WSOF) welterweight champion Rousimar Palhares is currently awaiting a hearing before the Nevada Athletic Commission (NAC) for violations incurred during his WSOF 22 title bout with Jake Shields, where "Toquinho" was seen gouging his opponent's eyes before holding a fight-ending kimura far after Shields had tapped out.
The violations in the cage, which were far from Palhares' first, earned the bulldozing Brazilian grappler an indefinite suspension when WSOF stripped him of his title. And while Shields has already occurred before the NAC and received community service for punching Palhares after the bell, "Toquinho" will most likely be headed for a much stiffer punishment, especially given the five years that they recently slammed on Nick Diaz for repeatedly smoking marijuana.
However, regardless of the fact that he's already been suspended by the NAC twice and cut from the UFC, Palhares still insists he did nothing wrong, telling MMA Fighting he has no regrets and merely a human being who makes mistakes:
"I feel I've done everything right," said Palhares, who denied the eye gouging claims and accused Shields of greasing at WSOF 22. "From my point of view, everything was right, so I don't regret anything. I'm sad because I let down my fans and those who care about me.
"I wanted to be perfect, you know, so I'm sorry if I can't be perfect as everyone expects me to be. I'm a human being. I'm sad with all this, for the fans and those who care about me, but I believe in God and everything will be alright."
But then "Toquinho" took quite the bold stance against his employers, blaming them for what has transpired and suggesting he'll always be champion. Seemingly showing little to no remorse for his repeatedly violent and dangerous actions, Palhares remained steadfast in his view of his accolades:
"I'm really sad with all this, but there's not much I can do," Palhares said. "They are the promoters so they can do what they want, right? Unfortunately, I'm still under contract with them so I can't do anything but stay quiet. They took my title, but the belt is still here and no one will take it away from me.
"They can say whatever they want about me as a person, but they can't take away my merit of being the champion. I've defended my title twice, so that's the only way they would be able to take it from me. I won my title by fighting, finishing everybody, so this is the only way they would be able to take my title."
Finally, Palhares put the icing on the cake from his latest cold and non-apologetic interview, stating that he has asked WSOF to release him from his contract because they did not appreciate him:
"They didn't want to talk about anything before the commission's hearing, but I'm not interested in fighting for them," he said. "I asked to be released from my contract or fire me, but they won't. I wanted them to release me so I can go my way, I don't want to be part of this organization anymore. They didn't appreciate me.
"My contract was over 20 days after my last fight, I asked them to release me, and they didn't because they must know I don't want to work for them anymore. Honestly, I don't know what else they expect from me."
Again, Palhares is just unrelenting in is pursuit of never apologizing for the destructive and blatant attacks that have legitimately injured several elite fighters over the years. He seems to always blame someone else for the trouble he's in, yet he finds himself in a similarly compromising position time and again.
Many have suggested he simply has mental issues that prevent him from fighting with the restraint required of an athlete fit to compete in the world's biggest MMA promotions, and this latest diatribe may support that to no small degree.
Has "Toquinho" finally gone off his rocker? Whether he has or not, it wouldn't be surprise to the NAC understandably put an end to an MMA career that has become nothing less than a media circus since 2013.
What is your stance – should Palhares be banned for life?