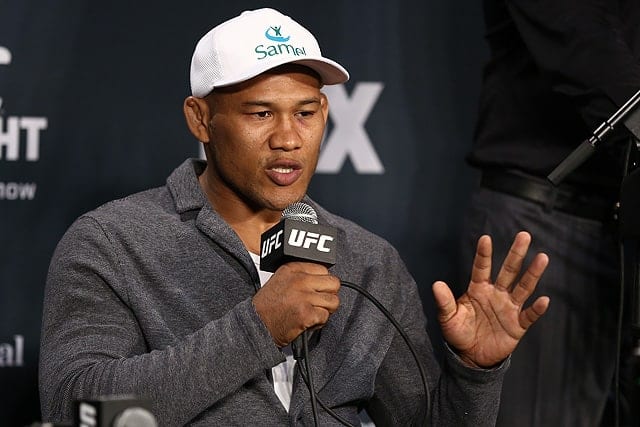 Ronaldo Souza is slated to make his return soon to the Octagon under the UFC banner according to a recent report.
This comes off the fact that Ariel Helwani of ESPN.com is reporting that the Las Vegas-based promotion is working on the first fight for their upcoming UFC 230 pay-per-view event in November, which historically has been one of the bigger events of the year for the promotion.
Their first event at the arena saw Conor McGregor finish Eddie Alvarez to win the lightweight title at UFC 205 PPV in 2016 while last year, UFC 217 featured the return of former UFC welterweight champion Georges St-Pierre as he made the walk back to the Octagon where he beat Michael Bisping to win the middleweight strap.
Moving along to the report, the promotion is working on an intriguing middleweight fight between Souza and former World Series Of Fighting middleweight and light heavyweight champion David Branch as the two fighters have verbally agreed to fight each other at UFC 230.
Souza (25-6, 1 NC), who is a former Strikeforce middleweight champion, is coming off a split decision loss to Kelvin Gastelum in May and is looking to get back to his winning ways after going 2-2 in his last four fights.
Typically, the older a fighter gets then the closer he gets to end of his career but in Souza's position, that's not the case and at 38-years-old, he's near the top of the middleweight division right now and could be considered a title contender as Souza had been on the cusp of a UFC title shot but suffered a TKO loss to current middleweight champion Robert Whittaker in his bout last April.
On the flip side, Branch (22-4) most recently knocked out Thiago Santos in the first round in April after suffering a submission loss to former UFC middleweight champion Luke Rockhold last September.
The UFC 230 pay-per-view event is set to take place on Saturday, November 3, 2018 at Madison Square Garden in Manhattan, New York City with the main card airing on pay-per-view at 10 p.m. ET while the preliminary card will air on FOX Sports 1 at 8 p.m. ET and the promotion's streaming service, UFC Fight Pass.
As of this writing, no other bouts have been confirmed for this upcoming show, but the promotion is expected to announce fights in the coming weeks.