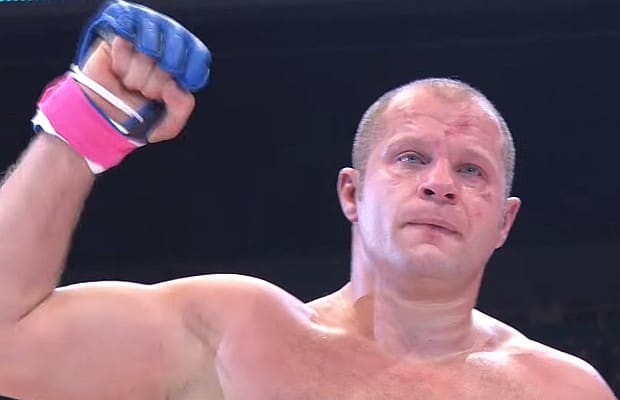 Fedor Emelianenko returned at today's Rizin FF New Year's Eve show. No prizes for guessing how that fight turned out….
Rizin FF concluded in the early hours of this morning, bringing to an end the two day New Year's Eve show from the former Pride FC owner Sakakibara. Fedor Emelienenko headlined the card, fighting the highly unheralded and unknown Jaideep Singh. It was equally, if not more of a squash match than it looked on paper, and was truly pointless.
Elsewhere on the card grappling beast Gabi Garcia got a TKO against fellow Amazonian and pro wrestler Seini Draughn, and Kron Gracie submitted a hapless Japanese foe in the first round. Was it a typical JMMA show? Yes, was it worth staying up until the wee hours of the morning U.S time?
Check out the highlights on page 2 and you be the judge.
The results:

Muhammed Lawal def. Jiri Prochazka via knockout (punch) – Round 1, 5:09
Fedor Emelianenko def. Jaideep Singh via TKO – Round 1
Kron Gracie def. Asen Yamamoto via submission (triangle choke) – Round 1, 4:57
Andy Souwer def. Yuichiro Nagashima via TKO (punches) – Round 1
Kaido Hoovelson def. Peter Aerts via unanimous decision
Gabi Garcia def. Seini Draughn via TKO (punches) – Round 1, 2:36
Soo Chul Kim def. Maike Linhares Galvao Amorim via unanimous decision
Brennan Ward def. Ken Hasegawa via submission (rear-naked choke) – Round 2, 1:52
Jiri Prochazka def. Vadim Nemkov via TKO (retirement) – Round 1, 10:00 – heavyweight tournament semifinals
Muhammad Lawal def. Teodoras Aukstuolis via unanimous decision – heavyweight tournament semifinals
Rena Kubota def. Jleana Valentino via submission (armbar) – Round 2, 3:31
Highlight videos of all the action on page 2…