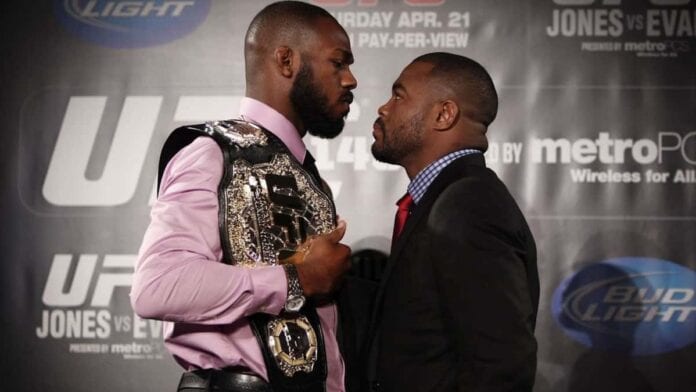 Rashad Evans and Jon Jones were once training partners that then turned into bitter rivals. The two former UFC light heavyweight champions were teammates at Jackson's MMA in Albuquerque, New Mexico but would become enemies as Evans felt that the training facility was not big enough for the two of them once Jones started gaining success. Thus resulting in a fight between the two at UFC 145, which Jones won.
In this fight, Evans became the first man to survive 25 minutes with the Jones.
That was 2012, but this year, Jones had some legal problems. Jones was stripped of that title following a car accident that involved him running a red light and crashing into a pregnant lady that resulted in breaking her arm. He now faces some serious legal charges for that. The UFC had to suspend Jones as well. But Jones is scheduled for a plea hearing soon so we may be one step closer to Jones returning to a sport he once dominated.
Evans was asked about Jones in the lead up to his fight at UFC 192.
"It's kind of a sad situation for me honestly," Evans told FOX Sports. "My heart really goes out to Jon because despite us having our beefs and everything, I care about Jon as a person. I think when this journey's over and said and done, I hope we can all grow as people and look back and say we had crazy years training together and fighting together."
"I don't wish the hardships that he's going through on anybody. To have a drug problem like he had or be in a situation like he is in right now because it's a serious thing because it tears down so many people around you that care about you. The hardest thing in the world is to watch someone you love really not be able to get themselves together and really struggle on a level so bad when it seems, and it appears that they have it all."
Evans would continue by saying that he hopes to see Jones fight again in the UFC.
"My heart goes out to him, and I hope he's able to make a recovery and come back and compete in the UFC again," Evans said. "He's one of the greatest fighters the UFC has ever had. For him to go out in a less than admirable way is not something that I would like to see for him. I've got so much respect for him as a competitor."
Rashad Evans (19-3-1 MMA, 14-3-1 UFC) is set to fight Ryan Bader (19-4 MMA, 12-4 UFC) at UFC 192.