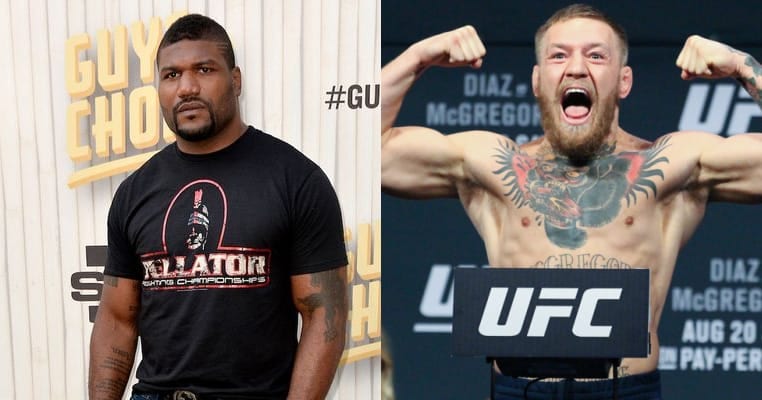 Former UFC light heavyweight champion Quinton "Rampage" Jackson has been around the fight game for years now and he remains one of the sport's most unique figures.
At 38 years of age, the clock is likely ticking on Jackson's career, but he will return to action in the main event of this Friday's (March 31, 2017) Bellator 175 in a rematch against Muhammad "King Mo" Lawal, who Jackson scored a decision victory over in 2015.
Although he's nearing the end of the road, "Rampage's" view on his career hasn't changed. Despite being criticized at times, Jackson makes it clear that he loves to fight, but hates to train:
"People misunderstood me or they tried to censor me or took what I said out of context," Jackson told Yahoo! Sports. "I've always been honest with what I have said. I hate training and I love fighting."
In addition to that, Jackson, a prolific knockout artist, has never been a fan of competing against wrestlers, which still remains true:
"I do complain about that, but it has nothing to do with me not having my heart into it," Jackson said. "That just shows how much heart I have and how much emotion I have, because I think those guys are messing up our sport. Our sport has gotten so popular with all the excitement and the people like Dan Henderson, Wanderlei Silva, Chuck Liddell, Vitor Belfort, Tito Ortiz. Tito was a wrestler, but he'd take you down and ground and pound you. Those are the guys who made this sport super popular.

"But then you get guys like King Mo and, with all due respect, Rashad Evans and D.C. [Daniel Cormier], who just like hugging people on the ground. You hear the people complaining about that, and I don't want to fight that way. I want to have exciting fights. If we ask fans to buy tickets and come down and sit there and watch fights for hours, we have to give them their money's worth."
Jackson may love to fight, but there's clearly some aspects of the fight game that don't appeal to him, and at times, he hasn't seemed too fond of the media aspect, despite his ability to talk and hype fights.
In regards to that, Jackson actually labeled himself as the first Conor McGregor – but with a catch:
"I was the first Conor. I was Conor Mc-[N-word]."

"He can talk and say what he wants and talk about money and say he's in it for the money and nobody opens their mouth and says anything negative about what he is saying," Jackson said.

"I've been doing the same stuff, but everybody's trying to shut me up. And then there are people who take me out of context and say, 'Oh, he's just in it for the money. He don't love this no more.' You know what? What I do is try to entertain people. It's all I've ever tried to do. I'm an entertainer and I'm always going to try to entertain people."
What do you make of Jackson's comments?