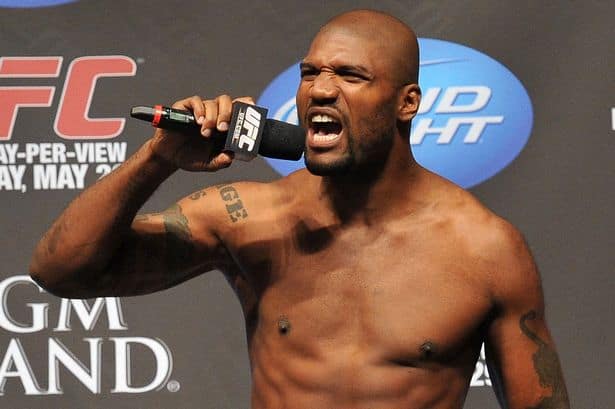 Former UFC light heavyweight champion, and polarizing knockout artist Quinton "Rampage" Jackson left the UFC in late 2013, and briefly spent some time with rival Bellator where he ended up compiling three-straight wins.
However, when things went south with his contract, Jackson, and his manager ended up terminating his deal with Bellator and ultimately resining with the UFC. "Rampage's" return to the Octagon was set for UFC 186 last April against Fabio Maldonaldo, but apparently there were some issues when Bellator took the case to the court, putting the fighter's return in Jeopardy.
Jackson eventually gained clearance to fight, scoring a unanimous decision victory over Maldonaldo, but it turns out that the situation hasn't been put to bed just yet. Appearing on today's (October 5, 2015) edition of the MMA Hour, "Rampage" admitted that he's still tied up in a court battle which has been holding him back from fighting:
"People keep asking me, when you fighting next? And most people don't know that I'm tied up in a damn court battle with Viacom and Bellator and I don't know when I'm going to fight next. People need to realize that I am not a manager, I am a fighter. My manager is very good at what he does and Viacom breached the contract. They had 45 days to fix the breach and we gave them 90-something days and they didn't fix the breach."
Continuing on, Jackson claims that he was legally allowed to terminate his contract, but that Bellator, and Viacom didn't agree. He admitted that he pushed to fight mainly for the fans, but now it just seems as if he's being held back:
They promised movies, pro wrestling, reality shows and everything to boost their pay-per-views. Everybody saw what happened to Bjorn Rebney, he got canned. Scott Coker came in and the company was turned upside down and my contract got shitted on. That is all out there, that is common sense. For some reason, Viacom didn't want to fix things. So my manager terminated (the contract) and he took everything to UFC and UFC said, 'Yup, he is legal to sign.' Viacom didn't agree with the termination. I don't know if my manager missed one step going to the courts or whatnot, so they try to put a hold on my fight and I went to the courts and everything and I got it overturned and I fought and I did that for the fans because they wanted to see me fight. Now I'm tied up going to court and stuff like that, and I feel they are just trying to tie me up so I don't fight."
Another former UFC light heavyweight champion in Mauricio "Shogun" Rua recently expressed interest in fighting Jackson sometime next year, but if things don't improve, we may never see "Rampage" grace the Octagon again.
Jackson reflected on his career, and talked about his son's future, noting that Bellator can't force him to fight for them, and that he'd hang up his gloves for good before going back:
"But you know, at the end of the day, and I've been thinking about this a long time, I've won four fights in a row, I've done a lot in the sport, I've been fighting for 15 years and I love this sport, so I'm thinking, Bellator can't make me fight for them. And I'm thinking I might as well go ahead and retire. Just retire, I got my clone that is going to fight, he's 15 years old and going through his wrestling background. When he turns 18, I'll put him in amateurs, send him to Japan, and put him through the whole thing so you guys will have another 'Rampage' coming in a couple of years. So if Bellator tries to keep holding me up, I'll just retire and do movies and television shows. It's just too much stress for one person to deal with. All I try to do is put on exciting fights. Some people try to screw you over and some try to help you out. UFC has been good with all this and been helping me out, but there is only so much one human being can take. So if this court stuff don't go well, I might as well retire. I ain't going to let someone to force me to fight for them. I've done a lot in this sport, so the easiest thing to do is retire and walk away."
Jackson is definitely an ageing veteran, and years passed his prime, but he's also still a fan favorite, and a legend of the sport. Here's to hoping that we see "Rampage" make another stroll to the cage, and that he can eventually go out on his own terms.