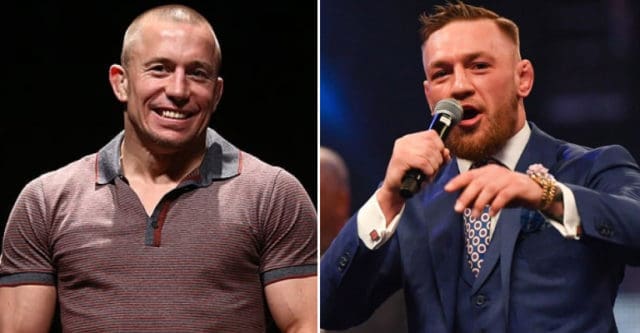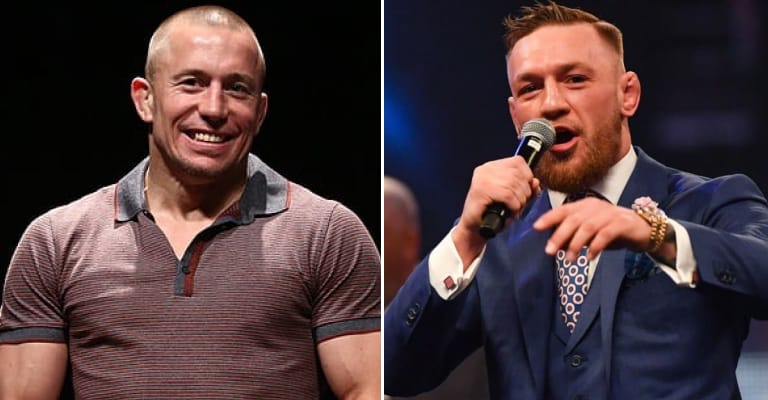 Recently, former UFC middleweight and welterweight champion Georges St-Pierre revealed he would return to MMA if the right opportunity to 'elevate himself' arose – even if it was all the way down at 155 pounds.
The statement prompted speculation that "GSP" was looking for a lucrative match-up with current UFC lightweight champion Conor McGregor, a bout that many, including St-Pierre's longtime coach Firas Zahabi, touted as potentially the biggest MMA fight of all-time.
But Zahabi then went on record shortly thereafter saying that he didn't think the fight would actually happen. 
However, there's a prominent name in MMA who disagrees with that sentiment, and not surprisingly it's Chael Sonnen. The former UFC title contender recently offered his opinion on his "Beyond the Fight" podcast (via MMA Junkie), stating that St-Pierre will return against McGregor and it will be the biggest fight in history:
"It will be against Conor in what will be the biggest fight in MMA history."
The decorated MMA great returned from a nearly four-year absence late last year to submit Michael Bisping and win the 185-pound title at November's UFC 217.
It was one of MMA's feel-good moments at the time; however, St-Pierre incited a bit of controversy when he vacated the middleweight title shortly thereafter, claiming that he was suffering from colitis due to the increased food intake consumed to fight at 185. Several accused him of picking and choosing his fights – and finding an 'easy' one in Bisping – but at this point in his decorated career, it doesn't seem like he's trying to hide that fact.
He claimed it wasn't only because of the money that a fight with McGregor would bring because he's more focused on furthering his legacy at this point, yet Sonnen wasn't buying that in the slightest.
According to 'The American Gangster,' St-Pierre's saying the right things and still wants the monster payday a bout versus McGregor brings:
"Conor doesn't have the belt, and George wants to come back, and George only wants to come back for Conor. And they both want to do this legacy and all this other … a check, guys. That's what you're getting in this. Forget about how we think about you in the future, let's talk about tonight. That's the fight."

"Making a statement like, 'Hey, that does nothing for me,' that is condescending, it's rude, it's mean-spirited, and it's extremely appropriate if you're Georges St-Pierre. That doesn't mean he doesn't want that fight."
With McGregor still enjoying his $100 million purse to box Floyd Mayweather last August, his MMA return remains unknown – if he even returns at all.
It's largely thought he will finally make his first defense against the winner of UFC 223's Tony Ferguson vs. Khabib Nurmagomedov main event this April, but nothing feels guaranteed when it comes to McGregor and his ongoing contract talks with the UFC. He's teased a rematch with Mayweather in the UFC, and there's little doubt a super fight with St-Pierre would be the most lucrative fight the UFC could book.
But the topic of what weight class it would be at would be a minor hurdle to surpass. Sonnen believes it would be at a new weight of 165 pounds after McGregor supposedly asked the promotion to create a new belt in the class for him to save last weekend's UFC 222 on short notice:
"I know that George would do it. He's made that clear. And I also know contrary to what some fans will say about, 'Well, what wait class? You can only ask Conor to go up so much.' Georges will go down. Now that it has come out that Conor talked to Dana and wanted to do a 165-pound fight, George will go down to 165. I'll speak for him. I'll tell you he for sure will. I'm not speaking for him; he shared that with me. But I will pass it on to you. He will go to 165 if it means Conor."
If you enjoyed this story, please share it on social media!