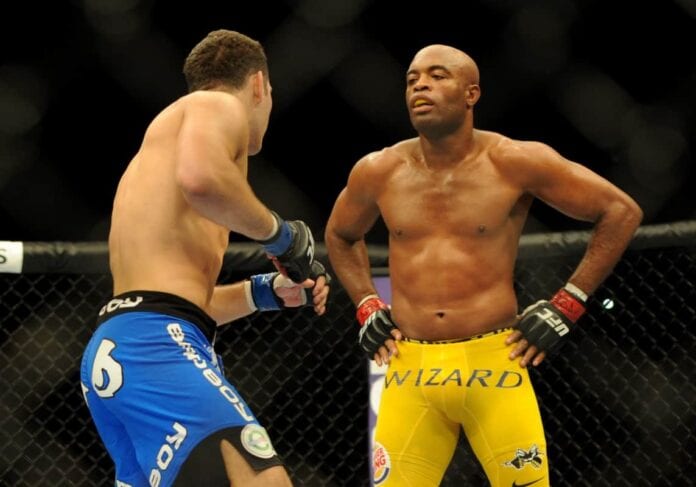 When Anderson Silva vs Nick Diaz goes down at UFC 183 on Jan 31st 2015, it will be the first time that "The Spider" has fought in over a year. For Diaz it will be his first time back in the octagon for nearly two years, but there will be a lot on the line for both men. It's a huge fight in it's own right, but it's been thrown around that a win for Diaz would lead him to an immediate title shot at 170 pounds.
UFC President Dana White confirmed that Silva would indeed punch his ticket to a title fight with a win at UFC 183, as he spoke with UFC Tonight via MMAJunkie.com:
"Diaz and Anderson Silva are fighting, and obviously if Anderson Silva wins that fight, and whether Vitor or Weidman win, then you have Anderson Silva versus either one of those guys. It's a very interesting fight," White said. "After the injury that Anderson Silva had, where is he going to be mentally? I think physically he's a guy that does the right things, works hard. He's been working since the injury happened. He's definitely going to be in shape.
"Will he throw the leg kicks the way that he used to throw them? How's he going to feel when he gets back into competition? Sparring and training is much different than getting in there and fighting."
Judging by recent video footage, "The Spider" might well be back to 100% with his injured leg. He famously suffered a gruesome snapped shin bone when Chris Weidman checked his leg kick back at UFC 168. Silva will undoubtedly cap off the greatest comeback of all time if he is able to regain his once dominant position as champion at 185 pounds.
The question remains where does Anderson Silva vs Nick Diaz leave the loser? Both will fall in to the no man's land of three straight losses, and "The Spider" nears 40 years old. Both Diaz and Silva will probably have strong draws regardless of their recent records, but then the question of nationality arises. In particular, I'm referencing Silva's recent comments that he wouldn't fight another Brazilian for the belt.
Anything is possible, and we know that the ex-middleweight champion has flip-flopped many times on the subject of fighting for the belt again. We'll wait for the outcome of Anderson Silva vs Nick Diaz at UFC 183, but it will be a defining moment at this late stage in these MMA legend's storied careers.

Follow @Rorylowkick

Follow @LowKick_MMA

Tweet