UFC 202 is the scheduled event for the rematch of one of the most entertaining rivalries and fights of 2016. Nate Diaz and Conor McGregor first met by chance at UFC 196 after the lightweight champion of the time fell out injured. 'RDA's' replacement made the most of the 11 days left before the March 5 event, arguably winning the pre-fight trash talking competition. Once the event came around though, few believed Diaz would have the chops on under two weeks notice.
The Stockton bad boy ate everything 'The Notorious' could throw at him, and in the second round came back with a vengeance. Tagging a visibly tired McGregor with some stiff 1-2 combos, Diaz smelt blood and went in for the kill. After the Irishman shot for a desperate takedown, his much more skilled opponent on the mat made short work of him. Diaz bashed away on a flailing McGregor, making room under the chin for a tight rear naked choke that forced the tap.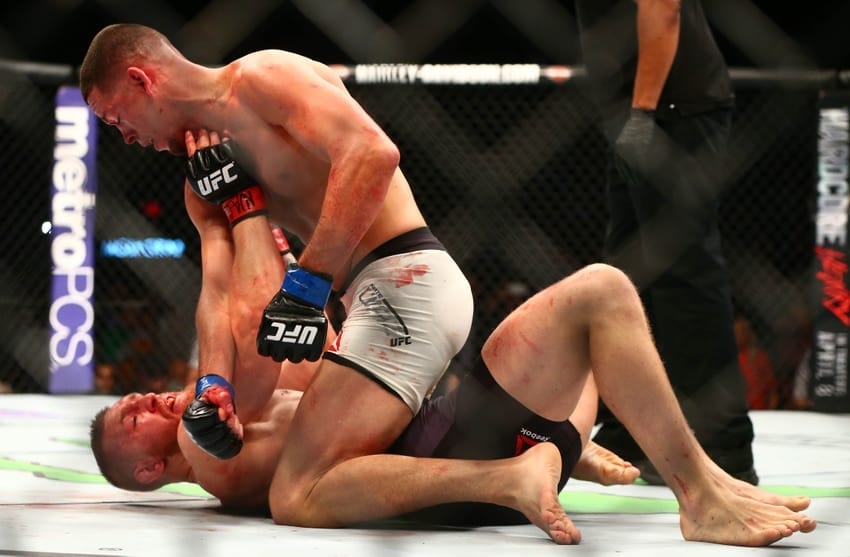 Everything about this fight was just pure entertainment, and Diaz's explicit post-fight interview is still one of the greatest quotes in MMA history. A rematch was quickly formulated for UFC 200 and then swiftly swapped to UFC 202 on August 20 after a slight paddy between McGregor and the UFC. As well as just the obvious gap in the grappling skills between 'The Notorious' and Cesar Gracie black belt Nate Diaz, many have questioned how McGregor will fare against the naturally bigger fighter in the second fight.
Now Diaz knows how to beat McGregor, and that size played a role in the Irishman's fatigue, it's possible he'll cut as much weight as possible to get a bigger size advantage this time around. If the following social media posts are anything to go by, McGregor is trying to come in lean to preserve his cardio, and Diaz is just looking like a heavyweight!
Feeling safe flanked by two of the baddest men on the planet. @NateDiaz209 and @ChuckLiddell. #UFC pic.twitter.com/fapCHEmB4e

— Reed Harris (@reedharrisufc) July 18, 2016
Could it be a completely different fight on August 20? Will McGregor's cardio be good enough to get revenge, or will Diaz's sheer size and already insane cardio prove too much again?