Pat Miletich makes MMA return against Mike Jackson in a battle of 'societal divisions and political conflicts'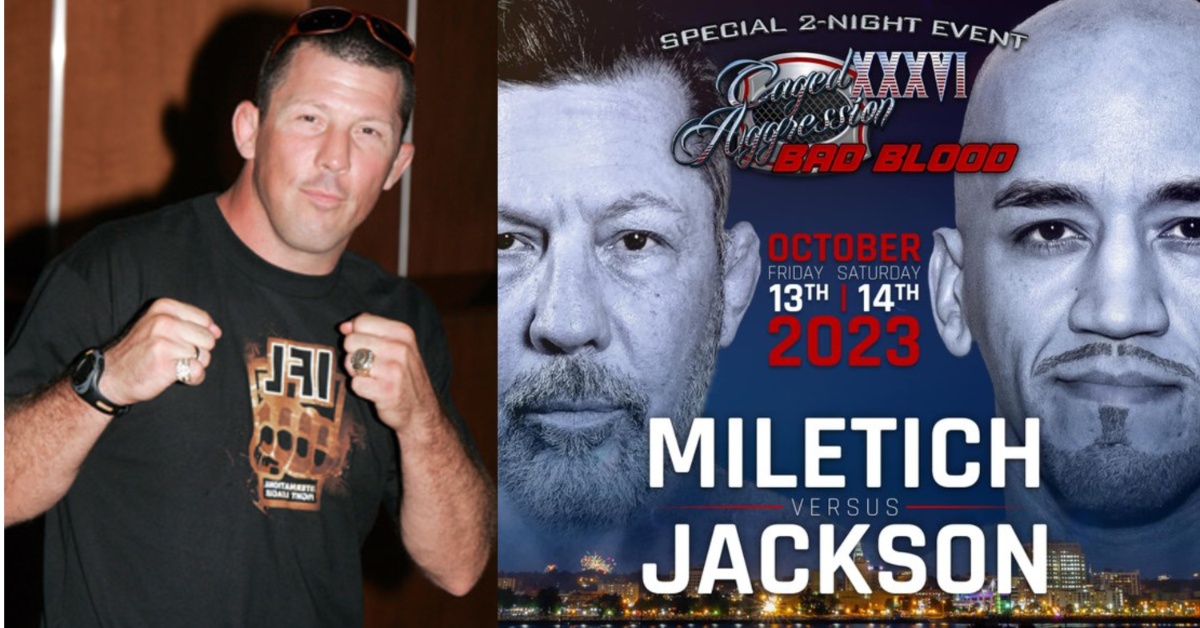 UFC Hall of Famer Pat Miletich will return to the cage for a clash in his hometown this October.
Miletich, the first-ever UFC welterweight world champion, will compete under the Caged Aggression MMA banner in Davenport, IA on October 14th as part of a two-night event entitled 'Bad Blood.' His opponent will be former UFC standout a ex-protege, Mike 'The Truth' Jackson.
The promotion issued a press release on Monday, detailing the history between Jackson and 'The Croatian Sensation' and how their unlikely pairing ultimately came together.
"The history leading up to this momentous bout is rife with intrigue and controversy. Jackson, with his charismatic and controversial personality, had a brief but impactful career in the UFC. His connection with Pat Miletich came to the forefront when he sought Miletich's guidance and cornering for his highly publicized fight against former professional wrestler CM Punk.
"However, the aftermath of that fight took an unexpected turn after Miletich attended the Trump rally in Washington DC on January 6th, 2021, in which Jackson wrote a contentious article accusing Miletich of racism due to his attendance and controversial photos that emerged from this event. The ensuing allegations led to Miletich's departure from Legacy Fighting Championship (LFA) and a purported blacklisting from MMA commentating, fueling Miletich's desire for payback.
"In response, Jackson stated, 'I'll admit, I hate this happened to someone I called a friend, brother, and coach. But there is no gray area when it comes to racism, and the best way to hurt a snow roach is to attack their pocketbook.'
"Miletich vehemently denies the accusations, asserting that he has been unjustly targeted and that his character has been unfairly tarnished. He is now seeking redemption and to restore his standing within the MMA community and views this fight as an opportunity to silence doubters and reclaim his place in the sport that he helped shape.
"The upcoming battle between Miletich and Jackson represents more than just a clash of physical prowess; it embodies a clash of ideologies and principles. Miletich, at 57 years old, symbolizes the resilience and determination of an aging warrior, drawing upon a lifetime of experience and honed skills. Jackson, on the other hand, represents youth, speed, and the progressive ideals of the current era. This confrontation between the two fighters encapsulates the broader societal divisions and political conflicts prevalent in today's world."
Pat Miletich Will Make His First Walk to the Cage in 15 Years
Pat Miletich, 55, is the proprietor of one of the most celebrated gyms in mixed martial arts history, Miletich Fighting Systems. Nestled along the banks of the Mississippi River in Bettendorf, IA, MFS housed some of the UFC's most iconic world champions, including recently inducted UFC Hall of Famers 'Ruthless' Robbie Lawler and Jens Pulver. He also played a role in the rise of former champions Tim 'The Maine-iac' Sylvia and Matt Hughes who called MFS home for many years.
'The Croation Sensation' largely walked away from the sport in 2002, but returned to the cage in 2008 for a bout with Thomas Denny under the Adrenaline MMA banner. He won via a second-round knockout.
"We have an intriguing matchup that goes beyond the realm of sports," said Mike Goodwin, promoter of Caged Aggression MMA. "This fight presents a clash of values and perspectives that will undoubtedly captivate audiences around the world."
The bout will reportedly be a fully-sanctioned three round mixed martial arts contest despite the near 20-year age gap between the two men. Both nights will be available to stream live on pay-per-view and tickets are currently on sale via Nitro Tickets.