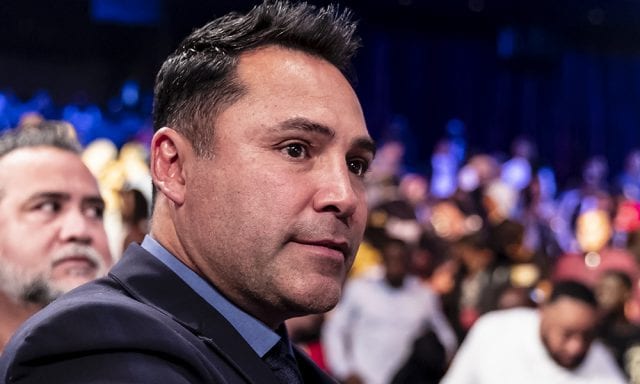 Oscar De La Hoya teased promoting even more fights in the MMA world in a recent interview. This is after talking about his expectations for the trilogy fight between UFC Legends Tito Ortiz and Chuck Liddell that takes place later this month.
This event goes down on November 24, 2018, inside The Forum in Inglewood, California, and will air live on pay-per-view. You can check out the undercard here. According to the boxing promoter, the ticket sales for this event are strong.
"The price points are perfect for this type of fight. Fans are coming out and supporting it," De La Hoya on Monday told MMAjunkie. "Everywhere I go, they don't talk to me about the boxing cards I'm putting on. They talk about Canelo or Chuck Liddell and Tito Ortiz."
Although boxing will always be in the blood of De La Hoya, he is dipping his toes into the MMA water to see how it goes. Thus, at this time, he is still hesitant to go into MMA full-time. However, his recent deal with DAZN could change that.
"Once this fight card takes place, I'm going to have some serious talks with John Skipper," De La Hoya said. "If I'm serious about promoting future MMA cards. I'm very positive and certain DAZN will back us 100 percent."
De La Hoya's Plan
Before he makes a bold statement about his future in the sport, he wants to sit back and see how this event goes involving the MMA stars. Then, he'll evaluate what his future holds.
"I want to see how (Nov. 24) turns out. I want to see if the card turns out good. I want to see what the PPV numbers are. I want to see if Chuck and Tito were happy the way I promoted them. And then we'll take it from there."
If you enjoyed this story, please share it on social media!