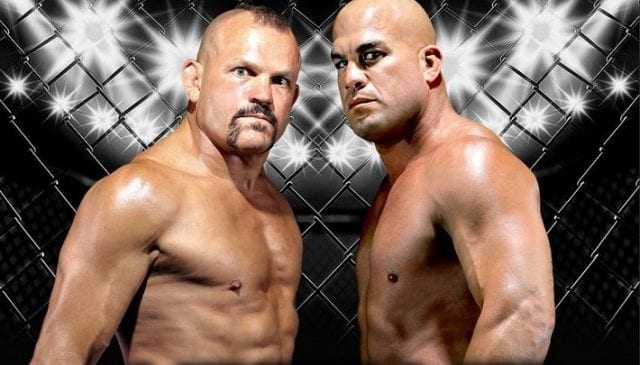 Oscar De La Hoya's Golden Boy Promotion will make history on November 24 when the boxing legend throws his hat into the world of mixed martial arts (MMA).
Chuck Liddell and Tito Ortiz will headline the night of fights that features a total of 17 bouts. The event will consist of a six-fight main card, six fights that are being billed as "swing bouts," and five amateur fights.
As with any MMA event at this stage, the California State Athletic Commission (CSAC) must first sign off on the proposed bouts before it becomes official. However, that is a formality at this point.
Here is the current Golden Boy MMA fight card and lineup that will take place at The Forum in Inglewood, Calif. (courtesy of MMA Junkie):
Pay-Per-View Main Card:
Chuck Liddell vs. Tito Ortiz
Kenneth Berg vs. Jorge Gonzalez
Gleison Tibau vs. Efrain Escudero
Walel Watson vs. Ricardo Palacios
Deron Winn vs. Tom Lawlor
Jay Silva vs. Oscar Cota
Swing Bouts:
Albert Morales vs. Cleber Luciano
Jose Huerta vs. Fernie Garcia
Kendall Grove vs. Andre Walker
Dave Terrel vs. Johnny Cisneros
Craig Wilkerson vs. Joshua Jones
Weston Wilson vs. Mike Segura
Amateur bouts:
Isaiah Culpepper vs. Djavan Coleman
Joshua Kim vs. Geoffrey Thomas
Jonathan Kim vs. Mauro Gutierrez
Tyler Schafer vs. Maria Favela
Julianna Miller vs. Diana Mendoza
If you enjoyed this story, please share it on social media!