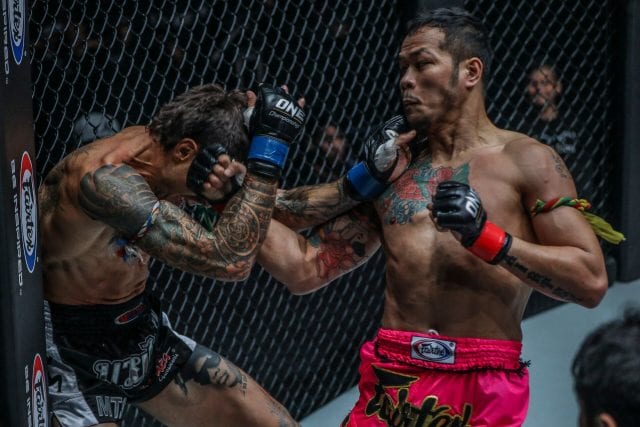 The final ONE Championship event of the year sent fans home on a high note with a thrilling KO stoppage in the last bout of 2018.

The main event of ONE: Destiny of Champions, held inside the Axiata Arena in Kuala Lumpur, Malaysia was a short-lived affair that felt like it was over before it had begun.

Yodsanklai IWE Fairtex said he would stop Luis Regis in their Super Series Muay Thai clash. And stop him he did, in spectacular fashion.
The end came quick and decisively, just after the two-minute mark of the first round. Yodsanklai backed Regis up against the cage, delivered a straight one-two and then dropped the Australian with three lead uppercuts.

The 33-year-old Muay Thai legend appears to be truly over his previous injuries, and a bout with Giorgio Petrosyan now seems all but inevitable.
Abbasov Dismantles Thani

The evening's co-main event was a welterweight clash between Kyrgyzstan's Kiamrian Abbasov and Malaysia's Agilan Thani. Both men had lost their last ONE outings, and neither athlete could afford a second straight defeat.

The bout ran just a few seconds longer than the main event but was as equally as one-sided. Abbasov came out of the gate at 100 miles per hour and relentlessly manhandled Thani. He caught his opponent in a body lock early in the round and took him to the floor. Abbasov then proceeded to slam Thani to the ground whenever the Malaysian attempted to get to his feet

Thani looked like a deer caught in the headlights. When the end came via rear-naked choke, the home crowd was stunned into silence.
This was Abbasov 's second ONE championship bout. His first was a disappointing unanimous decision loss to Luis Santos in March.
However, the Abbasov that competed tonight was a different animal from the one that fought Santos. If he can put together another performance like this when he next steps into the cage, he will be well on his way to a title shot.
As for Thani, the 23-year-old is still a talented athlete, but will need to take time out and reassess where he goes to from here. Consecutive defeats to Zebaztian Kadestam and Abbasov demonstrate there is work to be done before he can mix it up with the elite of the division.

An Atomweight Contender Emerges

Malaysia's undefeated Jihin Radzuan capped off what has been an outstanding year for the ONE newcomer with her best performance to date. Radzuan has been the breakout star of the atomweight division in 2018.

The 20-year-old came into her bout with ONE veteran Jenny Huang with an air of expectation surrounding her. Victories over Pooja Tomar and Priscilla Hertati Lumban Gaol won Radzuan attention from both the public and the media. However, up until tonight, the jury was out on how she would fare taking on an experienced grappler like Huang.

Radzuan forced the pace of bout right from the outset, dominating the stand-up portions of the contest.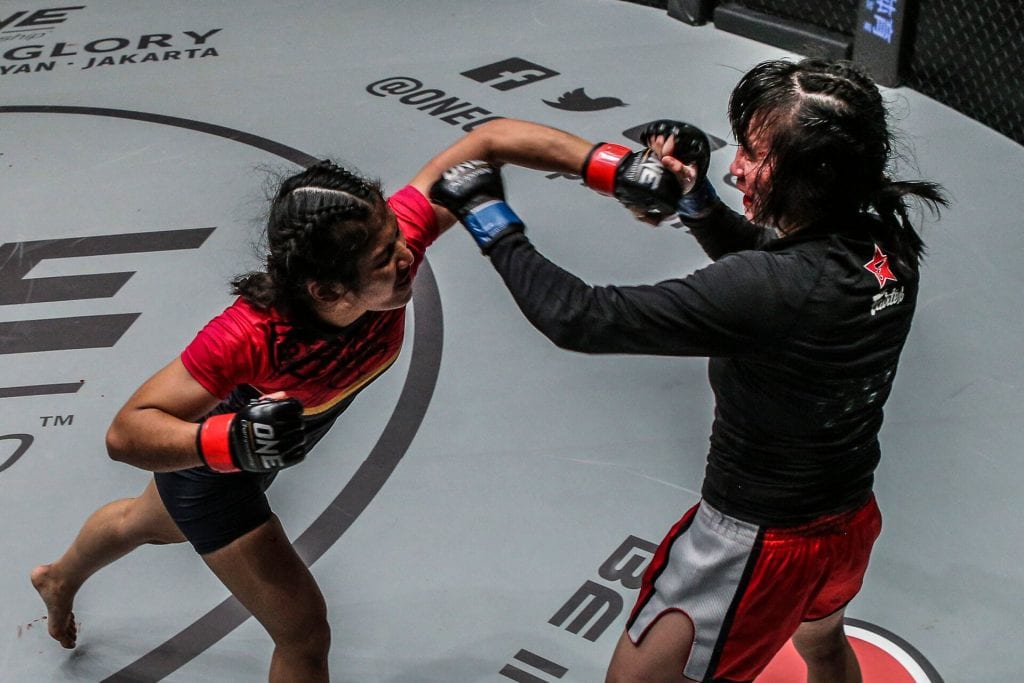 A perfectly timed Superman punch from Radzuan was symbolic of the dominance she had while the bout remained standing. Huang had no answer for the shots Radzuan delivered throughout the course of three rounds. She had some success on the mat, but even there, Radzuan was the one controlling the action.
A couple of times Radzuan's eagerness gave Huang the opportunity to lock in a triangle choke. However, on both occasions, Radzuan was either able to break free or survive until the round ended. It will be interesting to see whom ONE pair her with next. On the back of today's showing, she earned a title shot.

The risk there would be of rushing Radzuan into a bout with Angela Lee too soon when another couple of matches would help Radzuan refine her game.
The ONE cage will now be packed away for the rest of the year as the company takes time out to prepare for 2019.

The upcoming flyweight and lightweight Grand Prix tournaments plus the companies push into Japan will ensure fans are kept sated with a steady diet of big-name clashes.

For fans, the main talking point will no doubt be how Demetrious Johnson, Sage Northcutt, and Eddie Alvarez perform in their new surroundings. It will be interesting to see how the current athletes stack up against the newcomers.
However it unfolds, it should make for must-see viewing.
ONE: Destiny Of Champions Full Results

Yodsanklai IWE Fairtex def. Luis Regis via first-round KO
Kiamrian Abbasov def. Agilan Thani via first-round submission
Jihin Radzuan def. Jenny Huang via unanimous decision
Petchmorrakot Petchyindee Academy def. Liam Harrison via second-round KO
Vitaly Bigdash def. Yuki Niimura via first-round submission
Yosuke Saruta def. Alex Silva via unanimous decision
Panpayak Jitmuangnon def. Rui Botelho via unanimous decision
Prelims:
Mohammed Bin Mahmoud def. Stergos Mikkios via first-round KO
Mei Yamaguchi def. Jomary Torres via unanimous decision
Chan Rothana def. Abro Fernandes via second-round TKO
Sovannahry Em def. Iryna Kyselova via first-round TKO
Two bouts Kevin Chung vs.Daichi Takenaka and Gianni Subba vs.Ma Hao Bin were both removed from the event.

If you enjoyed this story, please share it on social media!