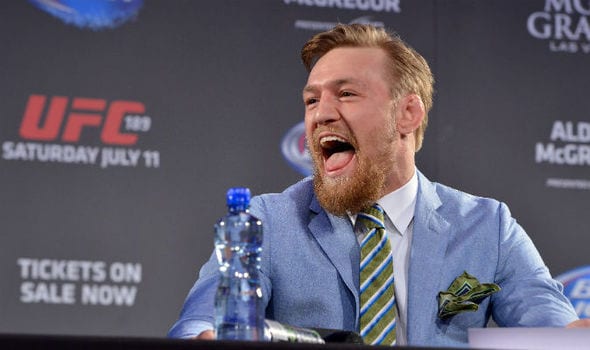 There's no denying that Asia's ONE Championship has been sending shockwaves through the sport of mixed martial arts (MMA) to end 2018. But there's one major star that the ONE CEO won't sign.
ONE's moves have been nearly unprecedented. Their signing of former UFC champ Eddie Alvarez and their trade of Ben Askren for Demetrious Johnson grabbing headlines everywhere. They kept that trend going by signing young free agent Sage Northcutt recently.
But all of those former UFC names had one thing in common in terms of ONE's goals. They all embody the true spirit of martial arts to the promotion. While ONE is looking to rise up in MMA, they don't want to do so with trash talk and disrespect. ONE CEO recently revealed he would never sign MMA's biggest star as a result of that.
Speaking on this week's episode of "Ariel Helwani's MMA Show" (via MMA Mania), CEO Chadri Sityodtong detailed why he simply would never sign McGregor:
"No, I really wouldn't (sign him). I don't think he would do well out here in Asia based on the fact of some of the things that he did, already done.

"I think a lot of companies her would take serious, serious issue, I don't want to bad mouth anybody and Conor is his own guy," he said. "With any organization or company, there are going to be companies for x, y and z type of people and companies for a, b, c type of people.

"I think what you see now with companies like UFC, ONE Championship and Bellator, an athlete can choose where he or she is best represented or most feels at home for core values."
Too Much Trash Talk
Sityodtong then cited the case of 'Mighty Mouse' and how he will never disrespect his opponents. He believes Johnson will be much happier due to the mutual respect he will receive fighting for ONE:
"You take DJ, he will never be the trash talker or the guy who disses people. He is always going to take the high road, a man of character, man of values. For him to find a home here in ONE Championship he will be valued greatly and be much happier."
As for how McGregor reacted to ONE signing Johnson, Sityodtong wasn't on board with his response. When 'The Notorious' claimed that ONE's greed lead to the sinking of the entire UFC flyweight division, the executive claimed he had only signed one fighter. Because of that, his assertion made no sense:
"I think Conor Mcgregor might want to go to business school to understand that it's UFC division if they want to close it down. It has nothing to do with me, I only signed one athlete. That's like saying I should shut down the welterweight division because Ben Askren left. It makes no sense."
Sityodtong closed by stating McGregor perhaps wanted to get into an online war with him. Overall, he said he respects McGregor, but he just wasn't the right man for Asia or ONE:
"I think he was doing it more to create a Twitter battle with me or something like that. I just didn't engage. But I have a lot of respect for Conor and what he's done, he's just not a guy for us, ONE Championship or Asia, He's just not the right guy,"
If you enjoyed this story, please share it on social media!