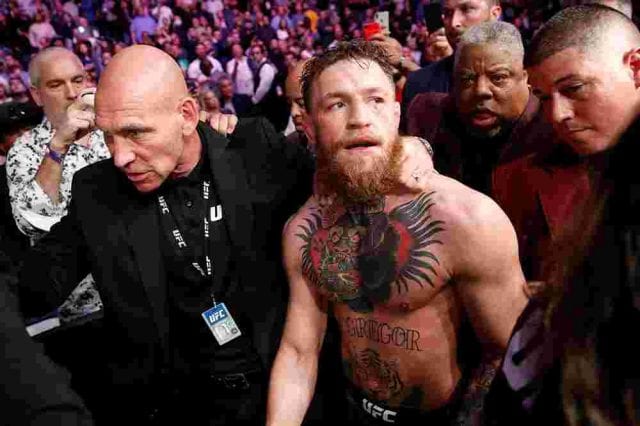 Conor McGregor's fighting future will continue to be drawn out as the Nevada State Athletic Commission (NSAC) has granted the Irishman a continuance.
McGregor was expected to appear before the commission on Monday, Dec. 10. He was set for a hearing for his role in the post-fight mayhem following his UFC 229 main-event loss to Khabib Nurmagomedov in October. However, the Irishman won't be in attendance next week because his legal representatives filed for a continuance in the case and it was granted.
MMAFighting.com was the first to report on the McGregor continuance and MMAJunkie.com later confirmed the initial report.
The NSAC filed formal disciplinary complaints against both McGregor and Nurmagomedov last week. Thus setting the stage for their Dec. 10 hearing in Las Vegas.
What McGregor Is Accused Of
The commission has accused McGregor of refusing to comply with "valid orders to return to the octagon canvas" after attempting to jump over the cage into the gallery where Nurmagomedov and Danis fought.
McGregor's actions also constitute "foul or unsportsmanlike conduct" and a violation of state law.
Potential Punishments
As far as potential punishments for Nurmagomedov and McGregor, they are subject to NSAC bylaws that allow the commission to suspend or revoke their licenses. The commission can also issue up to a lifetime ban and withhold 100 percent of their purses or $250,000, whichever is greater. The fighters are also responsible for attorney's fees and other punishments the commission sees fit.
Nurmagomedov and McGregor remain temporarily suspended pending their cases. Both men have also been ordered to attend the hearing in person.
What Dana Thinks
UFC President Dana White fully expects both lightweights to be suspended. Thus matchmakers have held off confirmation of any booking until the resolution of their cases. Earlier this week, White eluded to a nightmare scenario in which a one-year suspension would be handed out to Nurmagomedov. A situation White said would be "unfair."
This isn't the first time McGregor has had run-ins with the commision. He was fined $50,000 for throwing a water bottle at Nate Diaz during a UFC 202 press conference. His punishment was reduced to $25,000 and ordered to perform 25 hours of community service.
If you enjoyed this story, please share it on social media!