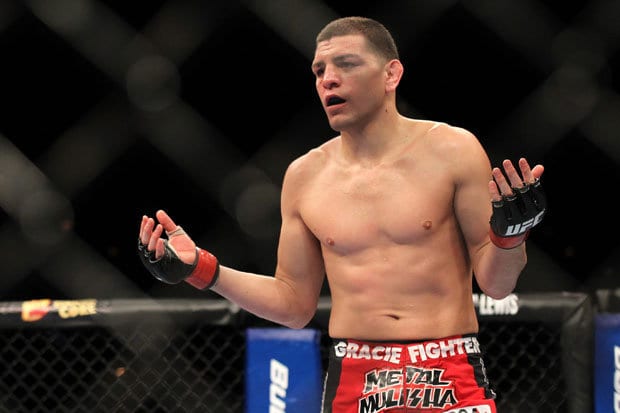 Nick Diaz wasn't happy with what he saw at the UFC 226 event between Daniel Cormier and Brock Lesnar.
The older Diaz brother has decided to let his voice known about what he saw at the latest pay-per-view event put on by the Las Vegas-based promotion last weekend after Cormier was able to score a KO win over Stipe Miocic to win the UFC heavyweight title, which marks history as Cormier is now a two-division champion.
Following the fight, DC brought in the former UFC heavyweight champion, who hasn't fought in two years, to call him out for his next title defense as the king of the 265-pound division that will likely go down in January of 2019.
Diaz decided to go on a bit of a lengthy rant on social media about it and how it came across as a WWE confrontation inside of the Octagon once Lesnar pushed DC, they exchanged words and Lesnar cut a promo. He wrote the following on his Instagram account:
"Sick of this all this 'baddest man on the planet' bs," Diaz wrote on Instagram. "I'll fight for any title at Any weight. @Ufc wants to make bs wwf fights with guys that fight like shit and put on an act. @dc_mma would look way worse than I do in this pic if he fought Anderson the way I did but instead he decided to wrestle fuck him for five rounds in front of his whole life And still almost got finished off in the last round with Silva only having two or three weeks notice @danawhite should give me this fight instead of dick chest Brock Lesnars cheating ass #dontbescaredhomie nothing personal I love Dc but I don't like what he does-constantly embarrassed for him and the sport.

"I started doing MMA because it's not WWF and I've never put on A bs act in my life I'm sure fans would like to see a real fight."
Diaz has not been seen in the Octagon since his bout with Anderson Silva in January 2015, which was later overturned to a no-contest after Silva tested positive for banned substances while Diaz failed a drug test in relation to that fight for marijuana and was suspended 18 months by the Nevada Athletic Commission (NAC).

Moving along to last June, it was revealed that Diaz had been provisionally suspended and is facing a UFC anti-doping policy violation for not properly filling out his whereabouts so he can be tested by USADA and as a result, was given a one-year suspension, which he has completed.