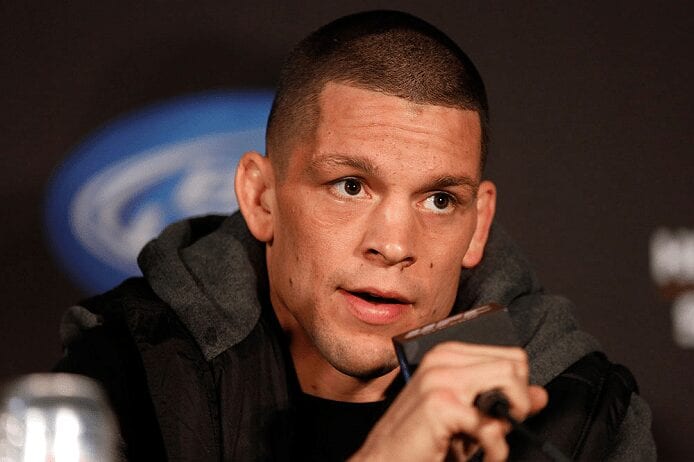 Nate Diaz vs Gilbert Melendez will never happen, even if "El Nino" is champion……
UFC lightweight competitor Nate Diaz has no problem fighting as a heavy underdog, as he looks ahead to his December UFC on FOX 13 booking against the surging Rafael Dos Anjos. Diaz put himself on hiatius from the promotion following his TKO win over Gray Maynard at The Ultimate Fighter 18 finals last November, and finds himself paired with the number three guy at 155 pounds.
Indeed, a win for the younger Diaz bro. would likely catapult him through the rankings. The leaderboard is currently topped by champion Anthony Pettis, who himself will fight in December, at UFC 181 against Diaz's team mate Gilbert Melendez. With the possibility of Gil being champion by the time Diaz fights again, the Stockton native discusses the somewhat taboo subject of fighting friends:
"I'm completely content with Gilbert being No. 1 and me being No. 2," Diaz said on the "You're Welcome! with Chael Sonnen" podcast, transcribed by MMAJunkie"I'm good with that, because that's my partner. When Gil gets the belt, when Gil wins this fight and gets that belt, I won. That's a win for me. That's my brother. That's pretty much my goal here."
"People are dumb; they don't know how to answer the damn question," Diaz said. "If someone's even considering talking about fighting you, then what the f-ck are you friends for? I don't think people even know what friendship is in this sport. I hear people, 'Oh, I'll fight him if we get paid a million dollars.' My partners are my partners and it's not even a consideration. Other people just give hints and 'ifs,' so it makes everyone curious."
In line with what Diaz is saying, most great fights are preceded by long-burning rivalries. Especially when it comes to title fights, it almost makes no sense at all setting up a fight that would be hard to hype, between good friends. Unless of course the styles of each man would make it an unmissable bout….
"If anybody ended up stepping up and beating him, which I don't see, then it's always been like that," Diaz said. "If I lose, he's going to pick up the scraps and take out the guy. Not too many guys are going to beat both of us. I'm content with him being No. 1 and me being No. 2, and that's pretty much the objective here. It's pretty much you've got Pettis and him fighting for the belt and competing for that position. I think I'm already No. 1 and No. 2 right now, so the deal is almost sealed." 
So much like Daniel Cormier and Cain Velasquez when they both fought at heavyweight, Diaz is happy to play second fiddle to Melendez. Would you be interested in seeing Nate Diaz vs Gilbert Melendez? Or do you think Diaz's tune might change if he was offered a serious amount of cash to do so?
Follow @Rorylowkick

Follow @LowKick_MMA

Tweet