Michael Chiesa will step into the Octagon against a former UFC champion in his next outing.
Chiesa meets ex-lightweight champion Rafael dos Anjos at UFC Raleigh on January 25. It's quite the step up in competition for Chiesa, who comes off a big win over Carlos Condit, now on a two-fight win streak. The winner of "The Ultimate Fighter 19" spoke to MMA Junkie to discuss the matchup.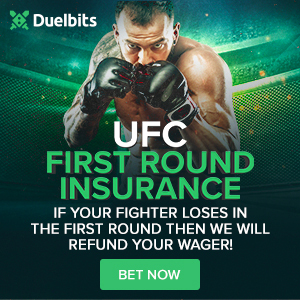 "Maverick" looks forward to taking on dos Anjos, who was defeated by Leon Edwards in his last bout via unanimous decision. Dos Anjos is the No. 5-ranked welterweight in the world, and Chiesa feels like everything is clicking for him heading into the fight.
"This is one of those things, like I beat 'RDA,' and there is no backwards steps from there, it's a guy ranked higher and that's it," Chiesa said. "There are no backwards steps. Once you get in the rankings, you just have to keep stepping forward until you lose to the guy ahead of you, and then you can start considering guys below you.
"This is a great opportunity to make a big leap in my career, a big leap in my skills, so this is what it's all about for me. I can't emphasize it enough. I'm finally in this position that I wanted to be in for so long. I get to fight 'RDA.' He's truly top five, so there are these big ramifications, and this is the situation I've always wanted to be in. This is what it's all about, and it couldn't have happened to me at a better time.
"(I'm) 31 years old, about to be 32 – I'm in my prime. Everything is clicking, my camp is good, my home life is good, my social life is great – everything is perfect right now, so there is no better time for a fight like this than right now."
While Chiesa is aware of just how dangerous a fighter "RDA" is with his skillset, he doesn't necessarily consider the matchup a dangerous fight.
"The most dangerous guy, yes, but not the most dangerous fight," Chiesa said. "A dangerous fight is like you lost your last two fights and now you're fighting Carlos Condit. That, to me, is a dangerous fight because it's like the do-or-die, the pressure, winning and keeping your job – or losing and maybe get cut. That's a dangerous fight.
"Is this one of the most dangerous guys? Yes, 100 percent. But like I said, the pressure is off, and when it's off, that's when I fight my complete best. This is two wins in a row, fighting a top guy. Not a lot of people are probably counting on me to win. So, like, dude: Let's just have fun, let's train as hard as we possibly can, implement a game plan, go out there and fight this guy bell to bell. I believe I'm going to beat him."
Do you agree with Chiesa's comments about his matchup with dos Anjos?