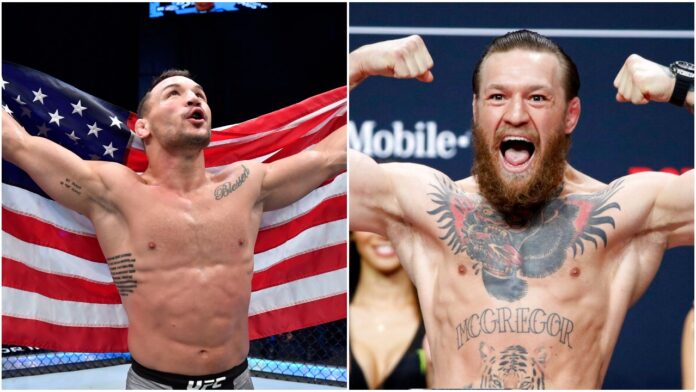 Michael Chandler has come out to defend Conor Mcgregor saying anyone who discredits the former dual-weight UFC champion is either a "causal or a Conor hater". 
The Irishman has lost three of his last four fights and coming off back-to-back losses to fierce rival Dustin Poirier. 
Both UFC lightweight contenders have hinted at a potential fight between the two knockout artists, Chandler spoke about this on a recent episode of the "Bussin' With The Boys" podcast.
"It's a different approach when you're fighting a guy like Conor because fighting a guy like (Justin) Gaethje, who loves to brawl, is much easier than a guy who you're really afraid to sometimes throw a punch at because of the shot that you don't see coming as you're pulling your hand back. So, you've definitely gotta be on your Ps and Qs with the striking. But then the coolest thing about Conor, too, is everybody always talks about how bad of a wrestler he is, how bad of a grappler he is. Chad Mendes took him down a couple times. He got taken down a couple times in the second (Nate) Diaz fight."
"He got taken down numerous times in other fights. And he has always kept his composure. His mental awareness capacity and stability inside of the octagon, inside the confines of competition – especially with how heightened the stakes and the senses are, inside of his fights, while everybody in the entire world is watching – it's something to behold, man. He's a different level of competitor. And anybody who discredits him because he's lost fights is just either a casual or a Conor hater, to be honest with you." (Transcribed by Sportskeeda)
Michael Chandler & Conor McGregor Want To Fight Eachother
With both "Iron" Mike and "Notorious" being on a two-fight losing streak this matchup could be what they both need to get back to the top of the lightweight division. 
Chandler is coming off losses to UFC lightweight champion Charles Oliveria and former UFC interim champion Justin Gaethje. Mcgregor is coming off back-to-back loses to Dustin Poirier who is challenging for the title at UFC 269. 
With a win over the other, this could set both fighters up for potential title challenges or number one contender elimination bouts.
For Mcgregor this could set up his fourth fight with Poirier and potentially for the lightweight belt. With the bad blood seemingly still being there after the controversial end to their last bout, after Mcgregor broke his foot and spoke about the "Diamonds" wife.
This could also set up the rematch between Chandler and Oliveria with many believing "Iron" nearly finished the champion in the first round. Before, Oliveria would completely change the script and finish Chandler in the second round.
Who do you think needs the win more out of Michael Chandler & Conor Mcgregor ?