Michael Bisping Believes He Would 'Smash' Georges St-Pierre In Future Rematch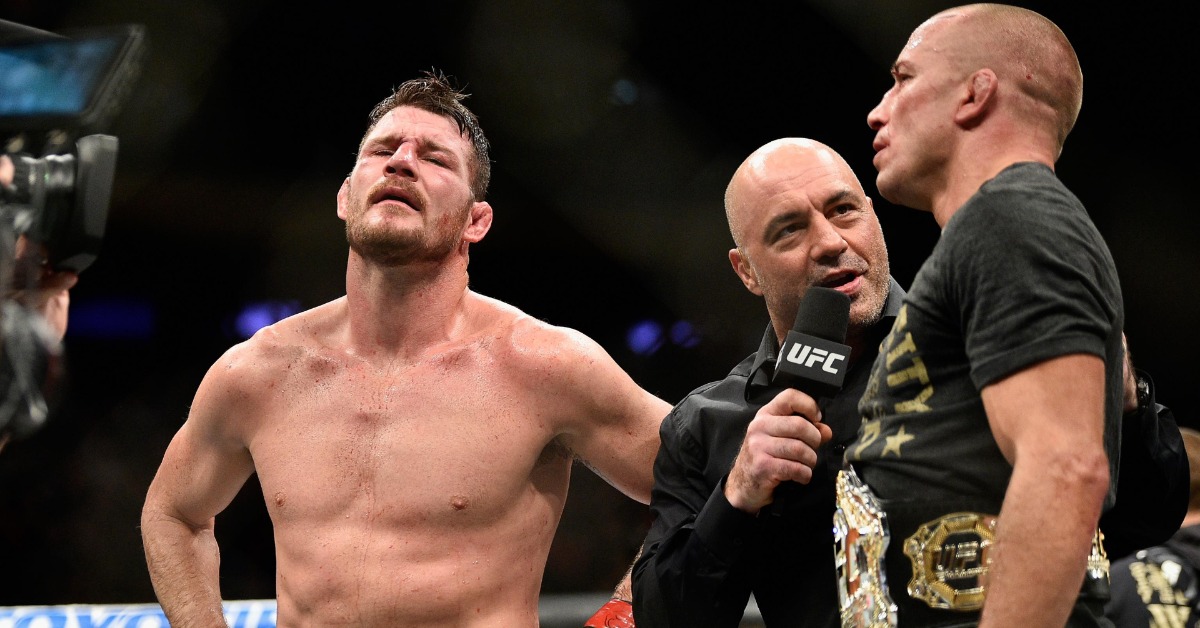 Former UFC middleweight champion, Michael Bisping has claimed that should he ever fight former two-weight gold holder, Georges St-Pierre again in the future, he would "smash" the past duel-weight champion. And an injury and notorious eye issue prevented him from beating the Canadian back in November 2017.
Bisping, who called on his professional career back in May 2018, ended his run with a pair of losses to both St-Pierre, and a short notice first round knockout loss to one-time interim title challenger, Kelvin Gastelum at UFC Fight Night Shanghai just weeks after he defeat to St-Pierre.
Headlining UFC 217 in his second attempted defence of his undisputed middleweight champion, Bisping met the returning St-Pierre in a blockbuster Madison Square Garden main event, which saw the latter snap a four-year hiatus from the sport – and become a two-weight champion.
Eventually dropping the championship, Bisping was first dropped in the third round by St-Pierre, before giving up his back during a grappling scramble and submitting to a rear-naked choke.
However, if paired with the sport icon in the future, Michael Bisping has claimed he would likely "smash" St-Pierre this time around.
"I would smash him (Georges St-Pierre)," Michael Bisping said during a Q&A session on his YouTube channel. "I would smash him. I would have smashed him that night (UFC 217) but I was injured. I was very injured and – I had one eye, and I had my ribs torn."

"You know what, and to be honest, I'm not diminishing Georges – I was impaired in that fight, I was injured and whatever," Michael Bisping said. "Yeah, there was nothing that really troubled me – until the shot that dropped me. I mean, we knew going into it he'd be a tremendous wrestler and that was a big part of the training camp. A huge focus on defending takedowns and getting back to the feet. I was inadequate in that fight in the first round or so. I couldn't move well because of my ribs. Georges was aggressive in that fight, but he never really hurt me till the third round, when obviously he caught me with that left hook. It was a great shot and he choked me out, so God bless him for that one."
Michael Bisping avenged losses to Luke Rockhold and Dan Henderson to lift and defend his title, respectively
Prior to his loss against St-Pierre, UFC Hall of Fame inductee, Bisping had enjoyed a five-fight undefeated run which included an undisputed middleweight title victory rematch against Luke Rockhold, as well as a unanimous decision win over two-time opponent, Dan Henderson in Manchester to avenge his UFC 100 loss and successfully defend his title.