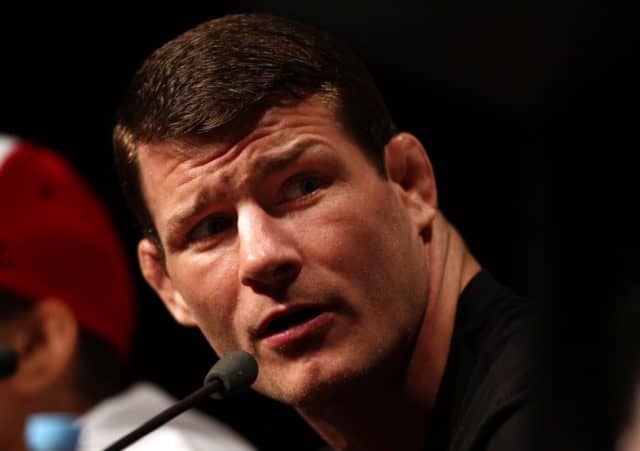 Michael Bisping dealt the MMA community some at least somewhat surprising news when he announced his retirement from the sport after 14 years on May 28.
The 39-year-old former UFC middleweight champ was expected to compete in one final farewell fight following two straight losses to Georges St-Pierre and Kelvin Gastelum last November, but a new eye injury to his left eye after years of difficulty with his right eye persuaded him to preserve his health and ride off into the sunset a bit early.
You can't blame "The Count," as he'd given his heart and soul to the UFC as the winner of The Ultimate Fighter (TUF) 3 way back in 2006. Often overmatched in terms of sheer athleticism, the brash, smack-talking Brit parlayed his opportunities into a late-career run to the title after coming up a bit short in many of the biggest stages of his career prior to his last years.
Obviously his biggest win was his shocking first-round knockout over Luke Rockhold at 2016's UFC 199, but he had much bigger plans to go out on top. He planned to defend the belt against Dan Henderson, St-Pierre, and finally, the No. 1-ranked middleweight.
St-Pierre put an end to that plan, however, and 'The Count' recently told ESPN.com that he knew he should have called it a day right there:
"When I fought 'GSP' and lost the belt [in November], I should have retired there and then. I kind of knew.

"My plan was to defend the belt three times. Henderson, Georges, the No. 1 contender — then call it a day. Obviously, I didn't win the second fight, so we didn't get that far. But that was the plan."
Looking to rebound from the defeat instead, Bisping took a fight with Gastelum only three weeks after he fought St-Pierre in an effort to erase the bad memories, but instead met the harsh realization that he perhaps took the fight too early when he was brutally knocked out in Shanghai.
Despite the two setbacks, Bisping was linked to a farewell fight with a who's who of MMA talent including names such as Rashad Evans, Lyoto Machida, Vitor Belfort, and of course, a trilogy fight with Rockhold. None of the bouts ultimately materialized, and he chose his health over one last fight – certainly a decision no one can fault him for. That doesn't mean he won't try to wiggle out of it and un-retire, something he claimed he almost did in a conversation with UFC President Dana White:
"I've always wanted to leave the door open," Bisping said. "Dana called me, and I even tried to dig my way out of it then. He said, 'Hey, Mike, are you sure about this?' And I almost talked myself out of it. It kind of came to a point where I had to make it final."
So there was only one way to truly retire from the UFC, and that was to take his name out of the USADA testing pool.
When he did choose to step down, Bisping stated he was glad to finally have that monkey off his back – something he made official by withdrawing from the pool:
"The UFC emailed me and said, 'Do you want to be left in the testing pool, just in case?'" Bisping said. "And I said, 'No. Take me out.'

"The time was right, honestly. It feels like a massive burden has been lifted off my shoulders, because I was always second-guessing, always thinking, 'Am I gonna fight once more?' Now, it's done."
Long a fixture on UFC fight coverage on FOX Sports 1, "The Count" will move on to the role of commentator on 'Dana White's Contender Series' this summer in addition to several business interests including the opening of a whopping 110 UFC gyms in his native United Kingdom.
Overall, he's excited about his new role on the summer series, and plans to parlay that into a bigger role calling UFC bouts – similar to how he capitalized on some of the biggest opportunities in the UFC:
"I'm ready to focus on other things, and I wouldn't have been able to if I didn't commit to retirement. I want to commentate for the Contender Series, and then move on to calling UFC fights. That's the plan."