Michael Bisping Reacts To Submission Loss At UFC 217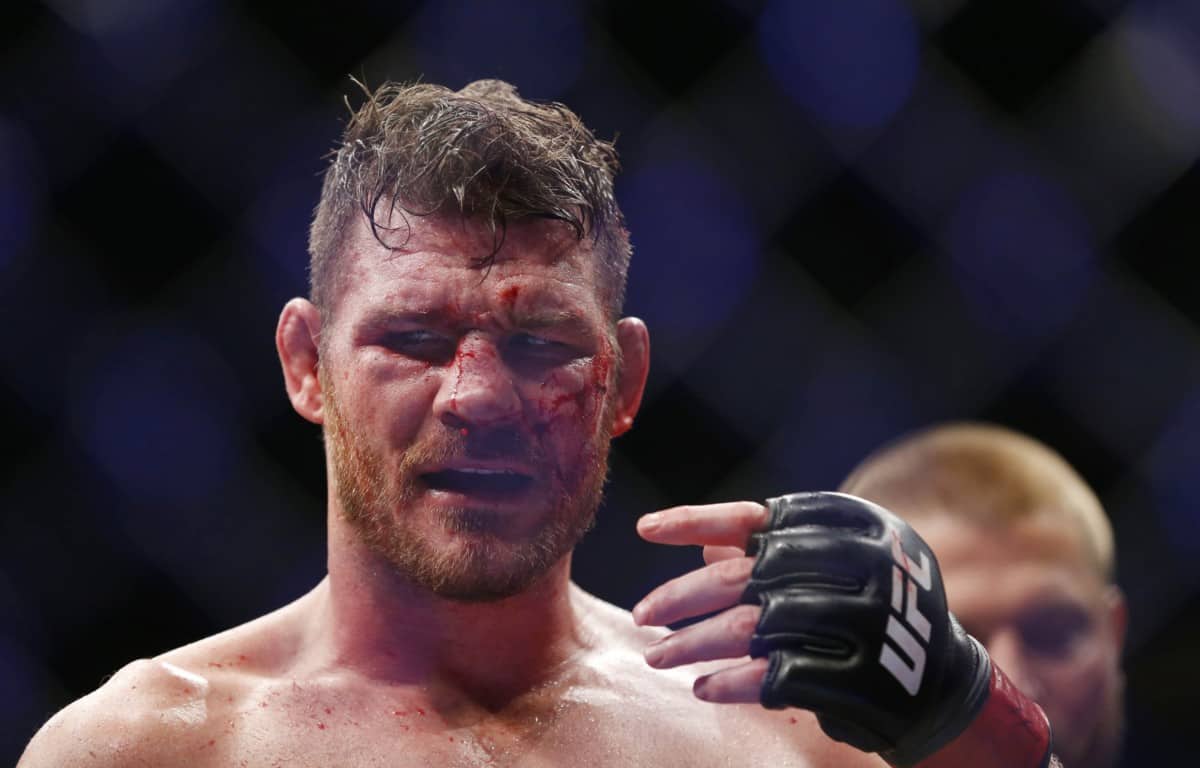 Michael Bisping lost in the main event of the UFC 217 PPV (pay-per-view) event on Saturday night in New York at Madison Square Garden to former UFC welterweight champion and current middleweight champion Georges St-Pierre by submission. However, he might be down but he's not out of the fight game just yet.
Leading up to the fight, Bisping flirted with the idea of retiring in the build-up. With the event looming, he backed off those comments. After the loss, he made it clear that he is not hanging up his gloves just yet and will fight on.
"I don't need time off, I'm fine," Bisping said Saturday at the UFC 217 post-fight press conference (transcript courtesy of MMA Fighting). "I've got no injuries whatsoever, I'm not hurt at all. I've got a couple of little scuffs on my face, but nothing hurt me. Tonight was his night. Maybe (I'll fight) March in London (at UFC Fight Night 127), that sounds nice. We'll see.

"But listen, I love doing what I do. I'm from a small town in the northwest of England, I never thought I'd be headlining Madison Square Garden. And I'll be damned if the last time I do it is me getting choked out on TV. So, it wasn't my night, but that's the way (it goes) with professional sports. One man or one team wins, and one man or one team loses."
Bisping came into the fight on a five-fight winning streak, which was his best winning streak of his pro-MMA career. He held wins over the likes of Luke Rockhold, Dan Henderson, and Anderson Silva.
As seen in the fight, in the first two rounds, Bisping was keeping his own and some could say that he won those rounds. Although he was repeatedly taken down, he sliced open several cuts on the former welterweight champion's face and badly bloodied St-Pierre with elbows from the bottom.
This fight marked GSP's first bout in nearly four years and his first time fighting at middleweight. The Canadian icon put Bisping to sleep with a third-round rear-naked choke.
"I felt he was slowing down," Bisping said. "Of course, he got me down in the second round. Any time you get taken down, you want to get back up, but I was landing a lot of good elbows from underneath and I was landing some punches from underneath. But even still, even though I was busting him up, I was still conscious of the fight, that you're losing the fight in that position. Even though I was cutting him open, I knew I was losing the fight, so I thought, 'Right now it's time to get back up.'

"So I felt very positive in the fight then. Of course he got me down, but I was able to get back up in the first (round) and in the second when I chose. So yeah, maybe my confidence was my demise. Maybe, but I did feel him slowing down. I could see it on his face, certainly when he started bleeding and things like that."
Bisping noted that St-Pierre actually felt like a true middleweight in the fight.
"He looked like one as well," Bisping said. "He looked huge. I said going into this, I said he's probably the stronger man. He's one of those types of guys. He's a consummate professional, so yeah, he certainly felt like a middleweight when he had his arms wrapped around my neck."

"It feels like yesterday, I was champion of the world," Bisping said wistfully. "Listen, I'm happy. I'm proud of what I've achieved in this sport. I really am, and you can't take that away from me. My kids are over there and they just said, 'I thought you'd be more pissed off.' And listen, of course I'm pissed off. I'm crushed inside. I am.

"It's a nice little consolation prize, but to answer your question, I'm happy. I'm happy with what I've done. Yeah, I'm crushed inside, but life goes on. Life goes on. Every time you fight, one man's going to win and one man's going to lose. That's what you sign up for. You can't cry like a little b*tch. All respect to Georges. Well done, he beat me. I felt fantastic going in there tonight. I truly thought I was going to smoke him, and I didn't, so well done."