Mark Zuckerberg trains with Israel Adesanya, Alexander Volkanovski ahead of potential fight with Elon Musk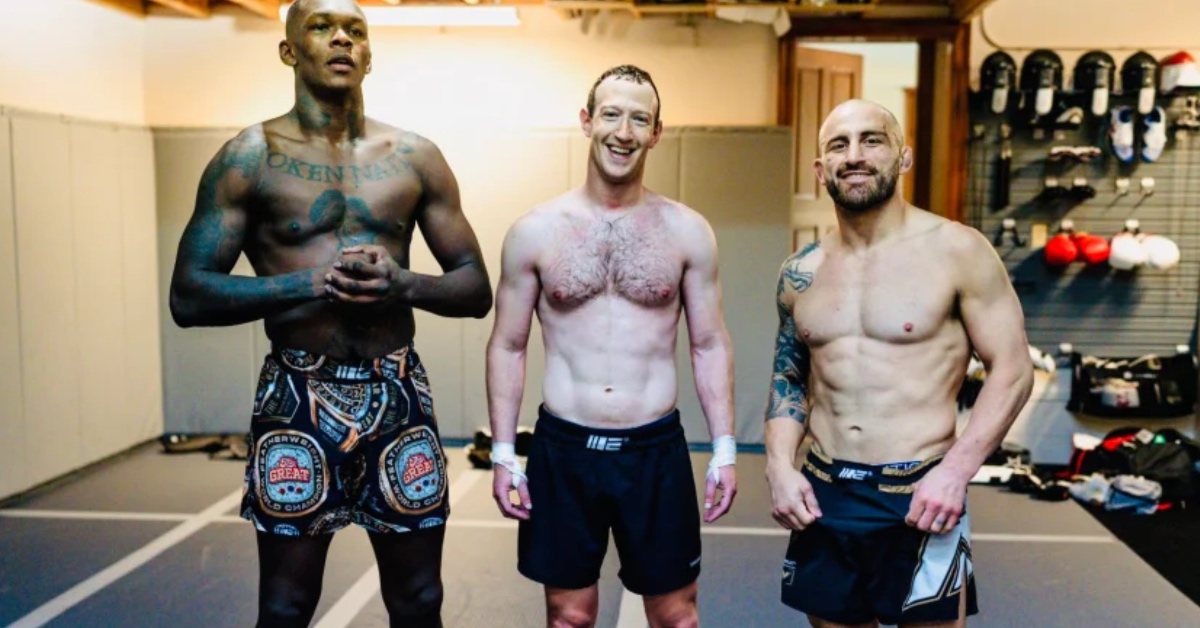 Mark Zuckerberg has shown off body transformation, as he trained some MMA alongside UFC Champions Israel Adesanya (24-2 MMA) and Alexander Volkanovski (26-2 MMA).
Zuckerberg recent love affair with mixed martial art has caught the eye of fellow tech boss Elon Musk who goaded the Meta CEO into agreeing to an MMA fight.
Elon Musk was pictured alongside UFC legend Geroges St-Pierre (26-2 MMA) and his long-time coach John Danaher, showing fans a fight between him and Zuckerberg might not just be a fantasy.
Zuckerberg replied with a picture of him seemingly training with City Kickboxing's teammates Volkanovski and Adesanya. However, fans taken aback by the astonishing physical condition of the 39-year-old, raising concerns about Musk's chances.
MMA has well and truly encapsulated Mark Zuckerberg attention just a few years ago, so much so he has recently been taking part in Brazilian jiu-jitsu competitions and winning.
Although Musk admitted he is out of shape, he does however have combat sports experience as he used to train in judo, Kyokushin karate, and taekwondo during his youth.
Some of Elon Musk's fans have switched their predictions after seeing the recent picture of Zuckerberg.
"My money was originally on Musk but Zuck making a real strong case at this point," one fan stated.
Another fan wrote: "This is not looking good for Elon, please get in shape. The future of social media hangs in the balance!" Elon gotta get rid of the pot belly and get in shape. Hate to say it, but if Zuck meets Elon in a ring, he's destroying him in a min."
Mark Zuckerberg Vs Elon Musk, could it happen?
Despite many people around the world doubting such a fight would ever materialise, with each passing day it seems more likely.
Even UFC boss, Dana White believes he is the one to get this generational mega-fight over the line, whilst also selling t-shirt merchandise to promote the possible clash.
Both Musk and Zuckerberg spent well over an hour on the phone with White to discuss the fight and plan to donate all the money they earn from their bout to charity.
Although it not all great news for fight fans, as White plans to sell the pay-per-view for an extravagant $100, which is considerably more than his typical $79.99.
Would you pay $100 to watch Mark Zuckerberg Vs Elon Musk?